I have been meaning to send this note for some time, and finally decided to do so after reading the July-August 1996 issue.
I continue to subscribe to this magazine primarily because it makes me uncomfortable. Uncomfortable: not like a hot, humid night, but like a deep, gnawing inside my soul that says maybe I need to question some of my assumptions, some of my behaviors.
But the "frosting on this cake" is that it also demonstrates hope, hope in the tragedy of suffering as demonstrated by the courage of Sister Ortiz ("Death's Dance Broken," by Rose Marie Berger and Julie Polter). Hope that even in the midst of the day-to-day violence and consumerism of our society, there are people who continue to try to make a difference, continue to try to live in community, and continue to question the status quo from a faith perspective.
Terry Hess
New Berlin, Wisconsin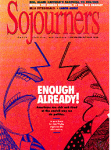 This appears in the September-October 1996 issue of Sojourners
Got something to say about what you're reading? We value your feedback!