THANK YOU for putting Sister Dianna Ortiz's picture on your cover and devoting such attention to her case. I'm teaching a course on "justice in Latin America" this fall and will (with your permission!) use your coverage as required reading in the course.
Neil Elliott
St. Paul, Minnesota, via Internet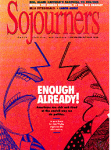 This appears in the September-October 1996 issue of Sojourners
Got something to say about what you're reading? We value your feedback!