I just picked up my July-August issue to peruse (perusing has been the case of late with Sojourners—I don't know if it's where I'm at in life or the magazine) but then WOW! Hard-hitting journalism and faith-moving articles. I couldn't put it down and read through 75 percent of it this evening with no intention of doing so. Thanks so much for staying cutting edge—this issue was great. The quality of the writing was superb and the depth of the interviews and stories of real lives engaged in struggle moved me.
I started with Ed Spivey Jr.'s column ("H'rumphs") and giggled the whole way through. I ended with the commentary on South Africa's truth and reconciliation practices ("A Cycle of Healing," by Charles Villa-Vicencio) and just marveled at the creative energy of that country to confront its realities.
Carol Turpen
Garden Grove, California, via Internet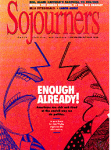 This appears in the September-October 1996 issue of Sojourners
Got something to say about what you're reading? We value your feedback!