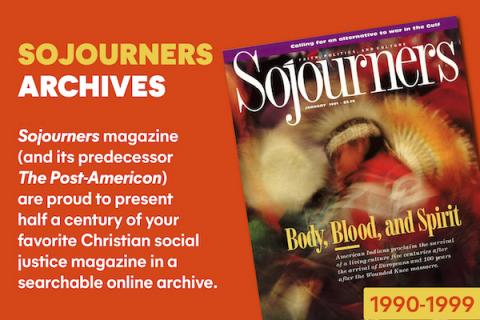 It's a misty morning on Big Chippewa Lake. An Anishinabeg couple drags their canoe toward the water's edge. The woman boards in front and sits on her haunches. The man pushes the canoe offshore and jumps in behind her. As they pole toward the wild rice beds, they can feel the crisp dampness of September on their faces. The man rises to stand, head just above the tall stalks of rice. The woman pulls the rice over her lap with one stick and gently raps it with a second.
There are many wild rice lakes on the White Earth reservation in northwestern Minnesota, my community. The Chippewa Indians, or Anishinabeg as we refer to ourselves, call the rice "Mahnomin," or gift from the Creator. More than half our people on the reservation harvest wild rice, depending on it for as much as 40 percent of their yearly incomes.
But just how long the Anishinabeg can continue to harvest wild rice is questionable. We face two challenges that increasingly threaten our cultural and economic relationship with wild rice. The first is the degradation of the wild rice ecosystem by industrial society. Pollution is reducing yield and destroying natural rice beds. Altered water levels resulting from the damming of rivers and the draining of wetlands for development have also taken their toll on rice production.
The second challenge is the development of a conventionally farmed, paddy-grown "wild" rice. This cheaper imitation rice now dominates the market and has pushed the price of real wild rice so low that until we organized, we could not make a living as we used to. All of these concerns rest against a backdrop of inequitable land-ownership patterns.
The Anishinabeg reserved an 837,000-acre reservation under the treaty of 1867. This land, containing wild rice beds, pine forests, maple sugar stands, and native prairies, was selected by our leaders to provide for all the generations of our people. It is unfortunate, however, that the wealth of our land is now the source of our poverty. Land speculators and timber companies coveted our homeland, and through a series of legislative acts, individual transactions, and shameful deeds, successfully wrested most of our land from our control. By 1934, only 7,890 acres remained in Indian hands.
The loss of our land drove our people into poverty and many of us off our land. By the 1930s, more than half the population had been forced off the reservation, mostly into urban areas in the south, and today only 5,000 of our 20,000 tribal members remain on the land. In 1991, more than 90 percent of our treaty-protected land was held by non-Indian interests, including a third of the lands held by the federal, state, and county governments. Our people have been made refugees in our own land.
Today, with the majority of our population well below the poverty level and 65 percent unemployment on the reservation, the people are reliant upon the land for subsistence harvest and for what may be called the traditional economy. Essentially, we need the land to feed our families.
Three-quarters of us hunt deer on the reservation, 60 percent harvest maple syrup, and similar numbers harvest berries, medicinal plants, fish, and materials for baskets and handcrafts. Increasingly, however, the problem is the conflict between non-Indian land use and ownership and our own relationship to the land. Since we control so little of our harvesting ability, loss of access to cultural sites causes great consternation in our community. "We have to get permission to go on our own land. I've never seen it here," said Oshkinow "Shkin Warren," of White Earth.
While the deer population on our original land base is substantial, we are concerned that it is maintained for our future generations. Non-Indian sport hunting of reservation deer exceeds Indian harvesting by a ratio of 2-to-1. In another instance, more than 96 percent of the fish harvested in one lake were taken by non-Indians. Wetland drainage, clear cutting, and the use of defoliants and other toxins in our environment threaten both our people and our relations.
AT THE WHITE EARTH LAND Recovery Project (WELRP), we are trying to rebuild our land-based community. Our small project emerged after a decade of land rights organizing, and the loss of three federal law suits to recover land. Denied our legal recourse, our staff of eight struggles with land, language revitalization, cultural, and economic issues-from averting burial ground desecration to Anishinabe language immersion programs. We recover land through negotiations and acquisitions of significant areas.
As Vinoba Bhave, leader of the 1920 land movement in India that resulted in the return of millions of acres, said, "It is highly inconsistent that those who possess land should not till it themselves and those who cultivate should possess no land to do so."
We have written to and started discussions with absentee landholders on our reservation. We believe that the ethics of absentee landholdings should be challenged, and we can do no less than to ask. Our strategy includes negotiations with churches, corporations, and individuals. Thus far through WELRP we've acquired a thousand acres of land, including an organic raspberry farm, that we intend to use as a cornerstone for our traditional economic projects.
We are also putting forward federal legislation to secure 45,000 acres of land, lying within our reservation borders, which the U.S. government took from us. This land, called the Tamarac National Wildlife Refuge, is a centerpiece of our reservation, and indicative of federal Indian policy everywhere. Inside and adjacent to reservations, the federal government has millions of acres of land, used as national forests (for example, Chippewa National Forest), parks, Bureau of Land Management land, and other acreage. As we continue to watch federal mismanagement of these lands, including the clear cutting of Tamarac lands for pulp and paper mills, at the expense of our ecosystem and without any financial return to us, we have to question why and to ask for our land back.
The Clinton administration would do well to look at this issue nationally, as a small gesture at Native land reform. Yet no Minnesota senator or representative will introduce this legislation, as hunting interests seem to outweigh ours.
Against these odds, we intend to rebuild our land base and economy. In the past few years, we have begun a tribal organic wild rice marketing collective, and in the last year we began our first maple sugarbush harvesting. The project involves members of five families and has produced hundreds of gallons of grade A syrup.
In 1994, WELRP hosted its first meeting on traditional ecological knowledge, attended by an invited delegation of Anishinabeg elders from Canada, Wisconsin, and Minnesota, and environmental resource people. This meeting provided an opportunity to articulate in our own terms the relationship between our traditional values and codes of harvesting, and sustainable land use and resource management practices. We also attended a North America gathering of indigenous peoples working on forest issues, to craft common strategies for the 55 million board feet standing on Indian land.
ON THE WILD rice lake, the first sound is the swish of 20 or more rice heads being pulled over the woman's lap. The second is the short rap of the rice being knocked into the bottom of the canoe. These noises, combined with laughter and talk, are the sounds of the wild rice harvest on the White Earth reservation. And they are sounds of our traditional economy at work, sounds we hope to continue hearing through the generations yet to come.
WINONA LaDUKE is campaign director of the White Earth Land Recovery Project and works nationally on Native American issues as a journalist and program officer for the Seventh Generation Fund, a national Native foundation.