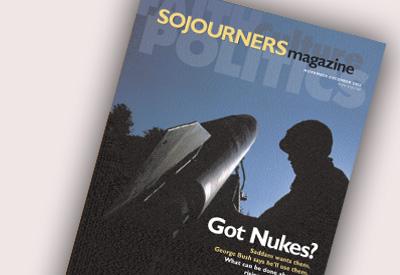 A decade after the end of the Cold War, the peril of nuclear destruction is mounting. The great powers have refused to give up nuclear arms, other countries are producing them, and terrorists are trying to acquire them.
Poorly guarded warheads and nuclear material in the former Soviet Union may fall into the hands of terrorists. The Pentagon is seeking to develop nuclear "bunker busters" and threatening to use them against non-nuclear countries. The risk of nuclear war between India and Pakistan is grave.
Despite the end of the Cold War, the United States plans to keep large numbers of nuclear weapons indefinitely. The latest U.S.-Russian treaty, which will cut deployed strategic warheads to 2,200, leaves both nations facing "assured destruction" and lets them keep their total arsenals (active and inactive, strategic and tactical) at more than 10,000 warheads each.
The dangers posed by huge arsenals, threats of use, proliferation, and terrorism are linked: The nuclear powers' refusal to disarm fuels proliferation, and proliferation makes nuclear materials more accessible to terrorists.
The events of Sept. 11 brought home to Americans what it means to experience a catastrophic attack. Yet the horrifying losses that day were only a fraction of what any nation would suffer if a single nuclear weapon were used on a city.
The drift towards catastrophe must be reversed. Safety from nuclear destruction must be our goal. We can reach it only by reducing and then eliminating nuclear arms under binding agreements.
We therefore call on the United States and Russia to fulfill their commitments under the Nonproliferation Treaty and move together with the other nuclear powers, step by carefully inspected and verified step, to the abolition of nuclear weapons. As steps toward this goal, we call on the United States and the other nuclear powers to:
Read the Full Article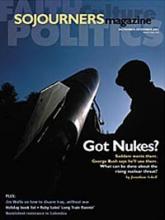 ​You've reached the end of our free magazine preview. For full digital access to Sojourners articles for as little as $2.95, please subscribe now. Your subscription allows us to pay authors fairly for their terrific work!
Already a subscriber?
Login