Q: If every change in the federal income tax law made since 1977 were erased:
a. The richest 1 percent of American families- average income, $559,795 in 1995-would pay $15,674 more in taxes.
b. The average family-income, $32,681 in 1995-would pay $33 less in taxes.
c. All of the above.
Q:In 1995, after leading the Morrison Knudsen Corporation to $114 million in losses over the previous two years, William Agee resigned. The corporation:
a. Gave Agee a severance package estimated somewhere between $1.5 million and $4.8 million.
b. Laid off 277 workers with no severance package, citing "unprofitability."
c. All of the above.
Is anyone surprised that the answer to both questions above is "c"?
We all know gaps exist in our society-chasms created by race, sex, and education are just a few. But while some gaps grow smaller as Americans continue to integrate and coalesce, the gap between wealth and poverty grows larger every day, with no end in sight.
The Boston-based organization United for a Fair Economy was created in December 1994 by four activists who observed firsthand the crippling effects of the disparity between the very wealthy and the rest of the population. With experience in the labor, women's, and affordable housing movements, the founders recognized the connection between the poverty and powerlessness of the people they worked with and the fact that the wealthiest 1 percent of American households has more wealth and assets than the bottom 90 percent combined.
"We reframed the issues we were involved with" around the discrepancies in incomes, said Chuck Collins, co-founder and current co-director. For the American public, it "wasn't on the radar screen" that while the wealthy grow wealthier, the rest of the population seems to grow poorer.
Read the Full Article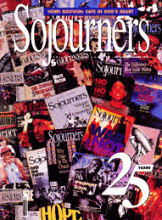 ​You've reached the end of our free magazine preview. For full digital access to Sojourners articles for as little as $3.95, please subscribe now. Your subscription allows us to pay authors fairly for their terrific work!
Already a subscriber?
Login