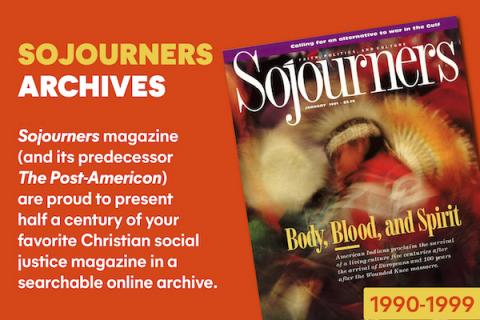 Is religious lobbying an oxymoron? To many observers of American politics, lobbying is tawdry bargaining that clashes with the principles of faith. Oregon Sen. Bob Packwood's escapades provide one example. As revealed in his diaries, former Sen. Packwood once traded legislative clout for a job for his ex-wife. If lobbyists hired Georgie Packwood, the Rockefeller Republican's alimony payments would be reduced. With legislation pending before Packwood's committee, the lobbyists complied with Packwood's complicity.
Scandals like Packwood's provide easy prey for the critics of lobbying. When lobbyists, hired by monied interests, work for the immediate fulfillment of their clients' interests, the public good sometimes loses out.
In Washington, several hundred religious lobbyists-or advocates, as they like to be called-also work to influence our government. While they vary dramatically in their political and theological beliefs, most share an anti-elitist view of American politics. Most believe that an elite controls Washington in a manner inconsistent with the demands of faith. Most retain a critical distance from highly paid secular lobbyists.
Religious conservatives perceive a battle against a secular humanist elite. This elite refuses to promote school prayer or to guard the fragile life of the unborn. This elite is oblivious to the family values that have long served as the bedrock of the republic. At a meeting of the Christian Coalition, Gary Bauer, president of the Family Research Council, exhorted delegates by saying, "How superior your values are to the decadent elite of this city....Before this decade is over, your values will prevail."
So-called religious liberals contest a different elite-the corporate-military-industrial complex. According to these advocates, the power brokers of Washington ignore biblical calls to justice and instead "trample the head of the poor into the dust of the earth, and turn aside the way of the afflicted" (Amos 2:7). As a result children starve and die in the shadows of rusting armaments and the opulent mansions of the rich.
Most secular lobbyists do not share either of these versions of the anti-elitist perspective and consequently have a different style and strategy. While not ignoring the grassroots, they adopt more of an insider strategy. Close relationships are developed with lawmakers. Nurtured by expense-paid trips, social events, lavish lunches, and campaign contributions, lawmakers and lobbyists become friends. For the lobbyist, the friendship brings influence and access to powerful decision-makers. For the lawmaker, the lobbyist can provide invaluable campaign resources and sometimes an extravagant social life.
In contrast, religious lobbyists use outsider tactics. Insider relationships are not ignored, but rallying the grassroots and protesting at the gates of power are emphasized. No religious organizations make campaign contributions to candidates. Those in the religious community who challenged the Reagan administration's policy of aiding the Nicaraguan contras
provide a classic example. At the heart of their strategy was grassroots lobbying: Citizens sent letters to legislators and protested on the steps of the Capitol and at offices of members of Congress all across the land.
THE HIRING PRACTICES of religious organizations also hinder their insider potential. Secular organizations routinely retain former government officials to lobby for them. Former Speaker of the House Tom Foley is now a Washington lobbyist. Others like former Sen. Birch Bayh and former Reagan administration official Lyn Nofziger are available to lobby. Organizations hire them because their Washington contacts are invaluable.
In contrast, religious organizations rarely hire former government officials, favoring instead those whose previous experience is in churches and other religious communities. People of faith often disregard this Washington expertise because their primary motive is faithfulness-not success. Most religious lobbyists would rather lose politically than compromise their faith. The articulation of their beliefs is more important than a compromised political victory.
Using an outsider strategy, religious lobbyists sometimes win victories. The civil rights movement is the greatest 20th-century example. Because people of faith walked the halls of Congress and rallied a nation to support them, tremendous changes in civil rights laws occurred. This was not a top-down movement; instead, the cries for change exploded upward.
While the movement began in the black Baptist churches of the South, mainline Protestants, Catholics, and Jews eventually joined the coalition. At crucial moments, religious lobbyists in Washington carried their charge.
Today, religious conservatives are the big story. The Christian Coalition has achieved a heady status in Washington. A crucial question is whether they have compromised the essence of true faith. One could argue that there is no biblical principle against success (David does defeat Goliath, after all). On the other hand, unlike David, operatives like Ralph Reed enjoy consummate insider access. The Christian Coalition issued a Contract With the American Family that mimicked the Republican's Contract With America.
Whether we agree with the Christian Coalition or not, all people of faith face the same dilemma. God's call to be in but not of the world presents vexing challenges. If we seek to change this world, we must seek power. We face ambiguous moral choices with imperfect information. No political activist-religious or secular-is omniscient; they are only earthen vessels used for God's purpose. While we are called to transform this world, we also know that the fullness of the kingdom is beyond it.
DAN HOFRENNING's book on religious lobbying,
In Washington But Not Of It: The Prophetic Politics of Religious Lobbyists, was published in June 1995 by Temple University Press. He is assistant professor of political science at St. Olaf College in Northfield, Minnesota.