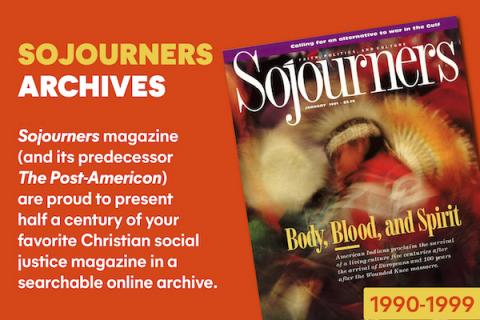 "IT HAS NEVER BEEN worse here. There are more restrictions than ever before. No one can speak. No one can demonstrate. People disappear." These are the recent words of Bishop Carlos Ximenes Belo, the head of the Catholic Church in East Timor.
On December 7, 1975, Indonesia invaded the newly independent country of East Timor-with U.S. approval and weaponry. Since that time, more than 200,000 East Timorese-about one-third of the pre-invasion population-have died as a result of Indonesia's bloody occupation.
The Indonesian authorities have destroyed or driven underground all independent East Timorese institutions with the exception of the church-a beacon of hope for East Timor's embattled indigenous population. The church has become a key player in the contest between the Indonesian military and East Timor's vast resistance movement, often incurring the ire and deep suspicion of the Indonesian authorities.
Since the breakup of Portugal's colonial empire, two decades of struggle for self-determination in tiny East Timor have dramatically altered the church. Traditionally conservative and aligned with the indigenous and colonial elite, the Roman Catholic Church today identifies with the needs and wishes of the poor East Timorese majority. Whereas only one-third of the indigenous population was Catholic in 1975, today the figure stands at about 90 percent.
In 1983, Carlos Belo assumed leadership of the Catholic Church in East Timor. Despite his reputation as conservative and amenable to Indonesian interests, Bishop Belo refused to be silent about ongoing Indonesian atrocities in the territory.
In 1989, he sent a letter to then-U.N. Secretary-General Perez de Cuellar, stating, "We are dying as a people and as a nation." He called upon the world body to oversee a referendum on self-determination in the territory. Belo's efforts greatly angered the authorities and met with death threats.
LOCATED 400 MILES north of Australia at the eastern end of the Indonesian archipelago, East Timor is the victim of a world order that has long privileged power over principle.
Despite 10 U.N. resolutions condemning the invasion and calling for Jakarta's immediate withdrawal, the United States has never seriously contested Indonesia's annexation of East Timor. Indeed, successive U.S. administrations have provided Jakarta with hundreds of millions of dollars in military and economic assistance since 1975.
Resource-rich Indonesia, today the world's fourth most populous country, has long attracted the hungry eyes of the powerful. What Richard Nixon called "by far the greatest prize in the South-East Asian area" is today one of the Clinton administration's 10 "Big Emerging Markets"-countries that the United States must cultivate to ensure the interests of U.S.-based capital.
During the presidential campaign, Bill Clinton called U.S. policy toward East Timor "unconscionable." And, indeed, his administration has taken some noteworthy steps to challenge traditional U.S. complicity with Jakarta's occupation.
In mid-1993, for example, Clinton's State Department blocked a proposed sale by the Jordanian government of four U.S.-made F-5E fighter jets to Jakarta. In early 1994, the State Department banned small arms sales to Indonesia and recently added helicopter-mounted weaponry to the ban.
But Jakarta's continuing economic and strategic importance has exposed the limits of Clinton's concern for human rights and international law. His administration has provided almost $300 million in economic assistance to Indonesia over the last three years. During that period, the United States has also sold and licensed the sale of tens of millions of dollars in weaponry to Indonesia.
And now the Clinton administration is on the verge of reappropriating International Military Education and Training (IMET) funds to Indonesia. In addition, the administration is trying to unload 17 F-16 fighter jets to Indonesia. Recently Secretary of State Warren Christopher urged Jakarta to buy the aging planes. Jakarta is still undecided, but Adm. William Owens-vice chairman of the Joint Chiefs of Staff-expressed optimism about the sale during a recent visit there.
The United States is certainly not alone in its complicity. Canada, Australia, Japan, the United Kingdom, and many other Western European countries provide Jakarta with significant material aid and varying amounts of diplomatic cover. Such behavior distresses Bishop Belo. "They are lying about what has happened to us. Their lies and hypocrisy are in the cause of economic interests. We ask the people of the world to understand this, and not to forget that we are here, struggling for life everyday."
FORTUNATELY MANY throughout the world have not forgotten. A significant solidarity movement has developed-especially since the November 12, 1991 Santa Cruz massacre when Indonesian troops fired upon a peaceful, pro-independence demonstration at a cemetery in Dili, the East Timorese capital, killing hundreds of men, women, and children. Eyewitness accounts by Western journalists and a smuggled video of the massacre led to an international outcry. In response to grassroots pressure, the U.S. Congress cut off IMET funding in 1992.
Until the massacre, there was a virtual media blackout in North America on the situation in East Timor and seeming blindness on the part of churches. As Rev. John Chamberlin, the National Coordinator of East Timor Religious Outreach explains, "To an extent rarely recognized, the agenda of the religious community is set by the secular, mainstream media. During the years of slaughter in East Timor, there has been almost total silence on the part of U.S. and Canadian churches, making them complicit in the crimes."
But this situation is slowly changing. Recently national church bodies of the Presbyterian Church (USA) and the United Methodist Church have passed resolutions condemning the Indonesian occupation and calling for an embargo of all U.S. weapons sales to Indonesia. And in January 1996, Bishop Melvin Talbert-who has played a major leadership role in helping to publicize the situation in East Timor to Protestant circles-will assume the presidency of the National Council of Churches in the United States.
Such developments can only encourage the East Timorese. According to Bishop Belo, "Contact with the outside world is very,very important. It gives us hope, and some of us protection. Keep speaking; everyone must keep speaking about us."
Such solidarity has proven vital to Belo. He might very well be dead without it. Belo has survived a number of assassination attempts and Indonesian intelligence closely monitors all his moves. His phones are tapped, his fax machine is monitored.
His courage has earned him great respect and many admirers. In 1994, he was one of the finalists for the Nobel Peace Prize. In 1995, many saw Belo as the lead candidate for the prestigious award, his nomination championed by a number of prominent people, including former recipients Archbishop Desmond Tutu of South Africa and Mairead Maguire of Northern Ireland.
Within East Timor, however, the situation remains as bad as ever. Torture, extrajudicial executions, and rape of women are routine. "In just about every village I went to I was meeting up to five or six women who stated that they had been raped in the past," reports Australian nurse Simon De Faux, who recently spent two months in East Timor working as a volunteer with the Salesian order. De Faux also testified that he treated many torture victims and that he received many credible reports from women complaining of getting unauthorized and unwanted abortions at Indonesian-run hospitals.
What the people of East Timor want is quite simple. As Rev. Arlindo Marcal, moderator of the Protestant Church of East Timor, explains, "The East Timorese people should be provided the opportunity to decide for themselves whether they really want to be integrated into Indonesia or not."
As we observe the 50th anniversary of the founding of the United Nations, East Timor stands out as a tragic example of the failure of international institutions to protect the most basic of human rights. Rather than retreat into national isolation, East Timor challenges us to recognize our common humanity and create a world in which human rights, cultural diversity, and international law are respected. Church groups can play a leading role in this struggle.
MATTHEW JARDINE is a writer and researcher on human rights issues and author of
East Timor: Genocide in Paradise (Odonian Press, 1995).