ONE GAUGE OF global policies is how they affect people we may have never heard of. West Papuans, for example.
In March, I met Matheus Adadikam while he was visiting Washington, D.C. He's the general secretary of the Evangelical Christian Church in Tanah Papua, representing 600,000 people. Located between Australia and Indonesia, West Papua shares a South Pacific island with New Guinea. It's basically on the other side of the world from D.C.
Pastor Matheus told me about his country. Well, not exactly his country, he says. Indigenous Papuans have lived there for 40,000 years, but in the colonial era—and more recently, as a province of Indonesia—they've had no right of self-determination. "As a Papuan, we have no right to speak about our rights as Papuans," he says. "Forty years ago we 'became Indonesian,' so we can no longer speak of 'Papuan human rights.'"
The story is starkly familiar. Since the establishment of colonial economic forces, the land of Indigenous Papuans has been held in chattel slavery by those more powerful—English (1793), Dutch (1828), Japanese (1944), United Nations (1962), and now Indonesians (1963). "Killings, torture, and rape of Indigenous people are routine," according to the Center for World Indigenous Studies. A conservative estimate is that 100,000 people have been killed since 1963. "Even to raise our Morning Star flag is to die or be in jail," says Matheus. (One man is serving seven years in jail for flag-raising.)
In 1960, a rich vein of gold and copper was discovered in the Jayawijaya mountain range in West Papua. After some back-room deals, the U.N. "gave" West Papua to Indonesia. Indonesia promptly welcomed the Phoenix-based Freeport-McMoRan mining company to open what became the largest gold and third-largest copper mines in the world.
"Justice, peace, and care of all of the Lord's creation is the main mission of our church," says Matheus, "but our experience has been that change happens fast, and external influences are changing who we are as a people." His main mission now is traveling the world asking for help.
Read the Full Article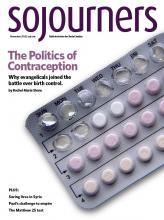 ​You've reached the end of our free magazine preview. For full digital access to Sojourners articles for as little as $3.95, please subscribe now. Your subscription allows us to pay authors fairly for their terrific work!
Already a subscriber?
Login