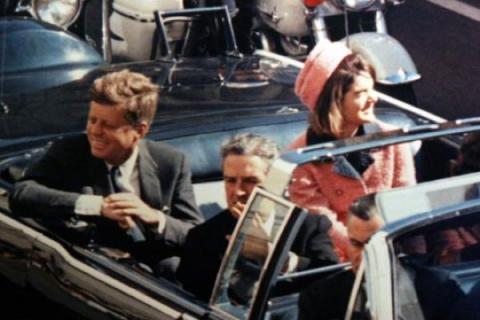 NOVEMBER MARKS the 50th anniversary of the assassination of our 35th president, an event that defined the life of the baby-boomers—a generation that, by sheer force of numbers, still sucks up most of the oxygen in U.S. culture. There are new books, reissued books, documentaries, made-for-TV movies, and a new Hollywood production, Parkland, starring that Everyman of the baby boom, Tom Hanks. But, anniversary hoopla aside, the JFK assassination and its aftermath can also provide us with some very timely lessons about the dangers that come with secret wars and unaccountable power.
Fifty-nine percent of Americans don't believe the official story that Lee Harvey Oswald alone killed President John F. Kennedy, and this time the majority is right. The available evidence strongly suggests that the president was the victim of a murder plot that involved anti-Castro Cubans, enraged by his failure to back them up during the Bay of Pigs invasion, and their allies in organized crime who had been heavily invested in pre-Castro Havana. That was the conclusion of the House Select Committee on Assassinations in 1978, which also found physical evidence of another shooter at the crime scene.
Of course, the armed anti-Castro forces in Florida were a bought-and-paid-for creation of our CIA, and the CIA was also working with organized crime figures in various plots to assassinate Castro. So it's no great leap to suspect some complicity in Kennedy's assassination by CIA employees. Some reasonable people, including peace activist and theologian James W. Douglass in his book JFK and the Unspeakable, have gone further, claiming that the Kennedy assassination was the result of a policy decision, taken at the very highest levels of the national security state, aimed at heading off JFK's plans to pull out of Vietnam and end the Cold War. This theory relies heavily on National Security Action Memorandum 263, which laid out plans to begin withdrawing troops from Vietnam, and journalist Norman Cousins' account of back channel diplomacy in the book, The Improbable Triumvirate: John F. Kennedy, Pope John, Nikita Khrushchev.
Oliver Stone's 1991 classic JFK also indicted the national security establishment. As a result of that film, Congress passed the President John F. Kennedy Assassination Records Collection Act of 1992, which established a commission to oversee the declassification of government documents relevant to the assassination. That law resulted in a torrent of paper that researchers are still combing through. But according to the Associated Press, the CIA is still holding on to 1,100 files "that are considered to contain information about confidential sources or methods or have national security implications."
What could possibly still have "national security implications" 50 years after the assassination and more than 20 years after the end of the Cold War? Well, apparently, anything related to a gentleman named George Joannides, for one. Joannides has been dead since 1990, but in 1963 he was director of psychological warfare for the CIA station in Miami. Then, in 1978, he was named to serve as liaison between the CIA and the House Select Committee on Assassinations. Journalist Jefferson Morley, a former Washington Post reporter and curator of the web site JFKFacts.org, is suing to open up the files on Joannides, and the CIA, for some reason, is fighting him hammer and tong.
The government's ongoing half-century cover-up on the JFK assassination may be designed to conceal the fact that a secret, undeclared war against a small neighbor went badly awry, and U.S. officials were partly responsible. But if Douglass is right, we have much deeper, systemic problems. In either case we ought to know, and as citizens we have a duty to find out.
Danny Duncan Collum, author of the novel White Boy, teaches writing at Kentucky State University in Frankfort.