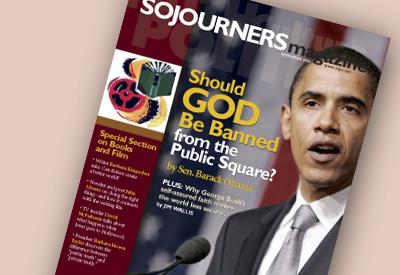 Noted preacher and writer Barbara Brown Taylor served as a parish minister for nearly 15 years, beginning at a bustling urban church in Atlanta. It was a vocation she expected to fulfill the rest of her adult life. But after five years as rector of Grace-Calvary Episcopal Church in rural Clarkesville, Georgia, she realized that in order to keep her faith, she had to leave ordained ministry.
"Drawn to marry the Divine Presence, I had ended up estranged," she writes in Leaving Church: A Memoir of Faith (HarperSanFrancisco). Normally a writer of sermons, an exercise in which she tells public truths, the switch to sharing private truths was painful, but ultimately healing, as she told an audience at the Washington National Cathedral in June.
My last book came out six years ago—a long time, for a wordy person. When people asked me what the holdup was, I told them I had lost my longtime editor at Cowley Publications, which was true, but I had also lost my voice—or my voice was changing anyway, and I did not yet trust it enough to put anything in print. I was no longer a parish priest. Many of my old certainties about life and faith had slipped from my hands. After a dozen years with religious publishers, writing in and for the church, I was not sure I could speak to anyone else—people who had resigned from church, for instance, or who had never had any interest in joining. I did not know who my audience was, any more than I knew if I could speak about things that mattered without using the religious language that had served me so well for so long.
Casting about for a new direction, I signed on with a literary agent who was willing to act more like a coach. "Send me some book ideas," he said; so I did. I cannot even remember what they were now, except for the fourth one. "I am not ready to write this one yet," I told him, "but another idea is to write a memoir about leaving church." And of course that was the only book idea that interested my agent. Thus I began a new experiment with telling the truth—not public this time, but private, though destined for public view.
Other memoir writers know how it goes. The book you meant to write is not the book you write. You turn out to be even more narcissistic, melodramatic, and self-pitiful than you had reasonably feared. People who love you are willing to tell you this, which makes you even more narcissistic, melodramatic, and et cetera. Finally, after you have written the book three times, you find that the writing heals itself as it heals you. The language runs clear at last. The flaws you can still see are not the ones in the writing but the ones in the mirror. You can look at yourself now with something closer to forgiveness than shame, so that a mere five weeks after you have sworn on everything holy that you will never, ever put yourself or your family through anything like this again, you are already thinking about the next book.
In her book on personal narrative, The Situation and the Story, Vivian Gornick says that it is everyone's inclination "to make of his own disability a universal truth," but that is only one of the risks of life writing. Three more have become apparent to me. Unless I am mistaken, they are not only about writing for publication. Anyone who has made the move from public to private truth will likely recognize the territory.
The first risk, of course, is telling your own story without also telling the stories of people who do not wish to be in your book. As first-person writers such as Lauren Winner and Nora Gallagher have pointed out, this is not entirely possible. Because truth tends to be relational, most of us need other people to discover it. To include the truth they have shown us without including them is like including the recipe without the soup. In the first draft of my book, the editor said I did such a good job of protecting everyone else's privacy that I appeared to have been the minister of a church with no members.
Different authors will make different choices, but my choice was to include the stories that reflected well on the people I once served. When I had critical things to say, I flung them broadly, so that anyone who read them could think they were written about someone else. When I had appreciative things to say, I made them so particular that anyone who wanted to could guess whom they were about. They did not have to guess, in fact, since I used people's real first names in the book.
WHILE THIS MAY NOT have been the whole truth, it was the kind of truth that caused me to hunt for goodness instead of villainy. And once I gave up the hunt for villains, I had little recourse but to take responsibility for my own choices—both to enter parish ministry in the first place and to leave in the end. Needless to say, this is far less satisfying than nailing villains. It also turned out to be more healing in the end, at least for me.
The second risk is related to the first. To turn from the public truth to the private is to risk losing your role as the hero of your own story. I was much more interested in writing my memoir when I thought it was going to be about my valiant struggle for authenticity—you know, woman minister sees what it will take to succeed and decides to teach school instead. That was my first draft. By the second, it was as if the film I had been working on for more than a year had gotten stuck in the projector.
As I watched, the frame in front of me melted and burned, opening up a hole through which I saw things I had managed not to see before. Beyond the very real millstones of parish ministry, I saw my own part in making them as heavy as they were. I saw my tiresome perfectionism, my resentment of those who did not work as hard as I did, my huge appetite for approval. I saw how I begged people to need me and then blamed them when they did. This was not the truth I was hunting for, but it was the truth I found. So the second draft had lots of self-flagellation in it, which was about as attractive as it sounds.
After that purge, a third way opened up in the third draft. I was neither as valiant as I had hoped nor as big a fraud as I had feared. I was human, was all, with a story to tell that did not serve to distinguish me from anyone else on earth as much as it underscored how much I had in common with most other earthlings. My guess is that this is why most of us read memoirs—not to be wowed by the singular adventures of someone riding a camel alone across the outback, as good a story as that may make—but to find someone who suffers, loves, or wonders the same things we do, so that we can rest for a while in the company of someone whose life is like our own.
The third risk inherent in writing a memoir is that when it is finished, you have to let it go. Well, maybe you don't have to, but it's hard to hang onto, once you have found the right words to tell the private truth. "For what is story," wrote the poet Mona Van Duyn, "if not relief from the pain of the inconclusive, from the dread of the meaningless?"
I do not know whether what I have written is right or not. All I know is that it is true, and that I offer it to you with loud gratitude for all the different ways there are to chase the Holy Spirit through this world of wonders.
Excerpted from the address "Public Truth, Private Truth: Making the Move from Sermon to Memoir," by Barbara Brown Taylor. Taylor, a professor at Piedmont College, speaks at churches, conferences, and retreat centers throughout the country.