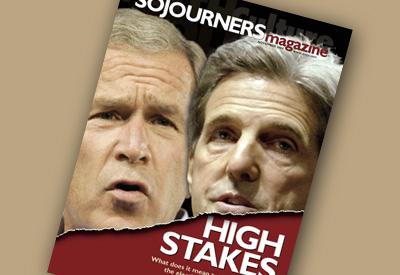 Soon after Sept. 11, 2001, my 14-year-old daughter, Jenny, was killed in a car accident. In that moment, the global grief I had been witnessing at a distance became intensely personal for me. I shared the pain of every mother everywhere—American, Afghani, Iraqi—as she struggled to bear the unbearable.
When my daughter died, she was at the beginning of her blossoming, filled with indignation against injustice, hunger for justice, and the early flames of spiritual love. I had believed that Jenny would grow up to consciously help alleviate the suffering in this world. The loss of such potential, coupled with the primal agony of missing her, threatened to destroy me.
But there was another reality just beyond the edges of my anguish. A palpable sense of holiness began to pervade the emptiness carved by my shattering. As my family and community rallied to support me in those first hours and days of my loss, filling the air with their prayers, tears, and singing, I noticed a radiance wash over my heart and the hearts of my circle of support. God was with us. And Jenny was with God. The exaltation accompanying this phenomenon confused me. The most terrible thing imaginable had happened and, while my suffering was acute, I was also being soothed and lifted by this ineffable holy joy.
For a year or more, all I could do was tentatively face the fire of my feelings, offering quiet prayers for peace on the planet and in the hearts of all who were grieving. I sat amid the wreckage of my own heart, allowing the broken fragments to re-form according to the inscrutable timetable of the Divine, relinquishing any last illusions that I had control of anything in this life.
Eventually, like so many victims of tragedy, I turned my attention to service. This was the only path that made any sense. The ordinary concerns of daily life had dissolved in the inferno of my loss. Struck by the rarified awareness that had begun to grow in me, I became intensely interested in those whose own losses had acted as a catalyst for spiritual transformation in their lives.
What I noticed was that while many mourners had dedicated themselves to grief as a spiritual path, the culture at large did not affirm this choice or provide a framework for such a conversation. In spite of significant advances in death and dying education since the 1970s, American society on the whole still seems to suffer from fear and denial about the reality of death. In a culture where the casualties of our wars are invisible to the average citizen, where many of our elders are institutionalized, and where most of our ill pass away behind the closed doors of impersonal hospital rooms, we are becoming increasingly unfamiliar with one of the most natural and sacred functions of living: dying.
As I began to sit with other mourners and listen to their stories, it became clear to me that I was not the only one who had experienced the sacred atmosphere that arises around the death of a loved one. I wondered how clergy people and spiritual leaders shepherded the souls in their care through the holy land of grief and loss.
I live in a small town in the mountains of northern New Mexico. Mine is a multicultural community, where Pueblo Indians, Chicanos, and "Anglos" (all others) have been living and dying together for generations. Last spring I spoke with two Catholic priests, two Protestant pastors, one nondenominational minister, and the director of a grief and loss program about their experiences and views of the sacred passage of death in their respective congregations, in our community, and in society as a whole.
What I found among this diverse collection of spiritual guides was a unanimous commitment to "bearing witness" and "holding a container" for the bereaved to have their individual experiences of grief. In each case, the clergy person consciously curtails the impulse to fill the void of mystery with his or her own preconceived notions about the meaning of life and death. "Feelings are deeper than theology," said Rev. John Snider, a Presbyterian minister.
And yet, while they willingly release their grasp on the unknown and unknowable in the face of a death in their community, each of these clergy people stand on the solid ground of their own faith traditions. They offer rituals, ceremonies, and prayers as a means of blessing the deceased and consoling the bereaved.
"From an early age, a clear experience of the afterlife was always with me," says Father Bill McNichols, a Catholic priest and iconographer who worked with AIDS patients in New York City throughout the 1980s. "I felt a friendship and communion with the saints. They were all dead, but I knew them as a living presence. This allowed me to unequivocally reassure those who were dying."
Clergy people are in a unique position to help those suffering from the death of a loved one to transform their loss into a profound spiritual experience. Those I interviewed said that to do this, they have had to cultivate the humility and wisdom to step out of their own way, to resist the temptation to gloss over mystery with platitudes or tell the mourners what to feel and how to grieve.
Dr. Janet Schreiber is the founding director of the Grief Counseling Certificate Program at Southwestern College in Santa Fe, New Mexico. According to Schreiber, when someone we love dies, grief can serve as a catalyst for a profound spiritual crisis. The ensuing shattering may cause us to question everything we believed about ourselves and our God. "Grief," says Schreiber, "is an experience of descent."
Deep and important spiritual work is taking place in this darkness. Rather than trying to console us with words, Schreiber suggests, clergy people can sit with us in the silence. Instead of trying to "make it better," they can simply stay with the reality of what is happening. Grievers are recreating themselves from the inside out. They need their clergy to bear witness to this sacred process, rather than to direct it according to their own unconscious fears and dogma. The spiritual leader may know from experience that the griever is going through a significant spiritual passage, and will grow as a result, but needs to keep this image in his or her own heart, and maintain a safe and quiet place for the griever's unique journey to unfold.
By placing too much emphasis on the sorrow and loss, a well-meaning spiritual guide might inadvertently disenfranchise a grieving person whose heart is overflowing with an inexplicable sweetness and connection to the divine, instilling in the bereaved a sense of shame that her experience is "bad" or "wrong." The 23rd Psalm, often recited at funerals, refers to "the valley of the shadow of death." Rev. Steve Wiard reminds his Methodist congregation that "you cannot have shadow without light!"
On the other hand, in the face of great distress, not all are skilled in allowing grieving people to fully feel their negative feelings. Our natural impulse is to soothe, to comfort, to relieve suffering.
Rev. Ted Wiard (no relation to Steve) is the founding director of Golden Willow Retreat, a grief healing center outside of Taos, New Mexico. In the space of six years, Ted's brother Richard drowned in a fishing accident, his wife, Leslie, died of cancer, and his two daughters, Keri and Amy, were killed with their grandmother in a collision with a garbage truck. When well-meaning religious leaders tried to "fix" him with dogma, Ted Wiard rebelled. "There are no answers," he says. "What I needed was to be held in a space of reverence and honoring."
Now, as a nondenominational minister and certified grief counselor, Ted provides this "holding" for the people who find their way to his isolated mountain retreat. "I have to have faith in that person, that they are traveling their own sacred path, and that their higher power will help them. Who am I to take that away?" Ted asks. "I have no right not to hold that faith."
When Janet Schreiber and I sat together, we explored the notion of the clergy as "shepherds" of souls. "What is shepherding?" Schreiber mused. "If a sheep goes over the cliff, the shepherd climbs down into the chasm and hauls her back up. Otherwise, he just stays with them. Even if he has to hang out in places that are uncomfortable and unfamiliar, far from normal civilization."
It is not always easy to rise above ingrained attitudes about death and dying. Ministers, priests, and rabbis are just as subject to cultural conditioning as the rest of us. While we may project onto them some kind of omniscience with regards to the divine secrets, they too suffer from uncertainty and aversion. Honest, aware clergy will acknowledge their own relationship to death in the face of a loss in their congregations.
The day I met Father Bill McNichols at a local café to talk about his experiences with death, we ran into Father Tim Martinez, just finishing his lunch. The two men shared stories of deaths in their parish. As one recounted a particularly tragic incident, his eyes glistened with emotion, and I watched while compassion washed over the face of the other. "I'm grateful that we still feel pain and confusion, that we still feel close to it," McNichols said. "Each time, we are really raw."
Rev. John Snider is a chaplain who earned a Silver Star during the Vietnam War. He witnessed "mass casualties," sometimes daily. Throughout his 44-year career as a Presbyterian minister, he has performed hundreds of funerals. But none of this experience prepared him for the recent death of his wife, Linda.
"Suddenly, I am the one receiving solace," he told me. "And I'm finding that the simplest gestures console me. It's the simple recognition of my loss, to see that this person I loved was valued by my community."
All of the clergy and grief counselors I spoke with bring the individual deaths they have experienced back into the context of the web of human connection. "It's important to remember that the death of an individual ripples out through the family and into the community," Ted Wiard pointed out. "Right now, we are experiencing global grief, on top of our individual losses. Those of us who have taken on ministerial work need to hold space for the whole human family that is experiencing the shattering of death and loss."
When my own child died, I instinctively reached for the mourning rituals of many different traditions. Fortunately, sensitive religious guides in each of these traditions made room for me to grieve in my own way, while supporting me with the depth of their faith. The wisdom and humility on the part of these clergy people enabled me to transform the death of my daughter from a sheer tragedy to something more than that, something that has grown my spirit.
Mirabai Starr, the author of translations of Dark Night of the Soul by St. John of the Cross and The Interior Castle by St. Teresa of Avila, was a certified grief counselor and an adjunct professor of philosophy and religious studies at the University of New Mexico, Taos, when this article appeared.