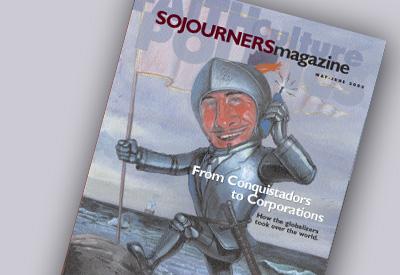 It is a morning ritual for thousands of Americans, a gateway into the day, the warm cup over which they connect with others. But for drinkers of Pura Vida, that cup of coffee is also a ray of hope for at-risk children in the impoverished and struggling neighborhoods of San Jose, Costa Rica, and across the United States.
While some socially responsible businesses are able to boast a charity- or justice-oriented mission that grows out of their established consumer base, Pura Vida is an example of a for-profit business that was developed explicitly to support a religious and social mission.
In Spanish, "Pura Vida" has a double meaning. In street parlance, it means "cool," "awesome," or "great." But it also translates as "pure life" in English. Founders John Sage and Chris Dearnley seek to embody both meanings in the company's products, marketing, and social justice activities.
Pura Vida was founded in 1997 by Sage and Dearnley, who had met 10 years earlier when they both joined the Graduate School Christian Fellowship at Harvard Business School. After graduation, the two went their separate ways—Sage to work for Microsoft and into the high-tech start-up world and Dearnley first into business consulting and then, in 1995 after becoming an ordained minister, to Costa Rica, where he started a Vineyard church.
But the business school friends stayed in close contact, each looking forward to their annual get-togethers. In July 1997, relaxing by the pool after a round of golf in San Diego, Dearnley found himself telling Sage about the work he was doing in San Jose with at-risk youth, providing meals for the hungry and reaching out to struggling children. The work was rewarding but the group was financially strapped, Dearnley reported.
He recalls, "I shared with John and then at the same time said, hey, by the way, I brought you some great coffee from Costa Rica." Sage, impressed with the robust, high-quality coffee, immediately suggested that Dearnley create a brand of coffee to support his mission. The pair penciled some start-up figures on a paper napkin and Pura Vida was born.
For a year after what Sage calls "the poolside epiphany," Dearnley and Sage prayed and talked more about whether to invest themselves fully in their idea. During this period, Sage's consulting work landed him a position at Starbucks, where he deepened his knowledge of the gourmet coffee business—an $8 billion-a-year industry in America.
At that time, Sage also found himself thinking more about merging his business expertise with his religious faith. "I have a conviction and I feel a calling to ascertain whether or not there are ways for business and ministry to work together to help raise funding and awareness for ministry," he says. "This is the perfect manifestation or laboratory to figure out if this could work."
TODAY, IN ITS THIRD year of full operation, Pura Vida is a for-profit company that Sage operates out of Seattle, in a warehouse-style brick building that is located directly across the street from Starbucks' headquarters.
All of the company's post-tax net income goes to Pura Vida Partners, a registered 501(c)3 nonprofit organization. Pura Vida Partners provides services including a soup kitchen that serves more than 100 meals a day—more than 10,000 meals have been served so far—plus four computer centers (funded with a grant from Sage's former employer, Microsoft) and four community soccer teams.
Dearnley, who lives in Costa Rica with his wife, Andrea, oversees Pura Vida Partners and the social mission of the company. He reports tremendous success in meeting the physical, emotional, and spiritual needs of San Jose's children, many of whom struggle daily with poverty, malnutrition, broken families, and omnipresent drugs and prostitution—success that is possible because of the funds generated by the coffee business.
"The goal that we have is to use business as an engine to bring the love of Jesus to these kids in need in a unique and life-transforming way," says Dearnley.
The soup kitchen was the first outreach that Dearnley did with his church congregation. The church was located in a middle-to-upper-middle class section of the city, and Dearnley says he "felt that it was God's heart that we be a bridge, not only a bridge across cultures, but also a bridge across classes."
"I feel like it's an act of worship," adds Dearnley. "In Matthew, Jesus talks about how he's very much present when we reach out to those who are hungry or those who are needy and those who have no clothes, and in doing so, in a mysterious way, we are ministering to Christ himself."
The success stories abound. There is Kimber, a 12-year-old girl whose parents have recently divorced. She was considering running away from home, according to Dearnley, but reconsidered after becoming active in a Pura Vida Partners Interactive Center, a computer workshop where she is learning to explore the world through map and geography software.
"Experiencing the love of God" is how Eladio Guerrero describes what happens at the Interactive Centers. Guerrero, who is a coordinator for the centers, has seen first-hand how computer education has made a difference in many young lives.
"Some of these children do not have anyone who really cares about them, so they found in these places the love they have not found in their lives," he says. "Besides, they see that if they make an effort they can learn to do something valuable, something that they never imagined...a poem, a love card for their mom, a painting to show others.... The opportunity is there."
"We've seen the vision these kids have for the future just radically changing," says Dearnley.
The renewed vision of the children is evident. "I enjoy coming here and sharing with others," said Pablo Solano, an 8-year-old boy who, though confined to a wheelchair, comes to the Interactive Centers every day. "This place reminds us to come closer to God and that he loves us."
PURA VIDA, WHICH sells its coffee over the Web and in church congregations across the United States, has become much more than a small revenue-generating mechanism for Dearnley's San Jose mission. It represents, some say, a new form of socially responsible business that is quickly evolving into a network of revenue sources for worthy causes.
"Pura Vida is an example of social entrepreneurship," says James Austin, chair of the Harvard Business School Social Enterprise Initiative. "It is not the story of a major corporation turning its capabilities toward a social problem, but rather the story of socially committed, successful business professionals turning their energies and talents toward the creation of a new social purpose enterprise."
Individual congregations often buy Pura Vida coffee and serve it on Sundays and during fellowship meetings. They also can buy the coffee by the bag and sell it at a profit, which the congregation then keeps for their own missionary and social justice work.
"We all know that churches serve bad coffee, and there are a lot of them," quips Sage.
The company has also evolved into a network where other mission-driven organizations, such as Habitat for Humanity, World Vision, and Sojourners, create co-brands of Pura Vida coffee to generate funds for their own work. SojoBlend, the co-brand created in partnership with Sojourners, is a fair-trade, environmentally and economically just coffee that allows the coffee harvesters to be paid a living wage—as much as twice what they are normally paid.
Finally, Pura Vida allows for direct donation to the San Jose project. Dearnley says that he started getting feedback from customers saying, "I love what you're doing, but I literally can't drink any more coffee. How can I help?" In December 2001, Pura Vida Partners accepted more than $17,000 in direct donations from people who had heard about the ministry from buying coffee in the past or by signing up for Dearnley's e-mail newsletter for updates on the ministry.
The energy that sustains Pura Vida comes from the strong business backgrounds of its founders, to be sure, but the day-to-day work of Dearnley and his colleagues in Costa Rica is an equally motivating force.
At Pura Vida's business headquarters in Seattle, connecting to the Costa Rica ministry on a daily basis is important. Artwork by the San Jose children plasters the walls. "We try really hard with the best of our limited resources to make that connection, that emotional and spiritual connection, between the work that he's doing and the work people here are doing," says Sage, who visits San Jose every year or so.
And ultimately, Dearnley even sees a connection between the ministry and the product of coffee itself. "Not only are we seeking to reach into the communities in need and bring community to children who come from fragmented homes and experiences, but at the same time, coffee itself as a product is very communal," Dearnley says. "It's over that cup of coffee that hearts are opened and lives are shared and that you really experience the more meaningful parts of some people."
Holly Lebowitz Rossi, a Sojourners contributing writer, lives in Arlington, Massachusetts. Sojourners partners with Pura Vida to produce SojoBlend coffee. Find out more about Pura Vida.