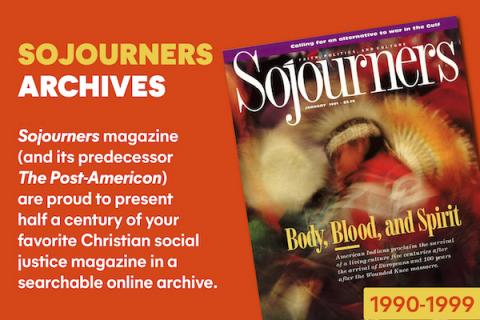 Across the nation, people of faith are seeking ways to strengthen their congregations' ministry with and for workers—workers within and outside the congregation. Despite the booming economy, too many workers are not paid wages and benefits that can support families. Almost half of new jobs pay less than $16,000 per year. These jobs cannot move families out of poverty.
When workers attempt to organize a union to improve wages or benefits, they often face strong employer opposition. Eighty percent of private sector employers hire professional consultants to fight workers' unions. Almost a third fire employees who actively help other workers join unions.
Congregations and faith-based organizations are on the front lines of providing soup kitchens and shelters. But increasingly, such groups want to be on the front lines of justice for workers so that people won't need soup kitchens and shelters to survive.
Below are 15 concrete ways to strengthen your congregation's justice ministry with workers and to help rebuild ties with the labor movement.
1.  Hold a service on the Sunday before Labor Day lifting up justice for workers. Labor Day is an obvious time to address worker justice issues. Use the entire service to focus on God's desire for justice in the workplace. If there are labor leaders in your congregation, ask them to speak during the service. Or involve local labor leaders from the community in the service.
In 1998, 37 cities had "Labor in the Pulpits" programs in which labor leaders spoke in congregations. Similar programs will occur in many cities over Labor Day weekend in 1999. Labor Day worship materials are available from the National Interfaith Committee for Worker Justice (see NICWJ address below).
2.  Form a Bible study group on God's messages to workers and employers. Look carefully at what the Bible teaches about being a just worker and a just employer.
3.  Lift up worker justice struggles during group and personal prayer times. We pray regularly for hungry people and homeless people. We must also pray for justice in the workplace to ensure that people can afford food and shelter.
4.  Support local worker justice struggles. In most communities, unions are working with workers, especially low-wage workers, to improve wages, benefits, and working conditions. Because the labor community and religious community frequently don't know one another, there may be a significant labor struggle going on right down the block that you've never heard of. If you know of a local union headquarters near your congregation, get to know the leadership and ask them to keep you informed of local struggles. If there is an ongoing Interfaith Committee for Worker Justice or Jobs with Justice group, call and express your interest in getting more involved. You can also approach the local Central Labor Council leadership. If you are not sure whom to call or have trouble getting contact numbers, contact NICWJ.
5.  Survey your congregation's workers. Find out where people work. Are they part of a union? Do they feel they are treated respectfully? Do they have employer-provided health care for their families? Are there ways your church could better support the workers within your congregation? For a sample survey form, contact Paul Chapman, Employment Project, 237 Thompson St., New York, NY 10012; (212) 533-6945.
6.  Join ongoing campaigns to challenge sweatshops. There are dozens of such campaigns under way. Some of the campaigns are focused on getting schools or other large purchasers of clothing products to buy "sweat-free." Others are focused on particular companies that need encouragement to treat workers better. For a comprehensive list of current sweatshop campaigns and hands-on congregational resources, order the "Challenging Sweatshops Guide," available from NICWJ.
7.  Invite a speaker from the Department of Labor to address a Sunday School class, social action group, or another forum. Ask the speaker to talk about Labor Department initiatives to reduce sweatshops and child labor in your community.
8.  Conduct a worker-rights workshop for people who attend your church. Most workers are unaware of the basic laws designed to protect them. Ask a worker rights expert, perhaps from the Department of Labor, or perhaps through a worker advocacy group, to help members of your congregation understand the laws. If you have low-wage workers in your congregation, many of them are probably being denied wages. For example, according to a recent Department of Labor survey, 30 percent of nursing homes were violating wage and hour laws.
9.  Review your congregation's or religious nonprofit's own personnel policies. Do you pay your staff, including clerical and janitorial staff, decent wages with family health care? Are there mechanisms within the congregation to address the concerns of your own staff?
10.  Set forth values for building projects. One of the biggest budget items for many congregations is building or renovating a facility. This is an opportunity for ensuring that construction workers are treated justly. Order "Building Projects and Religious Values: Ethical Questions for Congregations to ask Building Contractors" from NICWJ to help begin your conversations.
11.  Join or form a local interfaith committee/labor-religion coalition. Across the country, these groups are supporting workers' efforts to improve wages, benefits, and working conditions and spearheading initiatives to strengthen ties between the religious and labor communities. Many of these coalitions are active in living wage campaigns (see next item).
12.  Organize or participate in a living wage campaign. More than 15 cities have passed living wage ordinances requiring companies that contract with or receive subsidies from the cities to pay their workers living wages, generally ranging from $7.50 to $9.50 per hour. These are demanding campaigns, but they are excellent for involving the religious community and building alliances with labor. The campaigns require a commitment not only to pass legislation, but also to monitor its implementation. A packet on how to organize a successful campaign can be ordered for $30 from CLUE, 548 S. Spring St., Suite 630, Los Angeles, CA 90013.
13.  Join or form a Worker Rights Board. Jobs with Justice has spearheaded the development of Worker Rights Boards that formally and publicly hear workers cases. Although the Boards have no legal authority, they do hold moral authority and have helped improve conditions for many workers. For more information about forming one, contact Jobs with Justice, (202) 393-1044.
14.  Conduct a fact-finding delegation. One good way to involve members of your congregation in understanding particularly difficult worker issues is to form a fact-finding delegation. The delegation, usually composed of both religious and community leaders, meets with workers and hears their concerns. Usually the delegation attempts to meet with the management of a company, and occasionally such a meeting in itself helps resolve problems. More often the delegation is denied a meeting with the management. Whether or not there is a meeting, if there seems to be no commitment on the company's side to addressing the workers' concerns, the delegation writes a report of its findings and recommendations. The report is then released publicly.
15.  Participate in "Forging Partnerships for the New Millennium: A National Religion Labor Conference," October 7-9, 1999, in Los Angeles. This dynamic conference will help shape the worker justice movement's emphases for the next three years. Come help forge new partnerships.
Kim Bobo is the executive director of the National Interfaith Committee for Worker Justice, the only national organization devoted exclusively to rebuilding partnerships between the religious and labor communities and mobilizing religious involvement in worker justice issues. For more information, visit http://www.nicwj.org.