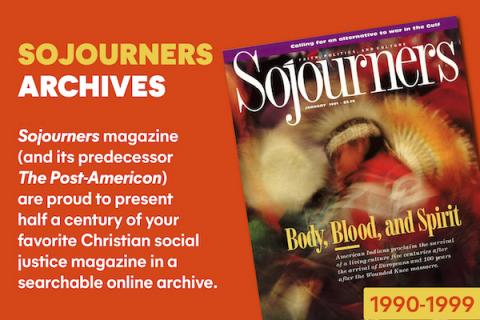 For the past five years, mythologist and storyteller Michael Meade and his Seattle-based Mosaic Multicultural Foundation have been holding gatherings that often serve as rites of passage for gang members and other alienated youths.
Set in remote locations, where nature itself helps spur the kinds of changes that reveal the essential spirit of a person, the weeklong conferences involve up to 84 youth and adults and use a wide array of arts and traditional knowledge from diverse cultures. Through storytelling, drumming and singing, through conflict that is ritualized and contained, youth are engaged at the deepest levels of their beings.
With Meade and other selected teachers serving as elders, the events begin with four stages that parallel traditional rites of passage: (1) separation from the ordinary world; (2) encounters with mentors and elders and subsequent inclusion into groups or clans; (3) meetings with somewhat older men who've passed through similar life experiences; and (4) ongoing work and practice with the mentors and the mastering of various arts and skills.
"We've learned that youth have to choose their mentors. And any time that's not happening, forget about anything working," says Meade, the author of Men and the Water of Life: Initiation and the Tempering of Men (Harper San Francisco, 1994), a book that explores the role of initiation through analysis of folk tales from around the world. "The relationship is between the genius in the youth and the similar genius in the mentor."
Because the gatherings occur far from the mean streets, endangered youth find themselves in a sanctuary where they can let down their guard. The only rules are no weapons, no physical violence, and no drugs or alcohol.
"Here, for a week, the kids are not going to be judged," says Meade. "And that's when the healing takes place—when we ritually create the conditions for opening the heart, the woundedness, and the ambition of each man. Because most of these youth are suffering from suppressed hope for a future life."
The last part of the conference involves the creation of a powerful unifying ritual that the youth help construct, so that they're not being subjected to anything imposed from the outside.
"The closing ritual instigates the change and confirms the new attitude toward life. It doesn't happen for everyone, and it might not happen the first time, because these events initiate life changes rather than function as formal initiations. The truth is, most people think that initiation means you have arrived. But in fact it means you have begun."
JORY FARR is a staff writer and columnist for The Press-Enterprise in Southern California, and the author of Moguls and Madmen: The Pursuit of Power in Popular Music (Simon & Schuster, 1994). He is currently working on a book on initiation)