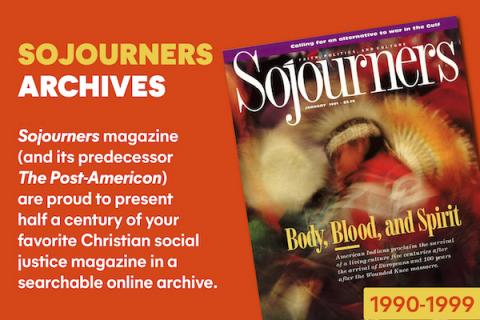 At the beginning of God's creating of the heavens
and the earth,
when the earth was wild and waste,
darkness over the face of Ocean,
rushing-spirit of God hovering over the face of the waters—
God said: Let there be light! And there was light.
God saw the light: that it was good.
God separated the light from the darkness.
God called the light: Day! and the darkness he called: Night!
-Genesis 1:1-5 (The Five Books of Moses, translated by Everett Fox)
ONE OF MY PRIMARY SCHOOL TEACHERS hitchhiked from Toronto to Montreal for her honeymoon, or so was the rumor at Toronto Central Christian School. Wendy taught us art, music, and sometimes dance, and was by all accounts a Jesus hippie. Much to my mother's chagrin, Wendy insisted that we call her by her first name (which explains why I cannot remember her last), and I revered her as much as I found her strange.
For art class, we'd stare at a painting or listen to classical music with eyes closed, and paint what we felt. In music, we wrote songs about the street cars we could hear rumbling by, how the falling rain looked, or the people we'd seen on our way to school. She taught us traditional folk dances, including an Israeli water dance she'd learned at a kibbutz a previous summer, and directed us in a condensed version of Joseph and the Technicolor Dreamcoat. Sometimes we'd take over the basement of the church that housed our school and dance free-form to very loud music, eyes closed, straining to figure out what, exactly, we felt so we could express it.
By 7, my body was already awkward and unreliable, and I envied 3-year-olds the much-touted freedom of childhood. Yet I danced furiously, to spite my embarrassment, as a woman in a flowing skirt pleaded with us to let go.
Nearly 20 years have passed, and though I'm not that much closer to the primal, creative impulse, I still live furiously, hoping that Wendy was right. I don't believe I can ever really get there, but I have (rarely, precariously) felt the surge of power that tells of a Source other than myself—a lift in my voice entirely beyond my ability to sing, a flow of words from the pulpit or in a prayer circle that exceeds my vocabulary. And it sends me back to my beginning, back to my life source, back to God in quaking, short-lived gratitude.
A rhythm is established; a poem is used to explain the universe's coming into being. God calls things into being, moving from light to beasts to humankind (Hebrew adamah), to whom are given the capacity to name what they see, to order their universe.
Given too much power, I sometimes think; too much freedom to name things, too much creative control without proper training. Overgrown children splitting infinitives and singing out of range. I'm too accustomed to that freedom even to long for those days in Eden. Each time I read the Genesis account, I fall hard again, rejecting the will of God even as I cling fast to trees and beasts as I am dragged from the garden.
YET FOR WHATEVER reason, the God who designed the elegant logic of the universe imprinted in our nature the ability to conjure, to reveal, to name. All that we do reveals the head-splitting double-mindedness of our utterly fallen, utterly redeemable universe. Each soul, each family, each nation lives out this paradox. What we do matters; what we create can contribute to or detract from the face of God becoming visible.
But we are not burdened with being the lone bearers of the truth of God. We're given a small piece, in a small time, in a small place, and the Word that was there at the beginning of God's creating of the heavens and the earth dwells among us, full of grace and truth. So we can live, ears planted firmly to the ground, naming what we see, giving expression to the face of God as it is revealed to us where we are, according to who we are, because redemption, in the end, will have the final say.
A creative life is messy and uncertain. It cannot tolerate dishonesty, just as it cannot hide a lie. The truth a character wants to tell, the vantage point a painting requires, might contradict the very point the artist set out to convey. For Christians, it becomes sticky when a saint gets drunk on the page or an innocent face scowls out from the canvas.
In her book Walking on Water, Madeleine L'Engle speaks to this creative tension point directly:"Christian art? Art is art; painting is painting; music is music; a story is a story. If it's bad art, it's bad religion, no matter how pious the subject. If it's good art...the questions start coming, questions it would be simpler to evade."
IN THIS TIME and place, the hunger for clarity deifies the obvious and demands artistic expression that is too diluted to provoke. If we don't get it, it is spiritually suspect, and we'd rather limit God's power to comprehensible forms than risk sliding down that slippery slope of relativism. This is clarity at the expense of grace. How is it that scientists (whose discipline demands great accuracy) are well ahead of theologians (whose discipline demands that no one claim accuracy) in embracing what they do not know?
The irony, (dare I say?) the blasphemy, of limiting God to literal truths and historically documented facts in order to steer clear of that slippery slope of relativism is deafening. I do not see how the Master of the Universe becoming incarnate—the ground of all being confining itself to one aspect of being—is obvious; how "Jesus Loves Me, This I Know" is anything but mystery. I love doctrine, theology, and exegesis, but if I believe anything, it is that even if we have it all wrong—even if it turns out that both pre-destination and free will are wrong—God will still be God, and his unwavering love for his creation still unwavering.
This is why we need painters, writers, musicians, and dancers—they remind us that faith, like art, must be equal part sweat and release, struggle and letting go. They make clear the lie that we can live outside of the paradox; that we can rise above the stinking mass of humanity; that we can live apart from God, the earth, or each other. By definition, they must tell the truth, which is not an easy task.
To journey to the depths of the soul is a harrowing path, requiring complete relinquishing to what lies ahead—a path only traversable because the maker of the universe has already walked it. Somewhere, between the blinding light of Christ and the darkness of human despair, the artist lets go, and truth takes flight.
Then the created—the song, the mural, the essay—brings forth a life force much greater than its human creator, something of God that upon being heard or seen or read culls forth a great sign of recognition, an utterly human, "yes, that is how it is," that makes walking this path more joyful, less lonely, and more possible. In the following forum, a number of artists wrestle with this creative vocation.
Kari Jo Verhulst was marketing assistant at Sojourners when this article appeared.