BY MOST MEASURES, the day had been a success. On the morning of Dec. 4, 2017, nearly 300 people crammed into a small room near Washington, D.C.'s Capitol Hill to reignite the 1968 Poor People's Campaign. Camera crews filmed while clergy, Indigenous leaders, Fight for $15, Iraq Veterans Against the War, and state groups from around the country pledged their support.
From there the leaders marched to the U.S. Capitol to deliver a letter condemning the then-looming tax bill. "Woe to those who make unjust laws," they read from Isaiah 10, "to deprive the poor of their rights."
Later, the same crowd—plus locals lured by a lineup featuring Sweet Honey in the Rock, Maxwell, and Van Jones—gathered at D.C.'s Howard Theater to celebrate. Faith leaders and activists who'd linked arms together in places such as Flint, Mich., Charleston, S.C., and Standing Rock in the Dakotas sipped drinks and ate free ice cream provided by Ben and Jerry's. The overall vibe was part social-justice pep rally, part family reunion.
But Rev. William Barber II wasn't feeling it.
While the DJ played '80s hip-hop, Barber lumbered onto the stage unannounced. He didn't have a microphone, so he just started yelling. The perplexed stage crew scrambled to find a working mic, but Barber was impatient. The DJ cut the music and the theater grew quiet.
"My brothers and sisters," boomed Barber once he had a mic. "This is a Poor People's Campaign mass meeting and concert; this is not a party."
'Make this nation cry'
For the next 10 minutes, Barber worked his way through the litany of injustices that he and Rev. Liz Theoharis, co-chairs of the campaign, had repeated from countless pulpits over the past year as they crisscrossed the country recruiting people for the Poor People's Campaign: deaths caused by lack of health insurance, the rollback of voting rights, corporate drilling on Native American lands, homelessness, police violence, an unlivable minimum wage, Flint's inability to provide its citizens with clean water, political corruption. He spoke without notes, rambling at times ("I don't have time to be scripted because the evil that's happening is not scripted"), but it didn't matter; as he neared the end of his list, the mood of the room had grown somber.
"I'm a pastor, I bury people because of these politics and ain't nothin' funny going on right now!" said Barber. "But people are hippin' and hoppin' and jumpin' around like everything is okay."
The point, Barber concluded, is to be careful about the mood you're setting when you're getting ready to fight. "We didn't come here for partying; we came here for consciousness," he said. "We came here to recruit people who are willing to do civil disobedience, who are willing to go to jail, who are willing to make this nation cry over the way people are being treated."
Then he asked those who were able to take a knee, Kaepernick style, in grief for America's moral failure. And nearly everyone in the theater—veteran activists, collared clergy, university students, old men with dreadlocks, young professionals, DACA recipients, parents with their kids, hippie grandmas with pink hair—knelt in response.
Fifty years later ...
In history books, the 1968 Poor People's Campaign is usually the tragic denouement in the narrative arc of the civil rights movement: the project Martin Luther King Jr. was working on when he was assassinated. But at the time, King envisioned the campaign as a radical new beginning, a broadening from civil rights to human rights, from the particular struggles of the black community to the intertwined triple evils of poverty, racism, and militarism. Or, as King said in a speech to the Southern Christian Leadership Conference staff in May 1967, a shift from the "reform movement" of desegregation and voting rights to a "revolutionary movement" that would demand nothing less than "a radical redistribution of economic and political power."
So, the SCLC launched a campaign to unite the poor people of the country: "We will be young and old, jobless fathers, welfare mothers, farmers, and laborers," explained a campaign flyer, "we are Negroes, American Indians, Puerto Ricans, Mexican Americans, poor white people." You didn't have to be poor to participate, but the accent was on the leadership of those who were directly affected. "There are millions of poor people in this country who have very little, or even nothing, to lose," said King. "If they can be helped to take action together, they will do so with a freedom and a power that will be a new and unsettling force in our complacent national life."
Fifty years later, this is the spirit of the campaign organized by Repairers of the Breach, a social justice organization where Barber is president, and the Kairos Center for Religions, Rights, and Social Justice at Union Theological Seminary, where Theoharis is co-director: a multiracial coalition coming together as a "new and unsettling force" against the systems that have long ignored them.
To the triple evils identified in '68, the 2018 campaign added a fourth: environmental degradation. But the charge leveled against the U.S. remains the same: America values wealth more than people. "We have the money, we don't have the moral capacity," said Barber in 2017. "A nation that continues year after year to spend more money on military defense than on programs of social uplift is approaching spiritual death," King preached half a century earlier.
What's new is the urgency. Working with the Institute for Policy Studies, a progressive think tank dedicated to issues of peace, justice, and the environment, the campaign announced that it would release an "audit" in April combining empirical data—including increases in the percentage of people living below the poverty line, voter suppression laws, prison populations, and military spending—with extensive testimony from marginalized groups around the country. "By many measures, what Dr. King called the evils of racism, economic exploitation, and militarism are worse today than they were five decades ago," said Sarah Anderson of IPS at the release of a preliminary report. "And if you add in climate change and other environmental threats, the findings are even more grim."
'My way to do something'
If all goes according to plan, thousands of people will take part in six weeks of nonviolent action in the nation's capital and in statehouses around the country, beginning on Mother's Day 2018 (May 13). Many of these participants will be willing to risk arrest in what organizers say could be "one of the largest waves of nonviolent civil disobedience in U.S. history."
But what you won't see in May is the network of people who have worked behind the scenes, often for years, to make this campaign possible.
Phil Fonville may have the least glamorous job in the Poor People's Campaign. "This movement has been traveling around the country, ginning up enthusiasm for this campaign," said Fonville, a retired engineer and part-time photographer, "and part of that is getting people to fill out pledge cards of what they're willing to do." Though the forms are available online, some folks still prefer pen and paper, so Fonville volunteered to manually enter the data from each card—name, contact details, willingness to be arrested—into what he refers to as the "big spreadsheet in the sky."
It's tedious work, but Fonville doesn't mind, even though it often requires a magnifying glass. He came to the Poor People's Campaign through the Moral Mondays movement Barber led in 2013; Fonville was arrested with Barber three times. "I've been kind of pissed off for decades, so it was my way to do something," he explained.
Real change doesn't start in D.C.
The real backbone of the Poor People's Campaign has been the patient work of community organizing. This is one of the campaign's core values: Real change doesn't start in D.C., it begins with the people doing on-the-ground work in their own communities.
"There will be no national campaign, there will be no power at the national level, unless there's power at the state level in every state," said Nijmie Dzurinko, a coordinator for the campaign in Pennsylvania. "We have to develop leaders at the state level. Because if this campaign is not a place where poor and dispossessed people are comfortable, then it's nothing. If it's not a place where poor and dispossessed people are leading, then it's nothing."
In 35 states, local leaders are educating people about the history of the campaign, hosting trainings in nonviolent civil disobedience, and coaching those who've been directly affected to tell their stories. "It is a bottom-up movement of people speaking for themselves," said Rev. Carolyn Foster, an Episcopal deacon working with the campaign in Alabama, "but many times they need help doing that because they have been so disempowered and hopeless."
Aaron Scott, a member of the campaign's national steering committee, agrees. He emphasizes that people who've been shut out of traditional power structures—especially those from isolated and rural areas—often feel "incredibly alone" when they start to stand up for themselves. As an organizer with Chaplains on the Harbor, which works to pastor and empower homeless people in Grays Harbor County, Wash., Scott avoids a "charity model" and instead seeks to ensure that the homeless community is involved in decisions that affect them. As a result, he's seen homeless folks who had never been involved with any form of activism begin imagining new possibilities, for themselves and for their town. "I didn't actually think it was possible to change anything in this town," members have told Scott.
Ultimately, he admits, "we're not big enough to create the changes we need to see in Grays Harbor," which is why Scott thinks the Poor People's Campaign is so important. "It's this idea of building local power in a really poor, really disenfranchised community while putting that community in touch with groups around the country that are fighting the same fights—and are starting to build power."
And realizing you're not alone can be transformative. At a recent meeting for the Poor People's Campaign, Mashyla Buckmaster told her story about how Chaplains on the Harbor was there for her when she was homeless, pregnant, and trying to get sober—and how, in turn, she'd been encouraged to stand up for the homeless community when town members made threats against their encampment.
When she finished her speech ("Hell yes, we're rednecks ... We're hillbillies for the liberation of all people ... We're here to stand shoulder to shoulder with anybody taking up this campaign, and trust me, we are the kind of scrappy you want on your side in a fight.") the crowd cheered, something that surprised Buckmaster. "It made me smile because I wasn't expecting people to react to it the way they did," she admitted.
Seven inches of rain
At age 74, Paki Wieland is likely to be one of the few people who will have participated in both the 1968 and the 2018 Poor People's Campaigns. Today, she's a retired social worker and professor, but in 1968 she was working with Appalachian Volunteers, organizing among poor people in West Virginia mining towns.
Wieland brought a crew from Appalachia to join in the campaign and camp in Resurrection City, a temporary village the campaign built on the National Mall. Today, it's a field where intramural teams play ultimate frisbee, but in 1968 it was filled with rows of plywood structures including a daycare center, a bakery, a "city hall," and bathrooms. At its peak, Resurrection City was the temporary home of 3,000 people who had traveled to D.C. to participate in the campaign, including one group that caravanned from Mississippi by mule train ("Don't laugh, folks, Jesus was a poor man," someone painted on one of the wagons).
During the day, the occupants of Resurrection City took part in daily demonstrations at government buildings; at night, they ate and sang together, trading stories about their struggles for justice in their own communities. "Initially, the mood was very optimistic," said Wieland. "The sun was shining and people were coming from all over and there was this sense that this is really what America is."
But then, the rain. More than seven inches of rain fell on Resurrection City during its six-week existence; the camp turned to mud. And the organization of the campaign, tenuous after King's assassination, which had occurred just a month earlier, began to crumble. By the time a "civil disturbance squad" came to evacuate the camp, Wieland felt that a sense of "quiet despair" had overtaken the campaign.
Social movements aren't sports
For a movement of poor people to succeed, two things need to happen, said Frances Fox Piven, a professor of political and social theory: "You have to cause a certain amount of disarray, and you have to be an electoral threat." The former is important, said Piven, because poor people lack traditional forms of power such as money, authority, and social connections. When protesters occupy a government building or block traffic, they exercise the only form of power available to them: withdrawing their cooperation from social and civic institutions. The latter is important, said Piven, "because ultimately if the movement is to win specific policy concessions, they have to be shepherded by elected politicians."
But identifying specific policy goals for a coalition-based movement such as the Poor People's Campaign is a tall order. The organizers of the '68 campaign dealt with this by addition: As new groups joined the campaign, new demands were tacked on. The result was a sprawling, 59-page document that, predictably, didn't gain much traction with legislators. Consequently, the '68 campaign is rarely credited with much success.
The public and the media often judge movements by comparing their policy demands against their legislative wins, explained Gordon Mantler, a historian who specializes in 20th century social movements. But, said Mantler, the best measure of a protest movement is rarely its immediate political victories.
"We shouldn't look at social movements as sports games," he said. "It's not just about winners and losers. Social movements often don't achieve all their grand objectives, but it doesn't mean that they were a failure." He notes how the Occupy movement was roundly criticized for lacking a policy vision, yet it created language—the 99 percent, the 1 percent—that we still use today. As he sees it, reframing the conversation is the start of real change.
The 2018 Poor People's Campaign is taking a similar approach. "What will make this successful is what is already making this successful, and that's amazing grassroots leaders coming together and staying together," Theoharis said. "We don't see the end of the 40 days as the culmination or the end of the campaign; we actually see it as the beginning." But by the end of June, she hopes they will have "been able to shift the narrative and gotten people talking about the issues and having people imagining that something bigger could be done—that we don't just have to stay in our silos or limit our imagination based on what we think could be politically possible."
And for Buckmaster, that makes it worthwhile. "Barber said we're not going to see the change, but we have to keep trying," said Buckmaster, who is planning to take part in the Washington state Poor People's Campaign in May. "That made me feel good. It means that there will be change; it's just a matter of time."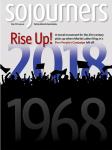 This appears in the May 2018 issue of Sojourners
Got something to say about what you're reading? We value your feedback!