Veterans' Affairs
Wonderful to see Standing Rock featured on the front cover and within the February 2017 issue ("A Chorus of Resistance," by Gregg Brekke). One other moment people might have missed: Some among the thousands of veterans supporting the water protectors went down on their knees to apologize for the atrocities committed by Army units against the Sioux people over the centuries of white hegemony. The elders forgave them. I, for one, wept at the grace of this.
Katharine Preston
Essex, New York
Where Two or More Are Gathered ...
There are some things in the article "Where Protestantism Went Wrong" (by Wesley Granberg-Michaelson, February 2017) that leave me unsettled. The article seems to indicate that a single person (a bishop or whomever) is a better arbiter of the truth than a council or a group (presbytery, synod, etc.). By declaring the priesthood of all believers, the Reformation raised up the importance of all people—educated, ordinary, or otherwise. My experience has been that, on the whole, a council or group is more likely to arrive at a truthful, correct, or workable solution to whatever issue is before them than any one individual in the group.
Mike Smathers
Crossville, Tennessee
'Duck' And Cover?
I finished my reading of Rose Marie Berger's "Mosquito Manifesto" (February 2017) with a positive feeling. Almost immediately, however, another image flashed through my mind: a short cartoon in which Donald Duck goes on vacation. Sitting in his lounge chair on the lawn, relaxing at last, Donald is set upon by a lone mosquito. Those who know the temperament of Donald Duck can guess the outcome. The final scene shows the mosquito escaping into the sky as Donald destroys his mountain cabin with shotgun blasts in a last vain attempt to rid the world of this pesky mosquito.
Is there not a real danger that instead of bringing down the giant, Lilliputian style, we mosquitos might actually provoke annihilation, not just of ourselves but of many unintended victims of the wrath of the powerful who will not care who they hurt in their attempts to rid the world of us?
David Tidball
Roseville, Minnesota
Not Alter Egos
In the February 2017 issue of Sojourners, Will Willimon makes an excellent case for the need to address racism from the pulpit ("Preaching the Devil Out"). However, as a Christian mental health professional, I disagree with his contrast between preaching and psychotherapy. I agree the two are separate, but one is not inferior to the other. Willimon characterizes psychotherapy as a luxury only privileged people use. This is based on historical fact, dating back to Freud, when psychoanalysis was provided only to the very richest. Today, however, mental health is constantly striving to be available to the poor and culturally diverse. I can think of no other institution, including the American church, that is more dedicated in practice to understanding and spreading unity among diverse people groups. I suggest that therapists and pastors pursue this goal together, using our unique talents in tandem, instead of trying to become an alternative to the other.
Nick Schollars
via email
"On the other hand…" Write to letters@sojo.net or Letters, Sojourners, 408 C Street NE, Washington, DC 20002. Include your name, city, and state. Letters may be edited.
Read the Full Article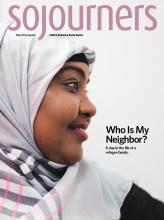 ​You've reached the end of our free magazine preview. For full digital access to Sojourners articles for as little as $3.95, please subscribe now. Your subscription allows us to pay authors fairly for their terrific work!
Already a subscriber?
Login