Reta Halteman Finger in response to "Describing Paul":
The word "bipolar" can be used in various ways. The dictionary definition I had in mind was "having or characterized by two opposed opinions, natures, etc.," which seemed to apply well to the context. Knowing persons who suffer from Bipolar Affective Disorder, I share Amy Randolph's concern, but I don't think people who use this term with another definition are necessarily insensitive or ignorant. Nevertheless, I will keep this in mind for the future.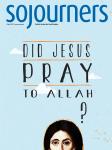 This appears in the May 2014 issue of Sojourners
Got something to say about what you're reading? We value your feedback!