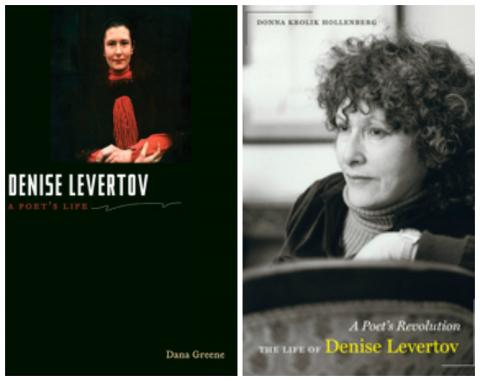 IT IS FITTING that The Collected Poems of Denise Levertov (New Directions) begins with "Listening to Distant Guns," written in 1940, when the poet was just 17: "The low pulsation in the east is war."
The subject of war and its horrors, a constant in Levertov's poetry and in her life, surfaces for the final time at the very end of this big book with these lines, written in 1997, from the poem "Thinking About Paul Celan": You / at last could endure / no more. But we / live and live, / blithe in a world / where children kill children.
Denise Levertov (1923-1997), an American poet born in Ilford, England, to a Christian-Jewish father who was a descendant of Rabbi Schneur Zalman, founder of Chabad Hasidism, and a Welsh-Christian mother, herself the descendant of the Christian mystic Angell Jones of Mold, began to see her spiritual sensibility take a more formal religious shape only in her late 50s, when she opened to the liturgical, mystical, and social justice dimensions of Christianity, especially Catholicism, to which she later converted.
Two recent biographies, Dana Greene's Denise Levertov: A Poet's Lifeand Donna Krolik Hollenberg's A Poet's Revolution: The Life of Denise Levertov, explore deeply, albeit with inevitable overlap, the serial passions and enduring poetics of this singular artist.
At age 11, both biographers tell us, Levertov was going door to door peddling The Daily Worker in Ilford. At 12, she sent a batch of her poems to T.S. Eliot, and received back from him an encouraging response.
Poetry was her life's purest passion. She had many lovers, many headlong, hurtful affairs to compensate for her romantically derailed and failed marriage to writer-activist Mitch Goodman. She also had a troubled relationship with their son, Nikolai, to whom Collected Poems is dedicated.
Levertov's own activism contributed to the rupture with her principal mentor, the poet Robert Duncan, who like many of her other admirers was critical of the strident tone of the anti-Vietnam War poems in her book To Stay Alive. Duncan, himself a pacifist, maintained that her anger was damaging to her imagery as well as her poetic integrity.
Levertov was one of the finest lyrical poets of her time. She wrote deeply seen nature poems, contemplative poems, poems that wove together persona and nature.
"Settling," from Evening Train, one of her final volumes, begins with these lines:
I was welcomed here—clear gold
of late summer, of opening autumn,
the dawn eagle sunning himself on the
        highest tree.
The poet was 25 and newly married when she first set foot in the United States. A foreign voice in a foreign land, she admired but refused to emulate in her work the idiomatic American voice of another of her mentors, William Carlos Williams. She insisted "that the poet's first obligation was to [his or her] own voice—to find it and to use it." She also once said, "I think I was able to become an American because I wasn't really anything. I was many things and no one thing."
Her fierce individualism (in this she was very much her father's daughter) invited controversy. When radical feminism erupted in the '60s, prominent female poets such as Adrienne Rich and Muriel Rukeyser embraced it. Levertov did not. Though disdainful of sexism, she was likewise disdainful of self-absorbed feminist politics and gender poetics ("I feel that the Arts always have transcended and must transcend gender").
Greene and Hollenberg are the harvesters of the poet's rich contradictions. The Hollenberg biography is the more comprehensive of the two, but Greene puts Levertov's spiritual life into stronger focus. The poet's late-blossoming Christianity led her, in her 60s and 70s, to write some of the strongest contemporary religious poetry we have, which increasingly focused on the immanence of God.
The poem "St. Thomas Didymus," in A Door in the Hive, says much about Levertov's own view of her spiritual standing:
I heard him cry out, weeping, and speak
those words,
Lord, I believe, help thou
mine unbelief,
and knew him
my twin ...
Robert Hirschfield is a New York City-based freelance writer.