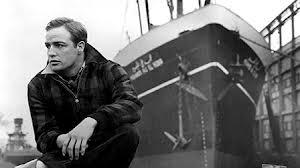 PAYING ATTENTION isn't easy in a world of infinite content, but there's a reason artists and prophets from Jeremiah to Arthur Miller have called upon us to sit up and listen: A drop of water or a focused breath may be as inexhaustible as a symphony or a thousand-mile trek. And one film? It could contain the world. On the Waterfront is not that film (for me it's Andrei Tarkovsky's transcendent portrait of a 15th century icon painter, Andrei Rublev), but it belongs in the canon all right. The new Criterion BluRay edition not only offers the crispest representation of the 1954 New Jersey dockyard visuals any of us have ever seen, it also illustrates the sociopolitical and creative context in a manner richer than any previously released.
So the story of a former prize fighter torn between his brother's mob ties, a blossoming love affair, his broken ambition, and desire to do the right thing emerges once again, six decades after first exploding onto the national consciousness, winning eight Oscars along the way. It's six decades and a bit more since its director, Elia Kazan, testified before the House Un-American Activities Committee, another man making a tough decision amid nearly impossible pressure: name names and survive or take the Fifth and receive exile. It's one decade after a perhaps more self-conscious Academy gave Kazan a lifetime achievement Oscar, though half of the audience chose to sit on their hands. We may ask whether or not the grace of God would have enabled any of us to do differently than Kazan, or if he perhaps had good reason to challenge the worst Soviet practices in the 1940s, or if the value of an artwork depends on the integrity of the artist. More questions besides are explored in the array of features on this On the Waterfront disc—interviews with Kazan, a documentary about the film's making, and a transcript of Kazan's defense of his testimony.
A movie about a man who risks his body to resist oppression, helped along the way by a cleric who invokes the notion that every time we harm a person we are re-crucifying Christ, may seem too easy an explanation for actions taken in at least partial political self-interest. But a movie about a person trying to discern a path between too many options, a person seeking to do the right thing, a person seeking to decide on what to focus his attention? That's a contender for the status of religious icon. I've been looking through its lens since I first saw it as a teenager, and I expect I will still when it's 100 years old. It earns our attention.
Gareth Higgins is a Sojourners contributing editor and executive director of the Wild Goose Festival. Originally from Northern Ireland, he lives in Asheville, North Carolina.