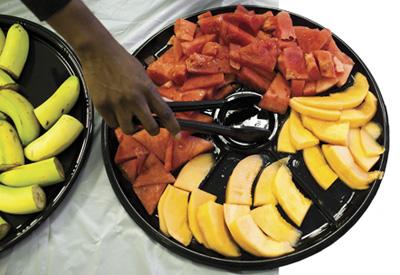 Food-related coverage in this issue was supported by ELCA World Hunger (www.elca.org/hunger)

IS OBESITY a "Southern thing," like drawling accents, gospel music, and excessive devotion to college football? Well, as a native Southerner, I have to admit that increasingly it looks that way.
Obesity is, of course, a national problem. In 1990, 34 states had obesity rates between 10 and 14 percent, but no state had a 15 percent obesity rate. By 2010 every state in the country was more than 20 percent obese.
According to the Centers for Disease Control (CDC), as of 2010 there were 12 states with obesity rates of more than 30 percent. All but one of them are in the South, and that one exception—Michigan—may blame its problem on the many Southern migrants it received during the 1950s and '60s. And the closer you look, the worse the picture gets. The highest concentrations of obesity were found in six states: Alabama, Louisiana, Mississippi, and South Carolina in the Deep South, and the largely Appalachian states of Kentucky and West Virginia.
The causes of obesity are the same for everyone. You eat too much, you don't get enough exercise, and you become obese. But why do people eat too much and move too little? As for any human behavior, the causes are complex and ambiguous, but the timing of the obesity outbreak suggests some answers. The upward trend in obesity began in the 1980s and '90s, when cable TV became widespread in American households, encouraging a couch-potato lifestyle. This was also when the two-income family became the norm. With both parents working full-time, home-cooked meals were often replaced by fat-laden fast-food dinners washed down with giant servings of sugary soda pop. In the subsequent two decades, both of these trends accelerated, with widespread internet access making physical activity even rarer.
From the beginning the obesity epidemic has hit hardest among the poorest Americans. Supermarkets tend to locate where the money is, but fast-food restaurants are eager to locate among the poor, where the "dollar menu" exerts a powerful pull. In addition, exercise is more difficult in a crime-ridden urban environment or in a rural one with few public parks and no sidewalks. And gym fees or exercise equipment simply aren't a priority for people who can't pay their electric bills.
The South experienced all of these national trends and at the end came out way ahead in obesity. Partly we can blame that on higher than average Southern poverty rates, but, at some point, the subject of the traditional Southern diet becomes unavoidable. We are, after all, the people who invented Kentucky Fried Chicken and Coca Cola. The fact is that, traditionally, we like to eat everything fried, even vegetables. And what we don't fry, we like to boil with a big hunk of fatty pork, and maybe a little sugar. These Southern peculiarities are rooted in a history of rural poverty. Frying is quicker than baking when you have to get back to the fields, and frying doesn't heat up the house the way an oven does; before air conditioning, that was a big deal. The extra calories from grease also helped make people feel full when rations were short, and the pork in the vegetables was a bit of protein when there was no other meat on the table.
That way of eating worked for our ancestors. Fifty years ago a life of hard physical labor, in a world without air conditioning, was the norm for most Southerners, African American and white. Now the jobs that required physical labor are gone. In their place is less vigorous service work, or unemployment. We have the same cable or satellite TV and internet as everyone else and the same fast-food chains. In other words, everything about our world changed, except our diet, and that's why the CDC map of obesity in America glows fire-engine red across the lower tiers.
The good news is that today many Southerners, African American and white, are finding in their Christian faith and their faith communities resources to combat the pressing public health crisis of obesity. As the long-term costs of this plague are sinking in, people are seeing that to change individual behavior also means resisting economic and cultural forces, a challenge best met in the context of community.
REV. MICHAEL O. MINOR first noticed the obesity epidemic in the mid-1990s, when he returned to the South after several years in the Boston area. Minor, a native of Coldwater, Mississippi, went north to study at Harvard. Back home, he was startled by the number of people who were, as he tactfully puts it, "of a special size." When he was called to preach at Oak Hill Baptist Church in Hernando, at the edge of the impoverished Mississippi Delta, the issue of obesity and health began to weigh on his conscience.
In a phone interview he told me, "I wanted to do something about this when I became pastor, but in Baptist churches the pastor is elected; that makes it hard for you to get up in the pulpit and tell people, 'You're too fat.' So I came at it through community efforts first. I reactivated the Rising Sun Usher Federation [in the black church, ushers are often influential lay leaders] and started talking about health in that context. Soon we were putting on health fairs, and I slowly got bolder and bolder about raising this with the people."
Soon Minor began to develop a reputation as "the Baptist preacher who banned fried chicken." He got a call to meet with Michelle Obama when she came to Mississippi to promote her "Let's Move" anti-obesity campaign. "People had told her I was the Baptist preacher who banned fried chicken from my church," he said. "Actually, at that point we hadn't banned it; we were strongly discouraging it. But finally we said, 'Why not?' and made it official: There is no fried chicken on The Hill."
To Minor, the issue of obesity is a matter of faith, and he presents it that way to his congregation. "In the Hebrew Bible," he says, "you see this word shalom. We do that concept a disservice in English when we call it 'peace.' In fact it is about wholeness of mind, body, and soul. Sometimes when Jesus healed people he would say, 'You've been made whole.' The Bible doesn't separate the mind, body, and spirit. We're the ones who cut ourselves up into three parts. To Jesus we are one, and we are called to wholeness."
"This has really made a difference in our church," Minor continues. "We have people who are literally half the size they used to be. And it's not just those dramatic cases of people who've lost hundreds of pounds. The people who've lost 10 or 20 pounds feel better and are healthier. It adds to their quality of life."
A typical church dinner at Oak Hill today, Minor says, includes "grilled or baked chicken, green beans or greens cooked with turkey neck or with olive oil and seasonings, fresh fruit, maybe some desserts made with Splenda, and water or Crystal Lite to drink instead of soda pop." That menu might not pass muster with whole-food purists, but it does maintain some of the community's traditional foodways, while drastically lowering the fat, sugar, and salt.
To help people exercise, the ushers at Oak Hill marked off the mileage around the church's paved parking lot, so members could use it as a walking track. "We have walking teams at the church now," Minor says. He also tells people, "Park further away from the store and walk. Do things to work exercise into your daily routine. A lot of people can't afford exercise equipment, but anybody can do something. Small things done intentionally can make a big change."
Those small changes at Oak Hill have rippled out, first through Mississippi, and now nationally, through the National Baptist Convention, of which Oak Hill is a member. Minor has been named to head the denomination's HOPE Initiative (Health Outreach and Prevention Education). The main goal for HOPE, he says, is "to get someone in every congregation trained to be a 'health ambassador.' These would be lay people trained for health promotion and health education."
The message needs to come from within the community, Minor says, because "especially in the Mississippi Delta, people hate to see outsiders. The Delta has seen so many researchers come and befriend the people, and then they're gone." It's also best, he says, that health ambassadors not be health-care professionals. "There is a problem in the African-American community," Minor says, "that goes back to the Tuskegee [syphilis] experiments, and it has left a reluctance to deal with the medical establishment. People are suspicious."
INSPIRED IN PART by the success of churches like Oak Hill Baptist, another new initiative is trying to bring congregation-based preventive health care to the South's other deep pocket of poverty, the predominantly low-income white population of the Appalachian Mountains.
Katie Dollarhide is a Whitesburg, Kentucky, native who serves as project manager for the obesity prevention program at Faith Moves Mountains. They call the program "Healthy, Well-Thee, and Wise." According to Dollarhide, the project "started with a University of Kentucky faculty member, Dr. Nancy Schoenberg, who saw what was happening with African-American churches and wondered if something like that could work in Appalachia, since we, too, have tight-knit communities with churches as the center of life." Faith Moves Mountains is now active in four Kentucky counties—Letcher, Harlan, Knott, and Perry—in the heart of the state's southeastern coal region.
The classes on diet and exercise take place in churches, Dollarhide says, because that's where the people are and "that's where the trust is." The traditional division between body and soul is still a strong one in many Appalachian churches. "The pastor's priority," Dollarhide says, "is to see about people's souls. But I go to a Baptist church, and my pastor says God wants us to take care of ourselves."
Classes teaching about diet and exercise are led by lay health advisers, recruited from among the natural leaders of the community. One of those is Donna Boggs, a former schoolteacher in Harlan County, Kentucky. Even before she was trained as a health adviser, Boggs had gotten the message about diet and exercise. "I am a diabetic myself," she told me, "so I understand people's struggles, and I just hope I can touch one person and maybe prevent the onset of diabetes. I kept my diabetes at bay for 10 years with diet and exercise."
Boggs, who attends a Pentecostal church, says, "As a Christian, I believe that my body is a temple of the Holy Ghost, and everything I put into my body or do to my body needs to meet that test. That includes my food and drink and my recreation."
About the causes of Appalachian obesity, Boggs says, "This may be the mountains, but we have the same internet and video games as everybody else. And people eat fast food, too. People here are going to eat fast food and get their hair done, if they don't have money for anything else. You put that on top of the traditional Southern diet and you get a big problem."
Dollarhide sees the health challenges of obesity as simply part of life in a region that faces all kinds of struggles. "Most people here are poor," she says. "Coal miners might make a lot of money, but then they get laid off. So it's hard for everybody here. We are portrayed as ignorant, but we are hardworking people and just as smart as anybody. We will find a way to survive."
Danny Duncan Collum teaches writing at Kentucky State University in Frankfort. His latest book is the novel White Boy.