The True Cost Tour walks consumers through a grocery store and identifies the "social, environmental, and nutritional implications" of various products. It can be downloaded as a podcast or pamphlet.
Agricultural Missions, founded in 1930 as an evangelistic organization, now emphasizes solidarity with rural peoples' movements in the developing world and advocates for economic justice and food security. www.agriculturalmissions.org
The Presbyterian Hunger Program's Just Eating curriculum, designed for high school students and adults, uses scripture, prayer, and local and global stories to explore issues related to food. www.pcusa.org/hunger
The National Catholic Rural Life Conference addresses numerous issues related to rural communities and food. Its campaigns have included the "Eating is a Moral Act" campaign, begun in 2000.
FoodRoutes' programs include connecting consumers with local farmers, farmers markets, and CSAs; providing resources for local-food initiatives in schools and colleges; and offering "Buy Local" marketing campaign materials. www.foodroutes.org
The Community Food Security Coalition's numerous advocacy and education initiatives focus on food access as well as environmental sustainability and worker justice. www.foodsecurity.org
Slow Food U.S.A. emphasizes the table as a locus of pleasure and community, celebrates the diversity of American agricultural and culinary tradition, promotes sustainable agriculture, and urges a slower-paced life. www.slowfoodusa.org
Foods Resource Bank is a Christian response to world hunger and food security, working through coalitions with farmers, churches, and businesses to provide cash at the local level, where the need is greatest, for seeds, tools, education, and equipment. www.foodsresourcebank.org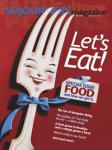 This appears in the May 2006 issue of Sojourners
Got something to say about what you're reading? We value your feedback!