Our move to a new building last fall brought us many gifts: a more efficient space, working heat and air conditioning (most of the time)--and a giant sparkling supermarket one floor below. It's a three-minute walk to wide aisles of gleaming produce, freshly made sandwiches, whole roasted chickens, and a salad and soup bar. We return to the office with happy grins, our telltale plastic bags bulging with apples from New Zealand, raspberries from Santiago, and microwavable turkey pot pies from food mega-conglomerate ConAgra.
With such convenience and choice—right downstairs!—who has to plan ahead? Why save our shopping until we can get to the local farmers market? We have ease, efficiency, control. That's progress, isn't it?
But as our writers for this special issue tell us, there's more to the food story. Much more. What seems cheap and convenient isn't really either; when our food travels thousands of miles before reaching our tables, it's not cheap, no matter what we've paid for it. And we doubt many farmers and migrant workers find aspects of our present food system "convenient."
But there's good news. Eating ethically is easier than we think, and our writers outline new ways of thinking about food and our relationship to it--how we can ensure what we eat is healthy, local, and produced in a sustainable way.
Food is about joy, about communion with others. We have been welcomed to God's table with love and grace. Let us welcome others in the same way.
—The Editors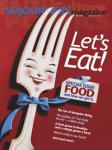 This appears in the May 2006 issue of Sojourners
Got something to say about what you're reading? We value your feedback!