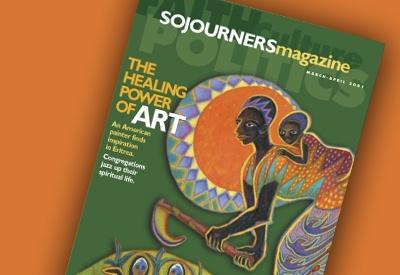 The story of the African-American church is one of the richest in American history. And there is no African-American church more famous than Atlanta's Ebenezer Baptist. A cradle of the civil rights movement, founded in 1886 during Reconstruction, Ebenezer's early pastors promoted black businesses, built the first public high school for blacks, and fought Jim Crow. Rev. Martin Luther King Jr. served as co-pastor with his father. Under the leadership of King's successor, Dr. Joseph L. Roberts Jr., Ebenezer's 2,000-member congregation in 1999 completed construction of the New Horizon Sanctuary, designed by the black architectural firm Stanley-Love-Stanley. The sanctuary-whose central axis passes through King's crypt-was designed around the concept of an African meeting house, and serves as the new home for a 115-year-old congregation that is building on its heritage as it enters the third millennium.

Hut-shaped arches reminiscent of a sculpted mound comprise the roof. Inside, the ridges step down toward the pulpit. Four large skylights fill the worship center with natural light. Patinaed copper roof seams suggest the long grass thatch commonly found on African dwellings. The bell tower was inspired by a monument in Ethiopia constructed by the Queen of Sheba in honor of King Solomon.

The rear of the church is in the shape of a drum-the heartbeat and communication method of ancient Africa.

The base of each interior column is clad with one of four African cross motifs-two are Coptic Christian from Ethiopia, one is the cruciform with a globe superimposed upon it, and the fourth is a design from the original church reminiscent of African weaving patterns.

The sanctuary is organized around fan shaped seating sections with mottled purple and green slate aisles, simulating the grasses of the African savannas. The carpet and seating fabric resemble African textile patterns. The circular pulpit features custom designed chairs, lecterns, and a communion table with African motifs.
The church's 3,000-pipe organ is dedicated to Alberta Christine Williams King, known as Ebenezer's "Mother of Musical Worship" (and Martin Luther King Jr.'s mother as well), who was slain during worship in 1974 while playing the Lord's Prayer.