"Mary stood outside the tomb, crying" (John 20:11). My NIV Study Bible has a footnote for this verse: "Perhaps Jesus appeared first to Mary because she needed him most at that time." Apparently justification is needed by these scholars for Jesus' decision to share the good news of his resurrection with Mary Magdalene; after all, as a woman, her testimony could not hold up in a court of law. (I'm still searching the footnotes on why Jesus wanted to appear to Peter, James, and John.)
Rereading this passage recently, I was reminded of what a difficult time Christians have had for 2,000 years accepting and acknowledging the enormous role Mary Magdalene played in the Easter story, and indeed throughout Christ's ministry. Mary Magdalene has been canonized, revered, modeled, reviled, blamed, excused, feared, and dismissed by church leaders and the faithful alike. She has been idealized as the penitent prostitute (even though passages only refer to seven demons being driven from her); this for a woman who appears in only a handful of scriptural verses. Now several studies are taking a new look at this enigmatic woman and the complicated roles thrust upon her by the church and society.
Susan Haskins' book, Mary Magdalen: Myth and Metaphor, presents an exhaustive study of the cult and mythology that has surrounded this "apostle to the apostles." Beginning with the references in each gospel, Haskins shows how Mary Magdalene's story became interwoven with other (often unnamed) women in the Bible, particularly Mary of Bethany and, in Luke's gospel, the woman—a sinner, assumed by many interpretations to be a prostitute, although again that is not at all clear—who anoints Christ's feet. Hence the subsequent, and inaccurate, depiction of Mary Magdalene as a repentant prostitute.
Read the Full Article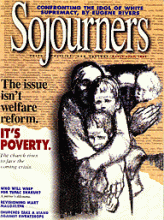 ​You've reached the end of our free magazine preview. For full digital access to Sojourners articles for as little as $3.95, please subscribe now. Your subscription allows us to pay authors fairly for their terrific work!
Already a subscriber?
Login