WE GATHERED THIS fall on the steps of St. Peter's Episcopal Church. Summoned by the Detroit chapter of Black Youth Project 100, we were preparing to march a mile-long stretch of gentrified Michigan Avenue, which intersects there. I had served the church for 11 years as pastor, and in the last dozen or so this Catholic Worker neighborhood had been invaded by $400,000 condos, plus destination bars and restaurants. Among others, guests at our Manna Meal soup kitchen and Kelly's Mission, largely black, are stigmatized and made unwelcome.
But the focus of the march was more than the gentrified influx: Accompanying gentrification has been a heavy increase in electronic surveillance by the so-called Project Green Light, where businesses pay for street cameras that feed to a Real Time Crime Center deep in police headquarters. In areas like this, as with downtown, high surveillance makes white people feel safe for moving in or just shopping and dining.
Dan Gilbert, a mortgage, finance, and development billionaire, owns more than 100 buildings downtown, all covered with the cameras of his own Rock Security. They feed to his corporate center, but also to the police crime center. Detroit Public Schools has its own central command, which is not yet tied to the police center. Likewise, a separate system of streetlight cameras, and even drones, is under development. California recently banned the use of facial recognition software in police body cams, which would convert an instrument of police accountability into a device of surveillance. Michigan has not.
Most Project Green Light cameras are in Detroit neighborhoods, on gas stations, bars, party stores, churches, and clinics. There, each is marked with the constant flash of green lights that say: You are being watched. When the city demolished a house behind ours, we had to hang light-impervious curtains to prevent green pulsing on our bedroom wall from the funeral home a block away.
For nearly two years, unacknowledged, facial recognition software was being employed by the police department. The software can be used with a "watch list" of persons of interest, plus access mug shots, driver's license and state ID photos, and more—perhaps 40 million Michigan likenesses. A string of recent studies indicates the software can be inaccurate for dark-skinned people, creating false matches and prosecutions. A federal study released in December, according to The Washington Post, showed that "Asian and African American people were up to 100 times more likely to be misidentified than white men." Thus, resistance to the system quickly mounted in Detroit, which is 80 percent black.
There are two surveillance-industrial complexes. It's said the days are coming when nations will need to choose which surveillance network to join, the American or the Chinese version—parallel to military alliances. China has 200 million cameras focused on its people, but with 50 million, the U.S. has more cameras per capita. The best facial recognition technology is coming out of Chinese firms, but these are banned in the U.S. because of their connection to "human rights abuses." The Detroit contract is with DataWorks Plus.
Orwell would be astonished
THE BLACK YOUTH PROJECT 100 march along Michigan Avenue was more like a dance parade, thick with drums, rhythm, and chant: "Black Out Green Light." This stretch is a so-called Green Light Corridor, where all businesses participate, marked with modest and tastefully lighted signs. At each venue we passed—coffee house, bar, restaurant, bagel shop—three or four folks would go inside with signs and leaflets to chant and speak. A nonviolence training a couple weeks prior had prepared participants for the increasing police presence as the action proceeded. Squad cars blared sirens and officers stood by doorways, never blocking entrance, but threatening. Back at the church Rashad Buni of BYP100, which seeks "Black Liberation through a Queer Feminist Lens," called for surveillance funds to be spent instead on neighborhood investment—foreclosure prevention, job training, clean affordable water—as the real source of community security. We all want safe neighborhoods. The question he puts is: By what means?
Read the Full Article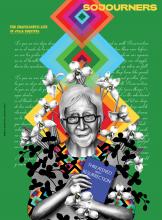 ​You've reached the end of our free magazine preview. For full digital access to Sojourners articles for as little as $3.95, please subscribe now. Your subscription allows us to pay authors fairly for their terrific work!
Already a subscriber?
Login