MY HUSBAND AND I are privileged to have health care for ourselves and our children. While access to health care is a serious and growing concern in our nation, as well as in our own state of Texas, we realize what a privilege it is to afford, even if barely, health care through our respective employers.
Not too long ago my husband was rushed to the emergency room, and later ICU, in a near-diabetic coma. Last year, we were heartbroken over our toddler's unexplained seizures. It took nearly four months before she was seen by a neurologist and another six weeks to be able to get an MRI. Two more months passed before we could return to the neurologist for results. For more than eight months, we had to wait on an answer, while our faith was stretched thin. When would God show up?
According to The Commonwealth Fund, Texas ranks 49th of the 50 states for worst health care in terms of access, outcomes, and costs. Texas has also opted not to expand Medicaid eligibility, which has had devastating consequences in our communities. Our elders will say that faith is what keeps them alive when the health care system has repeatedly failed them. Younger generations will say we should not have to choose between groceries, child care, and unpaid health care bills. We have been to the pediatrician, therapy, primary care, specialist, emergency room, and ICU more than we would like. While medical bills stack up, so too our student loans, mortgage, and other priorities. Without health insurance, this would all be more of a nightmare. I cannot imagine what it is like for the undocumented, refugees, and those unable to afford basic health care. How have we failed them? Universal health care is our country's moral obligation.
We could not have coped with all this without a community of faith. During my husband's stay in ICU, our community and church came through in ways we did not expect. When we had little faith, my comadres (friends) had faith for us. When I was too mentally exhausted to cook for the kids, my community cooked for us or sent gift cards. I don't know what we would have done without them.
Miraculously, our child's seizures went away before we ever got to the appointment to receive the test results, which provided no clear explanation. Perhaps it was our community's collective prayers, the eggs we swept over her body to cure her of mal de ojo (in a practice rooted in traditional Mexican folk medicine), or both. With a shred of faith and our sacred community, and access to health care, we endured one of the most challenging and confusing times in our lives. "It takes a village" is an understatement; proper health care takes a community and an act of Congress.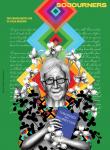 This appears in the March 2020 issue of Sojourners
Got something to say about what you're reading? We value your feedback!