Terry LeBlanc's cover story, "Reclaiming the Word" (Sojourners, March 2014) addresses the reclamation of Christianity by Indigenous peoples who have often been hurt by the church, but who have, in some way or another, salvaged a deep faith for themselves. He writes, "For Indigenous people, the biblical text, our history, and our life experience suggest that all of creation, not just human beings, is of a spiritual nature and is the focus of God's redemptive activity in Jesus."
Indigenous faith is strongly connected to nature. This is echoed in the following calendar that serves as a companion to LeBlanc's article. Each day is paired with an image and prayer from various tribes around North and Central America that reflect an Indigenous understanding of God. These prayers show a deep connection to nature and fellow human beings and often call for balance, peace, and harmony in everyday life.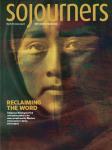 This appears in the March 2014 issue of Sojourners
Got something to say about what you're reading? We value your feedback!