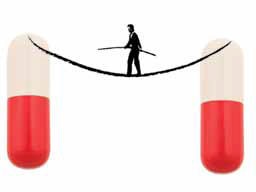 AS WE MOVE along in 2013, more initiatives will be coming on line from Obamacare (technically the Patient Protection and Affordable Care Act, although if you rearrange the letters it spells "death panels"). Starting next year, insurance companies can no longer deny coverage for anyone with pre-existing conditions, which is good news for Mitch McConnell, who might want to have his permanent frown removed. Additionally, the law requires that all tea party members take a spoonful of castor oil before bedtime and wear coarse undergarments close to the skin. (Hey, it was a big bill, with lots of fine print.)
What won't change, however, is our relationship to the pharmaceutical industry, known as "Big Pharma"—which is not, as you may have thought, the nickname of a linebacker from one of our agricultural-state colleges, but rather shorthand for "companies that combine ground-breaking science with the business model of a crack dealer." No offense to crack dealers.
I recently had a personal experience with Big Pharma, after two weeks with a projectile cough that filled the middle distance with an alluring prismatic mist. Office colleagues did not appreciate my little air rainbows, so I contacted my doctor for advice, using the convenience of email rather than driving over and changing into a disposable paper gown which—and I feel strongly about this—does not adequately flatter the body of a mature man.
I described my symptoms with a level of detail that only a professional writer can do, using the lushness of the English language to create a memorable narrative of my condition and symptoms. Naturally, I expected my doctor to reply in kind. But she didn't: "You're sick. Here's a prescription." (Science geek.)
I picked up the antibiotic and, as is my custom, read with furrowed brow the long list of possible side effects the pharmaceutical companies don't want you to hold them responsible for. Life is full of risks, the printouts seem to suggest, so Mr. Unlucky shouldn't blame innocent drug makers.
Compared to more-innocuous drugs with relatively few side effects—like, say, heroin—it turns out my particular antibiotic can cause muscle weakening, joint soreness, and bruising. Actually, these side effects are fairly typical of most antibiotics and vaccines (not to mention your average Egg McMuffin).
But the new one that caught my eye was "feeling a snap or pop in the Achilles tendon." Levofloxacin, named I think after an ancient Viking warlord, will cure my chronic cough, but I might also lose my inside move to the basket. Or not be able to walk. It says to contact your doctor immediately if this happens, but that would be after I notified anyone in the vicinity by writhing in pain on the floor.
One wonders how this got through FDA tests. Maybe they put it through the SEC instead, since the regulatory agency never catches anything. (Coincidentally, Bernie Madoff left a lot of people writhing in pain.)
Debilitating side effects are why drug ads in magazines are always on three pages. The first shows actors portraying senior citizens enjoying the benefits of the drug—which apparently include a long and happy life, as long as you have the pre-existing condition of looking fabulous. The other pages, however, go to great lengths—in extremely small print—to state what the lawyers think you should tell the ambulance crews in case you throw caution to the wind and actually use this medication. This leaves the consumer with a troubled feeling and, to my mind, is just another sign of the coming apocalypse, where there'll be weeping, gnashing of teeth, and popping of tendons. Maybe it's better to cough and live another day walking upright than to take risky medicines that flaunt the cosmic forces always ready to chasten daredevils.
WHICH IS WHY I shuddered visibly when I was told that my granddaughter had mistaken a large statue of Buddha for Humpty Dumpty. It was in a public place, with adherents in earshot, and she hugged it sympathetically, knowing that if it fell off a wall it would get no help from kings, king's men, or, for that matter, their horses.
But Buddha is one of the major religious figures—he's, like, in all the stores in Chinatown—and he demands respect even from little children. So, if the cosmos was paying attention, I don't know this kid. 'Cuz if a little pill can pop my Achilles, Lord knows what an angry cosmos might do.
Ed Spivey Jr. is art director of Sojourners.