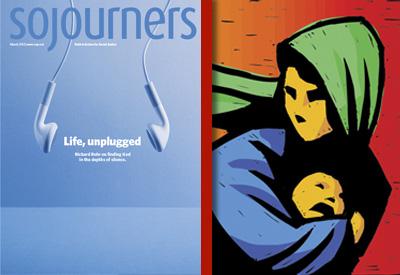 ONCE UPON A TIME, long before there were birth certificates or Social Security numbers, there were immigrants. If you are or have been an immigrant without documents, you may think life must have been easier then, that you would never be afraid of getting found out and deported.
But life was not easier—at least not in the first century C.E., in the five mostly rural Roman provinces in what is now Turkey. Especially if you were a follower of Jesus.
As an immigrant, you are called by one of two names in Greek, the trade language of the time. You are a paroikos if you had fled or been forced from your native community for any personal, economic, or political reason and were trying to eke out a living in a foreign land. Oikos refers to "house" or the economic structure of the extended household in which native people lived. Para means "alongside of." In other words, you are "away from home," a resident alien on the edges of ordinary life.
Consequently, you have fewer rights than full citizens. Never able to own land, you are a sharecropper, a craftsperson, or perhaps a small trader or shopkeeper. You may have been driven off your land by high taxes you could not pay, or perhaps you are a second son and will not inherit your father's land. You may be the wife or daughter of such a man, or a widow driven to support yourself and your children. You have legal restrictions regarding intermarriage, commerce, and succession of property. You have no political rights, such as voting in public assemblies or joining in guilds. Unlike citizens, if you are charged with a crime, you can be tortured.
But you would be even more marginalized as parepidemoi, a term referring to "a temporary visitor passing by." Some of you could be refugees fleeing war, violence, natural disaster, or infectious plague. Imagine Syrian refugees today fleeing to Turkey or Lebanon with no U.N. camp or social services from a local government whatsoever. Paredidemoi have no human or civil rights; many will end up as slaves torn from their families.
Mistranslating and misinterpreting
I owe the sociological material in this article to several published works on 1 Peter by New Testament scholar John H. Elliott and his interdependence with the Context Group of biblical scholars. Their cultural insights bring new dimensions to traditional interpretations and challenge over-spiritualizing of texts.
Case in point: Traditional theology assumes that the actual immigrants, exiles, refugees, and foreigners receiving Peter's letter are us—all Christians sojourning from birth to death in an alien world, longing for our true home in heaven. Think of the gospel song, "I'm but a stranger here; heaven is my home." Some Bible translations support this. The NIV names the recipients "strangers in the world" (1:1), and the New English Bible tells them what to do "while you live out your time on earth" (1:17), though "earth" and "world" never occur in the Greek text. To call comfortable, affluent American Christians today "exiles" and "strangers in the world" defies reality. It ignores the current harsh existence of many impoverished immigrants or the desperate plight of refugees forced to leave home and family for basic survival. It overlooks the overarching theme of suffering that pervades this letter.
Instead, 1 Peter was addressed to marginal people in five Anatolian provinces that cover all but the southern coast of western Turkey—Pontus, Galatia, Cappadocia, Asia, and Bithynia (1 Peter 1:1). They are "dispersed," scattered in tiny pockets throughout the 129,000 square miles of this mostly rural region. Most arable land is owned by the wealthiest 2 or 3 percent on huge estates worked by members of the lower classes. Natives living in small communities structured by traditional mores and religions are deeply suspicious of outsiders with different lifestyles and attitudes. Paroikoi and parepidemoi are strongly pressured to conform.
Is it because of this discrimination that the Jesus Movement attracts immigrants, refugees, and slaves? No doubt the story of Jesus' humiliation, suffering, resurrection, and exaltation gives hope to people who are often without hope. His Spirit is present to guide and love them in a loveless world. At the same time, Jesus-people are doubly harassed because they refuse to support the religious and social practices of the local population. They appear stand-offish and atheistic. Loyal only to Israel's God and God's messiah, they are called "Christians"— a pejorative term meaning "Christ-lackeys." Although there is not yet empire-wide persecution of Christians, local hostility can easily demoralize small groups surviving at barely subsistence level.
How could the gospel message have traveled so far so soon? Paul evangelized in Asia and Galatia, but there is no evidence he reached the other three provinces. Jews from Cappadocia and Pontus heard Peter preach his Spirit-empowered message at Pentecost in Jerusalem (Acts 2:9). Perhaps those converts, along with believers fleeing a plague in Syrian Antioch, planted small Jesus-groups as they traveled. But this suggests a later date than the Apostle Peter's lifetime, probably 70 to 100 C.E.
Clues in the letter imply it is a group effort, written from a "sister church in Babylon" (5:13), a Petrine community also suffering under local hostility. Babylon often symbolizes Rome, as well as a place of forced immigration and exile for God's people. Tradition points to Peter's martyrdom there, as well as his association with Silvanus (Silas in Greek) and John Mark (5:12-13). All three were part of the early Jerusalem church described in Acts (see 12:12 and 15:22).
Peter's original audience—princesses or paupers?
As we turn to the letter itself, try to hear it as a follower of Jesus in a small group of other believers who are at the bottom of the socio-economic ladder working on a large plantation or in a tin mine. In a culture where honor is the highest value, you have none. You may be a slave kidnapped from home and family and sold at a slave auction. You may be a partially disabled field worker, an itinerant stone mason looking for a place to settle down, the wife of an abusive alcoholic husband, or a widow whose recently deceased husband was her source of income. You may be an elder leading a small group of believers who, as African slaves later did in America, meet to pray and break bread in a clearing in the woods. Some of you may be Jews, but probably most come from various ethnic backgrounds.
The letter begins on a note of ironic triumph and continues in that vein through 2:10. Yes, you are immigrants and foreigners (1:1, 17) suffering various trials (1:6)—but you are chosen by God (1:2), born into a new family, and given an inheritance safe from predatory employers (1:3-4). The writer (whom we'll call Peter) clearly understands your plight, but he wants to remind you that you all are heirs to this joyful future (1:9). Long ago, God's prophets sought to understand the suffering and glory of the coming messiah—but "it was revealed to them" that they were doing it for your sakes and not their own (1:10-12). You are actually princes and princesses in disguise! Using a slave term, Peter insists you have been "redeemed" by the messiah's blood, who died and was raised from death—for your sake! (1:17-21).
Even as Peter piles on the compliments and raises these burdened outcasts to a new sense of dignity and worth as royalty in God's realm, he calls for discipline, obedience, and holiness (1:13-16). God "judges all people according to their deeds" (17). "Rid yourselves, therefore, of all malice and all guile, insincerity, envy, and all slander" (2:1). Even though you have received eternal salvation through Jesus (1:9), grow into it, like a newborn baby grows through its hunger for milk (2:2). A tall order indeed!
The poetic imagery of 2:4-10 is especially poignant. Jesus is the cornerstone of your spiritual house, and you are the living stones that make up the rest of it! You are not homeless. You are not a separate stone kicked around by the natives. Come together into a house and support each other. Your various ethnicities don't matter. Now you are "a chosen race, a royal priesthood, a holy nation"! Once you were not a people—now you are God's people! Imagine the power of this letter read by Silvanus to a mostly illiterate audience, then reread until it was memorized, then Silvanus walking to the next little gathering of believers at the next estate, and the same thing happening over and over.
Political realism
But Peter is also a realist. Living in "Babylon," he understands outsider status. "Dear friends, I know that you are paroikoi and parepidemoi. Here is how you must live in your present situation among hostile and unbelieving people" (2:11f). In other words, even though your eternal dignity and worth surpass those who presently rule over you, you have no status or honor among them. Apart from your allegiance to Jesus, give them no cause to complain about your behavior. "Accept the authority of every human institution" (2:13), but do it "for the Lord's sake" and not because any earthly power has ultimate control over you.
Peter singles out slaves and wives as examples of the most powerless among them. In their acceptance of unjust abuse, slaves become models of Jesus to the community, one who also suffered unjustly (2:18-23). Wives are to submit to unbelieving husbands "in the same way" slaves submit to masters in that culture—but for the missionary purpose of winning them over (3:1-2). Christian husbands shall treat their wives with honor as co-heirs of God's grace, in spite of the existing gender imbalance of power (3:7).
Far from an eternal submission imposed on powerless people, these instructions are given to those with no external options. Rather, by changing their attitudes to submitting "for the Lord's sake," they can take control over their lives and their dignity. Each person in each little group of "living stones" is equally important to building the house, making a home for the formerly homeless. All are called to the highest ethical behavior in a lawless, idolatrous society (4:3-4). Even the elders among them are charged not to lord it over their flock but to tend it eagerly (5:1-3). All must "clothe yourselves with humility in your dealings with one another" (5:5).
It's not about us
Most readers of this article can see that 1 Peter was not written to people like us. Most of us are citizens of the country where we live, with many civil and personal rights. Yet there are millions of immigrants and refugees in our world, an estimated 11 million undocumented in the U.S. alone. Others are trapped into work or sex slavery far from home. For the believers among them, Peter understands their marginal status.
For those who are privileged citizens, I suggest that we read this letter not as applying directly to us, but as a window into a world we do not inhabit, and as an opportunity for compassion toward those who do.
Thoughtful readers must consider the social contexts of both authors and audiences of biblical writings. For example, when the Apostle Paul writes to more-privileged people in Corinth or Philippi, he calls for downward social mobility, giving up privileges for the sake of the whole body of Christ. But 1 Peter is written from one suffering community to another, and that is how we must hear this letter. Its purpose, as the old saying goes, is "to comfort the afflicted." Other texts, such as Philippians 2:5-11 or 1 Corinthians 11:17-34, "afflict the comfortable." We also need to heed these latter texts in order to work toward a democratic society that provides freedom, justice, and hope for the paroikois and parepidemois among us.
Reta Halteman Finger, former editor of the Christian feminist magazine Daughters of Sarah, is the author of Roman House Churches for Today: A Practical Guide for Small Groups.