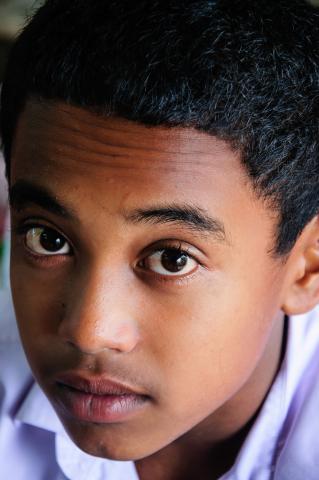 RECENTLY, the U.S. celebrated the 60th anniversary of the landmark Supreme Court case Brown vs. Board of Education that declared unconstitutional state laws establishing separate public schools for black and white students. By winning the Brown case, Thurgood Marshall broke the rock-hard foundation of racial barriers between black and white schools in the U.S.
But the civil right of equal opportunity for equal education never ensured the human right of equal access to it. Thus the explicitly racial divide, reinforced by law, was replaced by a close kin: the poverty divide, reinforced by economic blight entrenched by white flight to the suburbs.
Ten years later President Lyndon B. Johnson took a bulldozer to that new economic divide by declaring, in his January 1964 State of the Union address, an unconditional "War on Poverty." He said, "Let this session of Congress be known as the session which did more for civil rights than the last hundred sessions combined." And it did.
EVERY WAR HAS multiple fronts. Johnson's fight against poverty was a legislative one, which played out in states, cities, and school districts across the country. Within two years Congress had passed the Civil Rights Act, the Food Stamp Act, the Economic Opportunity Act, and the Social Security Act. Each act was a legislative beachhead in the assault against U.S. poverty.
The Elementary and Secondary Education Act of 1965 represented a major shift in the way the U.S. conceived public education. In this act, Johnson took direct aim at the economic infrastructure that barred blacks and other impoverished people from accessing equal education.
Reauthorized seven times since its passage, Title 1 of the 1965 Education Act was conceived as a way to compensate for the educational deficit caused by childhood poverty in urban and rural areas. Federal funds were distributed to districts that met the highest bar of proof of impoverishment. Approval for school-wide funding required that 75 percent of a school's students live in low-income households. President Clinton dropped the measure to 50 percent. President George W. Bush's No Child Left Behind initiative lowered the bar further: Only 35 percent of a school's local area or 35 percent of the school's students had to live in low-income homes to receive federal aid.
Did you catch that? It took less than 40 years to pull apart this pillar of Johnson's War on Poverty. George W. Bush's reauthorization no longer required that students receiving the funding actually be poor. The school only had to prove it was in an area where at least a third of the residents were poor.
What if a fundamental problem with our national approach to elementary and secondary education reform until now has been its focus on "filling deficits"? Do we see poor black and brown children as receiving a handout, special charity, or needing to demonstrate worthiness to receive adequate funding for their schools? And what is adequate? Adequate to supply the market with reliable consumers or create a base population to be consumed by our penal system? Or do we mean adequate to build the next generation of world leaders?
In Genesis 1:26, God confers upon humanity the command to exercise dominion—meaning stewardship and creative agency—in our world. Do we view the children in poor areas as humans who are called by God to grow up and exercise dominion—to offer meaningful contributions to the world? If we see these children as fully human, then we must view their education as our obligation—there is no option.
If this is our view, then we won't focus on simply raising poverty-based education deficits to "adequate." We won't allow Title 1 funding to drift from impoverished schools where it is needed to suburbs with only 35 percent of the children in poverty. And we certainly wouldn't make severely underfunded schools compete for dollars while also threatening to take away what little they have if they underperform relative to well-funded schools. Adequate would not be good enough.
As we keep close watch on innovations in education, here are three lessons I've learned: First, poor black and brown children are equally human, equally capable of learning, creating, thinking critically, and excelling. Second, when we say "yes" to the challenge to prepare every child to live fully into their humanity—with a capacity to lead, steward, and exercise creativity—we open ourselves to the possibility of a better future for all. And third, all things being equal, every child is capable of rising to the challenge. 
Lisa Sharon Harper is senior director of mobilizing at Sojourners.
Image: A black student looks at the camera, gtstudio / Shutterstock.com