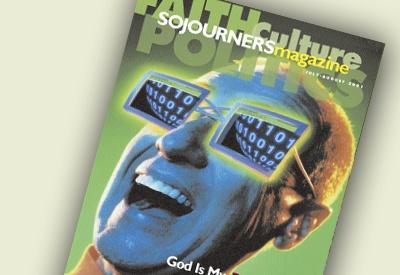 "In every generation each of us ought to feel as though we had personally gone forth from Egypt." That central line from the Passover service, which recounts the Jewish exodus from slavery into freedom, has always echoed deeply within me. Growing up Jewish in Virginia in the 1960s, I felt a certain kinship with my black classmates and an understanding with the African-American boys in my newly integrated Boy Scout troop.
At the time I couldn't articulate it, but it was a shared empathy with those unfairly discriminated against because of their minority status, because of their differences. As the child of a father who fled Nazi Germany and the grandchild of immigrants fleeing poverty and discrimination in Eastern Europe, the spiritual qualities and outlook of my black acquaintances rang a strong, mournful note in me; the deep wail of the blues resonated with the Jewish krekhs, the haunting cry heard in Jewish poetry and music.
Kinships like this resulted in the historic alliance of Jews and blacks in America during the civil rights struggle. From the founding of the NAACP in the early 1900s to the Freedom Riders of the 1960s, many Jewish and African-American activists worked hand in hand for common goals. After the triumphs of the civil rights era, the alliance frayed. Martin Luther King Jr.'s death, the emergence of the Black Power movement, Jewish flight to the suburbs, and the malaise of the post-Vietnam era all contributed to this parting.
Seven years ago I got a call from my rabbi, Jack Moline of Agudas Achim, in Alexandria, Virginia, that an organization was forming in Washington, D.C., to promote cooperation and dialogue between black and Jewish teenagers. I decided to get involved—tikkun olam (healing the world) is the foundation for Jewish ethical behavior. I offered my services as a photographer and began documenting the program that emerged, Operation Understanding D.C.
Operation Understanding D.C. aims to build a generation of young leaders who will work to eradicate racism, anti-Semitism, and discrimination. It is a one-year program packed with experiential and diversity workshops; seminars with distinguished historians from Howard University, rabbis, Black Muslim imams, and AME ministers; trips to Capitol Hill to meet politicians, civil rights leaders, and Supreme Court justices; the Holocaust Museum; and a lot of stereotype busting.
The central event is a month-long trip through America to sites relevant to each culture. The trip includes visits to Harlem; Borough Park (an orthodox and Hasidic neighborhood in Brooklyn); Selma, Alabama; the 16th St. Baptist Church in Birmingham, Alabama; the Lorraine Motel in Memphis, Tennessee (site of King's assassination); and the Temple in Atlanta (bombed by the Klan in the 1950s); as well as meetings with key activists in the civil rights movement.
Every evening there is an ardent discussion of the day's events, often lasting into the night and continuing on the bus the next day. This is where the real changes occur. Trust and friendships grow, and students get to a place where they can safely ask hard questions and get honest, considered answers. The enthusiasm and fellowship are infectious. This program and the young people who have participated in it provide the right answer to many of America's difficult issues of diversity.
"Before, I considered the group to be made up of 'us' and 'them,'" said participant Rebecca Smith. "Now I know it's just 'us.'"
The three-week bus tour included a visit to Edmund Pettus Bridge in Selma, Alabama. Susan, Elita, and Heather stand where-35 years before-marchers were attacked by Alabama state troopers as they began their walk to Montgomery.
At the voting rights museum in Selma, Cheryl cries as she hears stories of "Bloody Sunday," when nearely 100 marchers were left injured after they were attacked by police dogs and beaten by state troopers.
| | |
| --- | --- |
| | |
| Susan is comforted in the Birmingham church where a bomb killed four girls. The group had just listened to a recounting of the story. | Participants gather in a ceremony in Washington, D.C. |
Operation Understanding included various bonding activities like this one which helped to build trust before visits to the often-painful historical sites.
| | |
| --- | --- |
| | |
| In Brooklyn, New York, participants were shown how a hand-written Torah is produced. | The day's conversations about race and culture are continued in front of the Empire State Building. |
The long bus rides between historical sites provided ample opportunity for participants to get to know each other-and help each other with their hair.
After sharing in the baking of the traditional challah bread, participants welcome the shabbat together in a private home.
Lloyd Wolf is an award-winning photographer whose work has appeared in The Washington Post Magazine, Jewish Monthly, People, Vogue, and elsewhere. For more information on Operation Understanding D.C., call (202) 234-6832 or visit www.oudc.org.