Thank you for your ongoing Christian coverage of such a broad range of issues. I have benefited greatly from reading Sojourners over the years.
Your editorial response to Shelley and Jim Douglass ("Letters,") as well as Jim Wallis' article on Iraq ("United Against War"), both in the May-June 1998 issue, concerned me however. I don't know how Sojourners can assess this difficult issue without recounting that more than 100,000 Iraqis died in the United States-led 1991 war and more than 1.2 million since then from United States-led sanctions; that Saddam Hussein was a well-supported U.S. strategic ally in the 1980s; that the United States has virtually never moved to honor U.N. resolutions against Israel; that the United States and other countries continue to arm the Middle East faster than any other region in the world; and that the United States and many other countries harbor both biological and chemical weapons (except that they apparently "manufacture them properly").
You wrestle with the "problem of evil" and seem to equate it with "containing Saddam Hussein." This is what your government would like you to believe. But Sojourners usually probes deeper. With this kind of analysis, we'll likely see more Saddam Husseins in the years to come. Is the Christian about containment or transformation? And do we begin with ourselves or with our enemy?
Larry Williams
Sioux Lookout, Ontario, Canada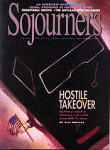 This appears in the July-August 1998 issue of Sojourners
Got something to say about what you're reading? We value your feedback!