Volunteer Opportunities
Short-term and long-term volunteers are needed to manage a home for elderly Mexican women in Malinalco, 40 miles southwest of Mexico City. Contact Mario Carota, Barrio de San Juan, Malinalco, State of Mexico 52440, Mexico; mario@mail.dsinet.com.mx; (011) 52-714-70269.
Ursuline Companions in Mission seeks lay women and men to serve the poor with Ursuline sisters across the United States in education, shelters, soup kitchens, and AIDS ministries. Both short- and long-term positions are available; each includes a stipend and room and board. Contact Sister Beth Dowd, College of New Rochelle, College Center #155, New Rochelle, NY 10801; (914) 654-5270.
Cafe 458, a free restaurant for people without homes, and Georgia Justice Project, a criminal defense and social rehabilitative service provider for indigent individuals, seek full-time volunteers. Benefits include room and board, health insurance, and monthly stipend. Age and race diversity are encouraged. Contact Volunteer Coordinator, Community of Hospitality, P.O. Box 89125, Atlanta, GA 30312-9135; (404) 525-3276.
The Oakland Catholic Worker house of hospitality for Latin American immigrants seeks a bilingual house manager. Workers receive room, board, and modest stipend. People of color are encouraged to apply. Contact OCW, 4848 International Blvd., Oakland, CA 94601; (510) 533-7375.
Rural homeless shelter in Colorado seeks volunteers to help with needs of shelter guests, family programming, maintenance and repair, or assisting in managing community store and cafe. One-year term, beginning in August or January, includes room, board, and stipend. Knowledge of Spanish is helpful. Contact Lance Cheslock, La Puente Home, P.O. Box 1235, Alamosa, CO 81101; (719) 589-5909.
Employment Opportunities
A national coordinator is needed for Ursuline Companions in Mission, a volunteer program of the Ursuline Sisters of North America. Principal responsibilities are recruitment, volunteer support, coordination of the national Ursuline network, office administration, and collaboration with the board on fund raising. Applicant should have skills in public relations, administration, and computers, as well as experience or knowledge of volunteerism and/or ministry. Salary is negotiable. Contact Dorothy Ann Kelly, OSU, (914) 632-6123.
A Catholic mission group seeks a supervisor of lay pastor coordinators of mission churches in Kentucky, Tennessee, Virginia, Alabama, and Mississippi. A master's degree in theology, missionary orientation, parish experience, and ability to travel are required. Send résumé to Missionary Search, 1312 Fifth Ave. North, Nashville, TN 37208.
The Quixote Center, a multi-issue justice and peace center that operates as a collective with equal base salaries and consensus decision making, seeks a business manager for overseeing insurance needs, fulfilling tax requirements, and providing financial reports as well as other tasks. Position includes a $23,500 salary, four weeks of vacation, excellent health coverage, retirement, dependent allowance, and paid sabbatical. Send résumé and cover letter to QC Personnel Committee, P.O. Box 5206, Hyattsville, MD 20782.
Joseph's House, a nurturing community for formerly homeless men with AIDS, seeks a staff nurse/RN who has experience with hospice and substance abuse care. Position includes a $30,000 salary, four weeks vacation, liberal holidays, and health benefits. Contact Joseph's House, c/o Jubilee Housing, 1750 Columbia Road NW, Washington, DC 20009; fax: (202) 588-7097.
Community Living Opportunities
Work camp on community, simple living, and nonviolent action is available for no charge, July 6-26. Participants attend study sessions and help with garlic harvest on an organic farm and intentional Christian community in southeast Ohio. Contact Jim Foxvog, New Covenant Fellowship, 13206 Dutch Creek Road, Athens, OH 45701; (740) 592-4605.
Retreats and Conferences
Arun Gandhi, grandson of Mohandas K. Gandhi, offers a conference at Kanuga, "A Garland Instead of Ashes: Nonviolence in the Midst of Violence," September 14-17, exploring the secrets and successes of nonviolence. Contact Kanuga Conferences, P.O. Box 250, Hendersonville, NC 28793; (828) 692-9136; kanuga@ecunet.org.
n Activists, academics, and former prisoners are invited to "Critical Resistance: Beyond the Prison Industrial Complex," a national conference and strategy session at the University of California at Berkeley, September 24-27. Contact Critical Resistance Conference Committee, P.O. Box 339, Berkeley, CA 94701.
Presbyterians for Restoring Creation announces "Strands in the Web of Life: Exploring Our Roles in Ecology, Peace, and Justice," August 8-12, a conference considering the connection between issues of peace, hunger, lifestyle, and the environment. The conference will be held at the Montreat Conference Center. Contact Montreat, P.O. Box 969, Montreat, NC 28757; 1-800-572-2257.
La Casa de Maria Retreat House announces "Women's Lives as Paths With Holiness," July 19-24, and "Confronting Our Demons: A Compassionate Practice," July 31-August 2. These retreats are organized through the M.A. Program in Feminist Spirituality of Immaculate Heart College Center (IHCC) and are open to independent study participants. Contact Dr. Susan Marie Maloney, IHCC, 425 Shatto Place, Suite 401, Los Angeles, CA 90020-1712.
Fellowship of Reconciliation presents its biennial conference, "A Future of Nonviolence: Shaping the 21st Century," July 15-19, at Camp Alexander Mack in Milford, Ind. The speakers include Mel White, Justice Minister of the Metropolitan Community Churches; Faríd Esack, Muslim scholar and Commissioner of Gender Equality for South Africa; and Marietta Jaeger, of Murder Victim Families for Reconciliation. Contact FOR, Box 271, Nyack, NY 10960; (914) 358-4601; fornatl@igc.org.
Miscellaneous
Pro-bono organizational consulting is available for leaders of select faith-based, social justice non-profits and churches. Services include strategic planning, proposal development, board vitality and effectiveness, values-vision-mission alignment, team building, volunteer programming, and personal career planning. Contact Rick Zemlin Associates, P.O. Box 43264, Washington, DC 20010; rickzemlin@aol.com.
AIDS Ministry Training at San Francisco General Hospital offers lay people, clergy, and seminarians a high-quality chaplaincy internship combining HIV/AIDS education and pastoral care training at a health-care facility renowned for AIDS research and patient care. Spaces are available for fall 1998. Contact Sojourn Chaplaincy, SFGH, 1001 Potrero Ave. (Rm. 2F4), San Francisco, CA 94110; (415) 206-8500.
The Servant Leadership School, a justice-based, ecumenical, lay seminary in the tradition of the Church of the Saviour, is starting fall term classes on September 22. Located in Washington, D.C., the school offers eight- or 10-week early evening and nighttime classes. Contact Kate Randall, (202) 328-7312; krandall@slschool.org.
Christianity and the Arts announces its first poetry contest with cash prizes: first prize, $100; second prize, $50; third prize, $25. A maximum of two poems, due September 1, must be sent with a entry fee of $15, which will provide the contestant with a one-year subscription to Christianity and the Arts. Send entries to AD LIB, P.O. Box 365, Pine Valley, CA 91962-0365.
The following individuals in prison request correspondence from people outside of prison:
Albert C. Stafford, #096560, P-1-102 U, Tomoka Correctional Institute, 3950 Tiger Bay Road, Daytona Beach, FL 32124; Gary Reed, #416500, Rt. 2, Box 4400, Gatesville, TX 76597; Gregory C. Lopez, DC#432684, East Unit P2-106L, Apalachee Correctional Institution, 35 Apalachee Drive, Sneads, FL 32460; John E. Ferguson, 015110-P-3116, Union Correctional Institute, P.O. Box 221-A1, Raiford, FL 32083; Tom F. Sherrell, X36175-U-29-I, Parchman, MS 38738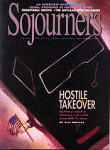 This appears in the July-August 1998 issue of Sojourners
Got something to say about what you're reading? We value your feedback!