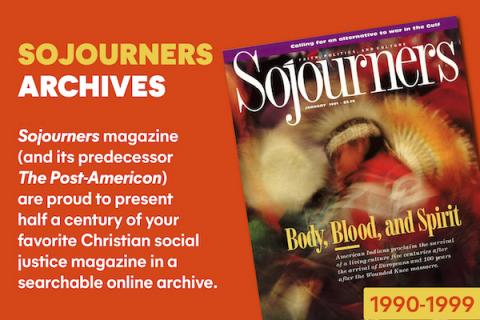 Should houses of worship and other religious organizations increase their efforts to assist people moving from welfare to work? Absolutely. Should they do so by following the model established by the charitable choice provision of the welfare reform law? Absolutely not. Charitable choice is unconstitutional, unwise, and unnecessary.
Unconstitutional. Charitable choice ignores important legal distinctions that protect religion. For many years, groups that have ties to religious bodies, but are not pervasively sectarian (such as Catholic Charities and Lutheran Services in America), have received government money to perform secular social services, provided that they do not proselytize or discriminate on the basis of religion in hiring.
Courts generally have refused, however, to permit the government to subsidize pervasively sectarian entities, such as a church or a drug rehabilitation group that relies on acceptance of the gospel. Why? The Constitution recognizes that individual citizens, not the government, should choose whether their money supports the missions of Methodists, Mormons, Baptists, or Buddhists.
It doesn't solve the constitutional problem to restrict the use of tax money for secular purposes. In pervasively sectarian ministries, it is almost impossible and always unwise for government to try to separate sacred from secular. When government attempts to do so, it becomes excessively entangled with the ministry, which is itself unconstitutional. Charitable choice attempts to obliterate the legal distinction between religiously affiliated and pervasively sectarian institutions, allowing both to receive tax funds.
Unwise. Charitable choice is unwise because it opens the door to invasive government monitoring, regulation, and accounting of churches and other pervasively sectarian ministries. The provision itself permits the government to audit religious providers. If a religious provider does not segregate charitable choice money from other funds, then all of its books will be open for government review. Also, grant recipients must ensure that tax money is not used for "sectarian worship, instruction, or proselytization." It is unclear what form such policing will take other than lawsuits.
Furthermore, other regulation generally follows federal tax money. Even though religious ministries will likely agree with the goals of such regulation (e.g., anti-discrimination), these organizations are often ill-equipped to prove compliance with it (e.g., by conducting self-evaluation studies, filing annual compliance reports, waiving rights of confidentiality, and submitting to federal investigations). And charitable choice providers also must live with the specter of lawsuits based on this regulation.
Charitable choice does try to prevent the government from taking away a church's control over its religious beliefs and practices. But will a court find that compliance with certain health standards or being subject to various lawsuits undermines control over religious practices? Not necessarily. Also, even though charitable choice purports to give religious groups the right to prefer co-religionists as employees, one court already has refused to allow a religious recipient of federal funding, the Salvation Army, to fire an employee because she practiced witchcraft.
Charitable choice also threatens to undermine religion's integrity and independence in other ways. When churches must terminate a recipient's food stamps or require welfare mothers to hold jobs outside the home, for example, government policy may clash with religious doctrine. Concomitantly, the role of religion as prophetic critic of government will suffer. Like every other government-subsidized group, religion will be less likely to bite the hand that feeds it.
Charitable choice also unwisely invites pervasively sectarian groups to participate in the governmental appropriations process. It will be impossible to treat all religions equally in this process due to limited public money, thousands of religious groups in the country, and a powerful political dynamic at play. Religions may compete for government grants before elected legislators, thereby fanning the fires of religious division and giving representatives yet another opportunity to turn religion into a political tool.
Can religious organizations simply refuse government funding if it begins to harm their ministries? Theoretically, yes. But remember the experience of the Virginia Military Institute—once you get tax money, it is awfully hard to do without.
Unnecessary. Religious organizations can increase their efforts to assist people moving from welfare to work without charitable choice. Here's how:
Houses of worship may spin off separate affiliates that use public money to provide secular social services without proselytizing or discriminating on the basis of religion in hiring.
Houses of worship may expand their privately subsidized community service programs like volunteer mentoring. Additional funding for such programs may come from denominational appeals, charitable foundation grants, or even corporate sponsorships. If we push the U.S. Congress to pass the Charitable Giving Relief Act (H.R. 2499), charitable giving would increase by approximately $3 billion a year because non-itemizers could deduct 50 percent of their charitable contributions over $500 annually.
Houses of worship and governmental officials should share information about needs and programs. It is not unconstitutional for the government to publicize the good work that private religious and other social service groups are doing and make referrals to these groups when appropriate.
Houses of worship should consider forming covenant relationships with organizations like Bread for the World, thereby raising awareness of poverty issues within the church.
State legislatures and the U.S. Congress should pass legislation requiring the government to have a compelling reason for substantially burdening religious practices like a church homeless ministry. Currently, a house of worship is almost defenseless when local zoning authorities decide to shut down such ministries.
These options will help meet needs without creating funding ties that bind religion to the state. Let's ensure that our war on poverty does not wage an unnecessary war on religious liberty and church-state separation.
MELISSA ROGERS is associate general counsel of the Baptist Joint Committee on Public Affairs in Washington, D.C.