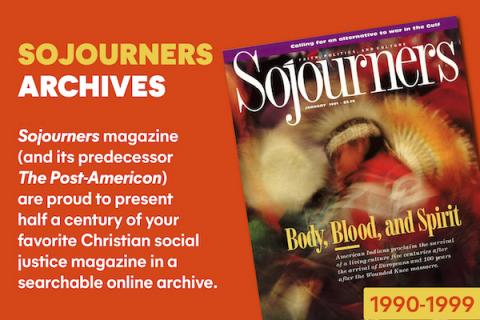 Lois Gibbs came to national prominence in the 1970s when she fought to hold Occidental Petroleum accountable for toxic waste it dumped in Love Canal near her home in Niagara Falls, New York. She founded the Citizen's Clearinghouse for Hazardous Waste, which supports grassroots environmental justice work (P.O. Box 6806, Falls Church, VA 22040; (703) 237-2249). Rose Marie Berger interviewed her by phone. —The Editors
Rose Marie Berger: What has sustained you in this work for the last 30 years?
Lois Gibbs: I have a very deep sense of right and wrong. I was the victim of a group of people who made a conscious, deliberate decision that my community and I weren't worth saving. My husband made $10,000 a year, and someone made the choice that it was more economical not to relocate us out of Love Canal when they knew it was a toxic disaster.
What really sustains me is my anger and my passion. The simple understanding that human lives—born and unborn—are worth protecting and saving, worth taking money from the rich and powerful to put toward the poor. Every human life is worth investing in.
I grew up in a very poor home with an abusive father. At 7 years old, I made a commitment that no one would ever treat my children the way my father treated me. My goal was to graduate from high school, get married and have a family, and make the best home for my kids that I could, which I did. Then Love Canal threatened that. It connected to the anger and abuse I had as a child.
Berger: Were you raised in a religious tradition that gave you that sense of justice, or did that come from the Love Canal incident?
Gibbs: No, that sense of justice was there before. I was raised Catholic and we went to church. Then my parents would come home and do the opposite of what was talked about in church. I didn't so much think of the church or church teachings as hypocritical as much as I thought my father was hypocritical.
I stopped going to church at Love Canal. I gave a lot to the Presbyterian church my husband and I attended, taught Sunday school, was very involved. Not that I expected anything in return, but I had really invested myself.
When the evacuations started I asked our pastor if we could put a notice in the bulletin asking church members with extra rooms to house people being evacuated or those who were near the evacuation site. I had in mind especially a young pregnant woman who lived across the street from the evacuated area. The pastor said no. He was afraid there would be a conflict of interest because Occidental Chemical [the parent company of Hooker Petroleum that dumped the toxic waste] was funding the church's renovations. I never went back to church after that. It's kind of unfortunate, actually.
Berger: While anger can be channeled to a positive end, what are the dangerous aspects of being motivated by anger?
Gibbs: In our leadership training, I always talk about measuring your anger and actions by what they will look like on the six o'clock news. Will it turn people off? Or will they nod their heads and say, "You know, she's got a point."
You have to burn off your anger before you can channel it in constructive ways. I used to drive my car when I got angry, but after a few fender benders I decided to scrub my kitchen floors. When I was really angry I had the cleanest floors in town!
I still have that righteous anger. I was just at a meeting in Pennsylvania. There was a woman with a little baby. I asked the woman why the baby wasn't giggling or smiling, already afraid of what she was going to say. The baby was severely retarded from water poisoned with lead. The water supply had been contaminated for five years and no one told them. Right there I said, "I want this to be the last baby injured from lead poisoning! Let's get this meeting started!"
The other very important part of hanging in over the long haul is fun! Once a month in our office we buy lunch for the staff and celebrate the positives of our work. What have we accomplished this month? Where have we been effective? We also train people to plan six months in advance for family weekends that cannot be violated. I recently had an invitation to the Phil Donohue show, but I turned it down because it fell on my family weekend. There are other people, other leaders, who can do that interview