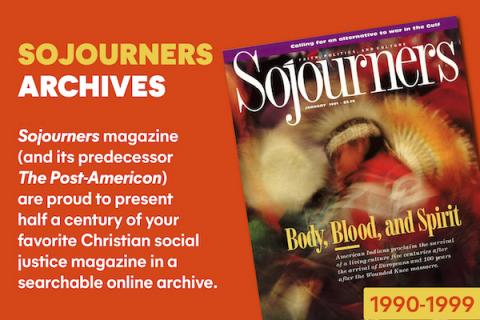 While women have had to fight their way to the top of the Sierra Club, Greenpeace, and The Wilderness Society, history shows that almost all the major grassroots environmental movements in the United States were started and led by women. Why? The quality of their daily lives and the lives of their children was shaped by the health or filth of their neighborhoods.
Women-led community-based movements were strong, effective, and hard to break because of one-on-one conversations, women's intimate connectedness and personal experience with the issues, and their desire to build solid relationships around the information they gained. As one indigenous activist from New Mexico said in Robert Bullard's book Unequal Protection, "We deal with the whole of life and community; we're not separated, we're born into it—we are it."
Post-colonial environmentalism started in the United States in the 1880s. The "common good" approach to environmental ethics was developed from a blend of the older indigenous spiritual traditions of the American West, predominantly those of the Ute Indian nation and their contact with the Mormons. The "laws of land stewardship" dictated that there should be cooperative use of land and water to benefit the whole community.
This anti-riparian philosophy came eastward, taking hold in industrial centers and giving birth to the urban environmental ethic: Industry and manufacturers had a responsibility to the health and welfare of their workers and to the communities in which they were located.
In 1888, Jane Addams, influenced by this form of community stewardship as well as the "settlement house" movement of England, founded Hull House in Chicago—an inner-city, immigrant neighborhood home that was at once a part of and an alternative to the urban, industrial order. Addams wanted Hull House to be a center for the progressive urban reform movements; it became an underground university for women activists focusing on questions of housing, sanitation, and public health.
The most severe problem in the neighborhood was inadequate garbage collection. The Hull House Woman's Club launched a major investigation into the city's garbage collection system, then Addams submitted to the city government her own bid to collect garbage. The resulting public uproar forced the mayor to appoint Addams as garbage inspector for her ward. The Hull House women formed a garbage patrol, getting up at 6 a.m. to follow the garbage trucks, mapping routes and dump sites, and making citizens arrests of landlords whose properties were a health hazard. Their vigilance moved garbage reform to the top of Chicago's civic agenda, forcing industry to take responsibility for its trash.
Hull House "graduates" included Crystal Eastman, Florence Kelley, and Ellen Starr, who forged the critical link between issues of community, environment, and the work place (see Eastman's Work Accidents and the Law); Julia Lathrop and Grace Abbott, the first chiefs of the federal Children's Bureau; Edith Abbott and Sophonisba Breckinridge, pioneers in the field of social work; and Alice Hamilton, the first urban-industrial environmentalist.
The war and Depression years, 1917-1945, were environmental Dark Ages. The natural and human resources of the United States took a beating in support of the troops and protecting our national interests. However, the dislocation of the rural populace off the land and, especially in the 1950s, the relocation of urban poor people to make room for factories, highways (to transport the factories' goods), and suburbs (predominantly white) did not occur without powerful resistance. From rural West Virginia, 5,000 widows from the West Virginia Black Lung Association marched on Charleston demanding compensation for their husbands' deaths. Mexican-American women's groups in East Los Angeles fought against losing their homes to the East L.A. freeway interchange (see Rudolfo Ancuna's A Community Under Siege: A Chronicle of Chicanos East of the Los Angeles River, 1945-1975).
IN 1962, THE environmental movement made a paradigm shift because of one woman—Rachel Carson. The publication of Carson's Silent Spring ushered in the anti-toxic environmental movement and introduced "ecology" into the American lexicon.
Carson's earlier writing (Under the Sea Wind and The Sea Around Us) identified her as a rigorous scientist, naturalist, and conservationist. With Silent Spring Carson called into question the postwar success of the chemical pesticide industry: "For the first time in the history of the world, every human being is now subjected to contact with dangerous chemicals, from the moment of conception until death."
Carson began work on Silent Spring in 1958 when her friend Olga Owens Huckins reported that the birds around her house were "dying horribly, with their bills gaping open and their splayed claws drawn up to their breasts in agony." Massachusetts had just initiated a mosquito eradication program, fogging her neighborhood each evening with DDT. Carson found that there was no independent, critical research on the effects of pesticides on animals or humans. She devoted the rest of her life to documenting those deadly consequences. In America, DDT became a household word.
Though Silent Spring focused on the effects pesticides had on song birds (hence the title), Carson also raised the unpopular issue of the dangers pesticides posed to farm workers. This scientific research, along with the dismantling of the Bracero Program (which provided legal contracts for Mexicans working in U.S. agriculture), gave Chicano leaders Delores Huerta and César Chávez the climate they needed to mobilize for the rights and safety of farm workers.
Silent Spring was Carson's last work; she died of cancer 18 months after its publication. Through it she radically altered environmentalism, liberating it from old, limited definitions. Nature was now understood to be a living, dynamic mechanism that humans can indeed damage; natural and human environments became inextricably linked; and social justice movements emerged as vehicles for environmental transformation.
Over the years, this insight has proved prophetic. In 1979, an African-American neighborhood in Houston made environmental history when attorney Linda McKeever Bullard charged the Texas Department of Health and the Browning-Ferris disposal company with "environmental discrimination" in zoning black neighborhoods for industrial waste sites.
The '70s also brought Earth Day and "ecofeminism," which intertwined feminist, ecological, and anti-nuclear thought as a springboard for direct action (see Rosemary Radford Ruether's New Woman, New Earth, Carolyn Merchant's The Death of Nature, and Susan Griffin's Woman and Nature). Out of this movement came the November 16, 1980 Women's March on the Pentagon. Using huge white, red, yellow, and black puppets and brightly colored yarn, thousands of women joined hands around the world's largest office building and wove closed the Pentagon entrances. Sixty-five women were arrested. From the Arlington County jail, Nesta King wrote, "The everyday oppression of living in an increasingly authoritarian, toxic, and militarized society is...a feminist concern. Civil disobedience might help save our planet and usher in a free, feminist future. That is why they put us in jail."
DURING THE LAST 15 years, women have continued to be on the forefront of environmental justice. In East Los Angeles, Juana Beatriz Gutierrez, a homemaker, and Gloria Molina, a state assembly representative, banded together to oppose a state prison in their community, then defeated a gas pipeline and toxic waste incinerators also slated for their neighborhoods. Los Madres of East L.A. (MELA) defied the racist assumption that Latinos are easy to manipulate because they are apolitical. MELA activist Aurora Castillo said, "My family was here before the first Anglo set foot on California soil....And we've been fighting ever since for the lives of our children. You know, if one of her children's safety is threatened, the mother turns into a lioness."
In Washington, D.C., Cora Tucker, Penny Newman, and Lois Gibbs (wearing florescent pink T-shirts with "Tough Women Against Toxics" printed on them) formed Women In Toxics Organizing. Tucker, an African-American grandmother, activist, and self-described homemaker, had lived her whole life in Virginia's rural Halifax County where she fought uranium mining projects and nuclear waste dump sites. Newman led the fight against the Stringfellow Acid Pits that contaminated the groundwater of her Southern California town, leaving her son's health permanently damaged. Gibbs (see "What Sustains Over the Long Haul?") organized the Love Canal Homeowners Association in Niagara Falls, New York, when she discovered her children's public school was built over a chemical waste dump. She eventually forced the government to pay for their relocation, precipitating national legislation on Superfund hazardous waste sites.
In 1990, Judi Bari of the radical environmental group Earth First! led a series of public protests along California's North Coast—an ambitious organizing feat to save old growth forests and small family lumber businesses, called "Redwood Summer" (see Sojourners, November 1990). Earth First! came to infamy in the late 1980s for their acts of "eco-tage" such as tree-spiking and pouring sugar into the gas tanks of clear-cutting bulldozers. Bari, however, is credited not only with the feminization of Earth First! but also with guiding the organization to adopt an extremely effective policy of nonviolent direct action.
Bari survived a 1990 car bombing that left her in a wheelchair. Her case accusing the FBI of conspiring in the bombing and framing her as a terrorist to discredit her and the environmental movement is still in the courts. Bari died of breast cancer in March of this year.
HOW WILL WOMEN DEFINE environmentalism in the years ahead? Perhaps women will lead us back to what our indigenous ancestors in faith have never forgotten—the spiritual nature of the Earth as one of God's primary revelations. Poets and mystics tell us that humankind is fashioned to witness to the wonders of God. Women have been the voices of witness throughout history. "Between the hammerblows/our heart survives," wrote Rilke, "just as the tongue, even between the teeth, still manages to praise. Indeed, do praise, but tell the angel about the world."