Many thanks to Emilie Teresa Smith (May 2015) for witnessing to the costly impacts of Canadian mining companies borne by Indigenous and impoverished people around the world. As Christians, we must not ignore that churches in Canada and the U.S. are complicit through their investments in mining companies. Many of us in the United Church of Canada are responding to the call of our partners in Guatemala and are asking the United Church Pension Board to divest from Goldcorp. Learn more at www.marconf.ca/resources/treasure.
Kathryn Anderson
Tatamagouche, Nova Scotia, Canada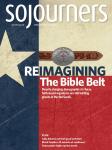 This appears in the July 2015 issue of Sojourners
Got something to say about what you're reading? We value your feedback!