David Gushee's "In the Name of Security" (April 2014) is an outstanding article. I would add this slightly different stance: The 10 resources used to address the 10 elements of democratic heritage seem to omit the caustic influence of money. Once money became more prominent, I'd guess beginning in the 1970s or so, our moral underpinning couldn't withstand another basic human trait, greed. Money and greed have corroded so much of our political and moral processes that evil has to do nothing but admire its pervasiveness. Keep up the good work and cutting-edge stories.
Bob Turk
via sojo.net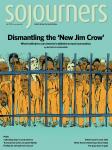 This appears in the July 2014 issue of Sojourners
Got something to say about what you're reading? We value your feedback!