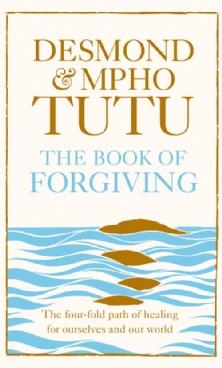 FORGIVENESS IS wholeness, Nobel Peace Prize winner Archbishop Desmond Tutu and his daughter, Anglican minister Rev. Mpho Tutu, write in their newest collaboration,The Book of Forgiving. Scientific research shows that forgiveness has the power to transform us in spiritual, emotional, and even physical ways. That evidence is paired with the Tutus' collective experience in counseling, studying, and teaching and their personal stories about the difficulty of forgiving. Archbishop Tutu writes about learning to forgive his abusive father. Mpho, who writes about learning to forgive the man who murdered her housekeeper in her home, is pursuing a PhD in the topic of forgiveness.
The book lays out some simple but critical truths: Everyone can be forgiven. Everyone deserves forgiveness. You must be willing to forgive. Forgiveness is not a weakness, nor a luxury. Forgiving others is a way to practice forgiving yourself. Through forgiveness, we all become whole again. Unconditional forgiveness is an act of grace that frees all parties from further indignity, and from self-blame and corrosive hatred.
The path to forgiveness seems simple enough when you can navigate it in four easy-to-follow steps: Tell the story. Name the hurt. Grant forgiveness. Renew or release the relationship. The path is also—sorry—a bit pedestrian. That doesn't mean the route map isn't useful. But the book will be most applicable if you have struggled to forgive or feel that even contemplating forgiveness is an impossible burden weighing heavy on your heart and soul. If you're carrying a load you can't seem to gracefully shrug off or leave by the side of the road, the Tutus can help you chart the course.
The book is less clear on why anyone would be so immobilized and confounded by everyday anger and resentment, and how forgiveness is inextricably tied with learning to be vulnerable. The book is filled with outsized examples of forgiveness between neighbors after a civil war and between assault victims and rapists. Those stories sometimes overshadow more commonplace situations: family squabbles, workplace conflicts, and random acts of violence. Harboring resentment toward a distant relative, for instance, bears little resemblance to forgiving a rapist. "Let us condemn ghastly acts, but let us never relinquish the hope that the doers of the most heinous deeds can and may change," writes Archbishop Tutu, urging us to cultivate hope in any situation that requires pardon.
Hope bolsters us in times of doubt and confusion. But throughout the book, forgiveness is conflated with letting go and moving on. If forgiveness is healing, as the Tutus write, I repeatedly wondered: What is forgiveness without humility and contrition? Are we living in a radical, post-penance world? Why do we, fallible egotists, get to decide who should be forgiven? What does our forgiveness offer someone with intentional malice if the offender isn't sorry or aware of the impact of his or her actions?
We can forgive someone without actively telling them so. But just because you're able to forgive, for example, an estranged, abusive family member doesn't mean you should rekindle that relationship if there's been no behavior change. The Tutus seem to disregard that there's no health benefit in seeking out toxic relationships, or subjecting yourself to further mistreatment. There's a difference between holding a grudge and practicing hopeful compassion while making peace in your own private way and getting on with your life.
To the delight of book club devotees, and certainly useful for those seeking specific action steps, The Book of Forgiving is ready-made for group study or personal use. Each chapter ends with a summary, suggested journaling exercises, and sample meditations such as a "finger labyrinth," a small drawing of a maze you can trace with your finger.
Archbishop Tutu notes, "The quality of human life on our planet is nothing more than the sum total of our daily interactions with one another." Forgiveness can transform our lives, changing our role from victim to hero. What should never be sidestepped is the deeply personal nature of forgiveness, and that one solution set may never be applicable to all. 
Brittany Shoot is a Sojourners contributing writer.