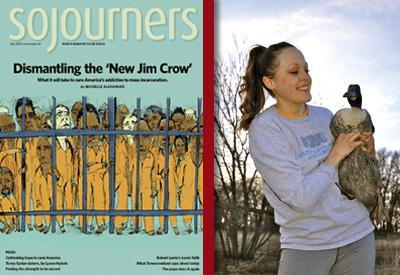 RURAL COMMUNITIES in the U.S. wrestle with many of the same problems facing the rest of the country—persistent unemployment, access to quality health care, air and water degradation, a broken immigration policy. Other issues—such as supporting sustainable farming practices and drawing young people into agriculture, lack of broadband access, and the challenges of small-town economic development—are more unique to rural life.
Even though the 46.2 million people living in rural U.S. counties constitute only 15 percent of the country's total population (spread across 72 percent of the nation's land area), we are all connected—urban, suburban, and rural—by foodways, waterways, wilderness areas, and our national politics. As one Midwest-based organizer put it, "many progressives fundamentally don't understand rural America—they don't even know why they should care about it. You can't understand the power of the tea party without understanding rural America. It is the key to the House of Representatives, and progressives will be hamstrung until they can make inroads in a few key congressional districts."
But that organizer and others also draw power and hope from the deep history of populism in the rural Midwest and parts of the South, and the endurance of community-oriented values that aren't just "heartland" clichés.
While many young people are itching to leave rural areas and small towns—anxious to find better jobs, educational opportunities, or city culture—others have always stayed put or returned after time away. And some "city cousins" move to rural America, enjoying the opportunity to work on issues they care about (with the bonus of a brilliant night sky). Here are four stories of young people investing in rural communities in the Midwest.  —The Editors
"It makes a difference in the lives of people."
Rae O'Leary, 29, is a respiratory therapist and nurse on the Cheyenne River Indian Reservation in north-central South Dakota. The reservation straddles two counties, the fourth- and 11th-poorest in the nation. O'Leary works for Missouri Breaks Industries Research Inc. in Eagle Butte, the reservation's hub with a population of about 1,300. She lives 20 miles out, on a ranch with her husband and two young children. O'Leary is a member of the Turtle Mountain band of Chippewa; her husband is a member of the Cheyenne River Sioux Tribe, and their children are enrolled in that tribe.
"When I define how rural we are, I tell people our nearest Wal-Mart is two hours away. That's my point of reference for city folk.
"On the reservation, we have a multitude of issues that come with high rates of poverty: Asthma and a high prevalence of commercial tobacco use are two of them," says O'Leary. In 2010, South Dakota banned smoking in all enclosed workplaces, but the reservations were exempt because of tribal sovereignty. "A few of us developed a coalition that approaches the tribal council on a pretty regular basis with an ordinance we've drafted to make our reservation smoke-free in enclosed public places." She adds that they respect the traditional use of tobacco. But their group faced resistance from tribal leaders, who worry that the community isn't ready for such a change. O'Leary counters with findings from a study her group conducted showing 76 percent want smoke-free air in enclosed public places, despite the 51 percent rate of tobacco use among reservation residents.
This work has national implications, she says. "There are four tribal nations across the U.S. that we are aware of that are smoke-free, out of approximately 566 tribes across the country, so it is a pretty new concept. People are watching us, to make an example of us if we are successful."
O'Leary says that lifelong smokers tend to be most opposed to public places going smoke-free. But among younger people, O'Leary notes a different attitude. "We worked with the tribe to make 27 new parks across the reservation smoke-free," O'Leary says. "We felt strongly that one of the few places for kids to play in our rural area should be free of smoke and littered cigarettes and chewing tobacco." The person in charge of these parks is a recent college graduate. "I went in with three pages of talking points arguing to make these parks smoke-free. I got through maybe two bullet points and he's like, of course, why is this even a question?"
O'Leary says many health issues prevalent on the reservation can be attributed, at least in part, to poverty. "The million dollar question we ask ourselves every day is how to break the cycle of poverty, how to empower people to become educated, motivated, and make healthy decisions for themselves and their children. We do the best we can with what we have and hope it makes a difference in the lives of people we're working with."
"They are my neighbors."
Holly Tilton Byrne, by some standards, is a city girl. Since age 10 she has lived in Brookings, S.D., a college town and the fourth largest city in the state. But she is quick to point out that these days she doesn't live in town. Instead, she lives on rural acreage with her "husband, chickens, ducks, cats, and dogs." She says she wouldn't trade the experience of walking outside her home at night, greeted by a sky full of stars, for anything.
Byrne, 28, brings together her natural leadership skills with her love of agriculture and agriculturalists. As a community organizer at Dakota Rural Action in Brookings, she works with people who see problems in their community and seek to change them. "My role is to give them tools they need to make that change."
Byrne is the main lead on the South Dakota Farm to School project (connecting students with healthy, local foods and agricultural education opportunities, and linking producers with school buyers). But her core responsibility is to help people make a difference in their communities through training, support, and any other assistance they need, whether related to the Farm to School program, local food sales, policy issues, or city ordinances.
"This is the part of my work that makes me the most passionate," Byrne says. "Seeing the look on people's faces when they realize that they have used their voice to make change in the community in which they live is inspiring. Getting to play even a small support role in that process is an extremely rewarding experience.
"People have forgotten the power that they can hold when they come together in an organized way," she says. "If I am able to help them realize that power, then I have been successful. They are the true leaders and I am fortunate to have been given the opportunity to participate in the process."
Byrne serves on the city's Sustainability Council. "I come to know all sorts of people in town through my work—city councilors, doctors, nurses, teachers, people in the industrial fields, and experts at the university." Byrne believes the small population of her town gives her greater access, which is a positive in her work. "It is important to be able to get in and talk to people in the community about what their challenges are in day-to-day life," Byrne says, "and it is not a huge struggle to find them, because they are my neighbors."
Doing it for the kids.
Eduardo Rodriguez has lived most of his 24 years in Orange City, Iowa. The community of 6,000 in the northwest corner of the state has a four-year college, where Rodriguez earned his degree. It also has an annual tulip festival celebrating the community's Dutch heritage, of which he is not a part. "Growing up Mexican-American here can be difficult because you can't be as open at celebrating your culture," Rodriguez says. "You don't want to be ostracized because of it. You want to celebrate your culture and feel good about where your family comes from."
 That's one reason Rodriguez serves as youth development manager at Justice For All (JFA), a faith-based nonprofit in Rock Valley, Iowa, not far from Orange City. He facilitates a program called IMPACT: The Next Generation. Aimed at high school students, it meets once a week and focuses on having fun, building relationships, and helping the community. "They appreciate my time and willingness to get to know them," he says of the kids he works with. "It is cool to see they are excited about coming to IMPACT. I feel very blessed to do that for the kids."
 Rodriguez also leads a mentoring program for Latino high school students in collaboration with a college group called Hispanics of Northwestern. "We focus on college prep, team-building, and cultural celebration," he says. "One of the struggles for lots of students is they aren't always fully prepared for college. We want to make sure students know their options and how to knock down barriers."
Rodriguez spent a year in Chicago interning with the Christian Community Development Association. "Living in Chicago was really cool," says Rodriguez. "It was great to experience different lifestyles, cultures, and things that are open later at night." He says he even considered staying there, but when the job at JFA became available he said yes "on the spot."
Since Rodriguez is making a life in the town where he grew up, he already has lots of friends in his own age group. "Small towns have different social offerings," he acknowledges. "You have to rely on really good relationships or there's not much to do." Another benefit of remaining in his small town is that he contributes to the larger community almost seamlessly. He is on the board of CASA, a northwest Iowa immigrant advocacy organization. He's also on the board of a local hospital.
"The reason I do all this, the reason I get involved, the reason I want to see these kids prosper is [because] I know that they are made in the image of God and have inherent value because they are God's creation. It gives me strength to work for them and advocate for them."
"A community that is alive."
Virginia Meyer of the Center for Rural Affairs in York, Neb., describes herself as an "urban-to-rural worker bee helping rural people pursue their dreams. I combine policy solutions with on-the-ground practices that make rural areas and their residents thrive. I hope to guide people into farming by finding creative solutions to lack of land and access to capital, health insurance, and mentors."
Meyer grew up in south Minneapolis, "in the big city, not in the suburbs," she explains. At 21, she got the job at CRA, and lives nearby in Fremont, Neb. Now 27 and married with young children, she finds the rural lifestyle friendly for families. "Being around people you trust to take care of your kids, couples with kids you can be social with, is huge," Meyer says. "Rural life is a lot more challenging when you are single."
Despite these plusses, figuring out how to attract people to a rural area either for the first time or to come back home is a puzzle. A well-publicized rural challenge is lack of jobs. But that problem sometimes has an internal solution. "It is amazing to see younger people that I know starting their own business and being entrepreneurial, and seeing [other] people helping those younger folks get started, encouraging them," says Meyer.
Once they are there, she says it is important to encourage younger people to enter into leadership positions, making them feel like they have a stake in the community.
"If there is any hope of attracting and keeping people in rural communities, there need to be exciting, interesting, fresh things happening," Meyer says. She doesn't mean new shopping malls or restaurants. In her town of Fremont, ordinary people became social activists when they felt challenged to right a wrong in their community—a town ordinance that requires anyone seeking rental housing to prove their U.S. citizenship, an effort to prevent undocumented immigrants from obtaining housing. "The city council gave us the opportunity to vote on that, and a local group worked to get rid of that part of the ordinance. We lost by a lot." And yet, that activism led to people—ranging from faith organizations to business groups—becoming aware they were interested in working on social justice and fair-housing issues. "We have a drum beat of positivity and energy happening in Fremont because of that," says Meyer.
The CRA is deeply involved with community inclusion work. Latinos make up the fastest growing population in the rural Midwest and Great Plains, says Meyer. "When we have a generally aging population, then the new population of younger Latino families comes in, we need to understand they are the future of our communities."
Latinos start business at higher rate than non-Latinos in small towns, Meyer says. "When I go to communities that have large Latino populations, I see filled storefronts, young people, and a community that is alive." 
Julianne Couch is a writer living on the western edge of the Mississippi River in Bellevue, Iowa. She is at work on a book about small rural towns called Far From Terminal: America's Resilient Middle.