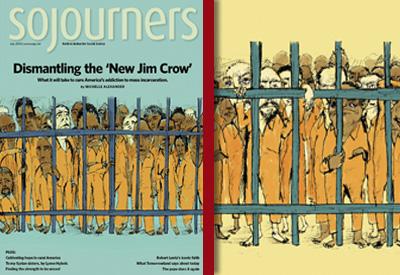 1. Awakening: It is impossible to build a transformative movement for justice if people remain in the dark about the magnitude of the crisis at hand, its origins, and its racial, economic, and political dimensions. I wrote The New Jim Crowbecause I strongly suspected that most people simply had no idea what was really going on and that education was a necessary prerequisite to effective action. I still believe that's the case, and so urging people of faith and conscience to commit themselves to raising the consciousness of their congregations and communities is extremely important.
Encourage people to hold study groups, film screenings, public forums, and dialogues to help others awaken to what has happened on our watch and become motivated to join the movement. The Unitarian Universalists, the Samuel DeWitt Proctor Conference, Veterans of Hope, and PICO are all engaged in consciousness-raising work and have created study guides based on The New Jim Crow and other resources.
2. Building an Underground Railroad: Obviously, consciousness-raising is not enough—we will have to get to work. In my view, that necessarily involves building an "underground railroad" for people trying to make a break for true freedom in the era of mass incarceration and who desperately need help finding shelter, food, work, and reunification with their families.
This is work that every congregation and faith organization can undertake; many already are. The important thing is for people to frame and understand this work as part of a larger effort to end mass incarceration, and to view those who are being helped not as merely recipients of charity but as equals and potential partners in this work.
3. Working for Abolition: In the days of slavery, it was not enough to usher a few to freedom, one by one; you had to be willing to work for abolition. Likewise, today it is not enough to simply build an underground railroad; we must be willing to work for the abolition of the system of mass incarceration as a whole.
In my view, that means getting to work on a number of fronts, including:
Ending the drug war once and for all;
Ending all forms of unnecessary yet legal discrimination against people with criminal records that denies them basic civil and human rights, including the right to vote and serve on juries, as well as the right to work, shelter, education, and food;
Abandoning a purely punitive approach to dealing with violence and working toward more restorative, rehabilitative, and transformative systems of justice; and
Dismantling the school-to-prison pipeline by ending zero-tolerance school discipline policies and ensuring that every dollar that is saved from closing prisons is reinvested in education, job creation, drug treatment, and rebuilding the communities hardest hit by mass incarceration.
Several national organizations provide resources for local communities in this work, including but not limited to the ones already mentioned as well as the Drug Policy Alliance, the Justice Policy Institute, All of Us or None, the Sentencing Project, ACLU, the Advancement Project, Children's Defense Fund, NAACP, the Ella Baker Center for Human Rights, the HIRE Network, and the Formerly Incarcerated and Convicted People's Movement.
—Michelle Alexander