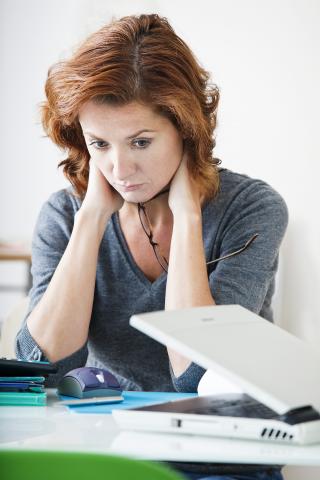 THE PHRASE "POVERTY in America" still conjures up, for many of us, images of a homeless person begging on an urban street corner or a dilapidated shack in rural Appalachia. But a report this winter presents a very different picture of poverty in the U.S.: "a working mother dashing around getting ready in the morning, brushing her kid's hair with one hand, and doling out medication to her own aging mother with the other."
The study released in January by The Shriver Report, "A Woman's Nation Pushes Back from the Brink," examined the rates of financial insecurity among U.S. women. The report notes that the average woman is paid 77 cents for every dollar the average man earns, and that closing this wage gap would cut the poverty rate in half for working women and their families.
A few years ago, I was at a global women's conference looking at the economic dimensions of women's realities when I first heard the phrase "time poverty," in an academic talk given by a sociologist. The phrase captured the deeply insidious economic realities that are holding back women's equality. Most mothers know this reality as we multi-task through our day trying to hold life together for our families. Women everywhere carry the double burden of working outside the home to support their families while still doing the large majority of unpaid domestic work.
The phrase "time poverty" stuck with me and, strangely, captures my reality as a mother of three leading a relatively privileged life. For those of us in the mothering season of life, all over the world, time is not exactly on our side. From sunup to sunset, we find ourselves constantly multitasking, moving as fast as possible and feeling like the hub in the middle of everyone's wheel. Any tiny setback—a lost pacifier, a sick child—can threaten the whole highly tenuous ecosystem of the day.
Creating a more just, gender-balanced world will continue to require work at many levels. Yet the more I engage in women's realities here and around the world, the more I see how large-scale economic forces are undermining so much progress. We need women to keep breaking glass ceilings—in business, in politics, in education—and we need to challenge the deeply insidious religious ideas that continue to treat females as a lesser-than category of human beings. But the elephant in our neo-liberal, capitalism-on-steroids world is that when the economic floor drops low for everyone, it drops even lower for women.
How do we create an economy that works for more of us? How can we reform our capitalist system from within to raise the tide for all socio-economic levels, not just the top income bracket? When women are at the brink, as is true for so many, they will continue to be at risk of being victimized by social ills from trafficking and rape to domestic violence—not to mention health issues from working two or three jobs and coming home to a pile of dishes, dirty laundry, and kids who need to be bathed.
There are no easy answers to the feminization of poverty, but a starting point is to become informed (start by reading the Shriver Report!) and feel the inhumanity of the treadmill too many hardworking women are on today. There are some first-step things we can do to help, such as raising the minimum wage and putting pressure on our own workplaces to make sure the lowest paid workers are getting a living wage. We can also use our collective clout as shareholders of publicly held investments to look critically at the egregious gap between the highest paid workers and the median salary.
Many people are starting to challenge the legitimacy of a winner-take-all-economy that is undermining the ideals of equality, liberty, and justice for all. It often begins with the question, "What can I do?"
Emily Nielsen Jones is co-founder and president of the Imago Dei Fund. 
Image: woman working, Image Point Fr / Shutterstock.com