A number of people have approached me and asked if I am going to start my own blog. Setting aside for the moment how they were able to approach me—since I keep furniture piled against my office door and, as a back-up deterrent, enjoy a sardines snack of a morning—their question gave me pause. After all, many of my colleagues already have their own blogs and post daily thoughts and reflections for the public-at-large or, in most cases, at-small. One excited co-worker recently rushed up to me and exclaimed, "I got 20 hits on my blog yesterday!" Since he showed no signs of physical injury, I presumed this meant 20 people had accidentally stumbled upon his blog and, seeing no pop-up ads to hold their interest, moved on to the more typical tasks for which the Internet was designed, such as shopping for discount flip-flops. (Did you know they make them for prom now?) I quickly moved past him, however, not wanting to encourage a type of "hall-blogging" that I fear could become an unwanted extension of the online version.
I've been observing this phenomenon for a while, watching as blogs have become a part of the "marketplace of ideas" that Oliver Wendell Holmes first mentioned in his classic detective novel The Case of the Tedious Typist Who Wouldn't Stop, Not for Anything. (Or maybe that was Sherlock Conan Doyle.) What I have learned is that blogs—an acronym for Blowing Off Goals—are basically personal diaries that are open to the public. They are places to bare your soul and, depending on the size of your server, photos of you and your soul on vacation. Unfortunately, because of their preponderance on the Web, they clog up my Google searches for flip-flops. On the plus side, however, their relative obscurity makes them unattractive to advertisers, so blogs seldom display pictures of large infected toenails. This is a good thing. (I don't care HOW effective Dermasil is when used as directed; nobody needs to see that.)
Read the Full Article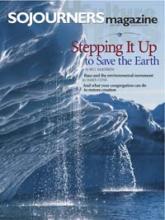 ​You've reached the end of our free magazine preview. For full digital access to Sojourners articles for as little as $3.95, please subscribe now. Your subscription allows us to pay authors fairly for their terrific work!
Already a subscriber?
Login