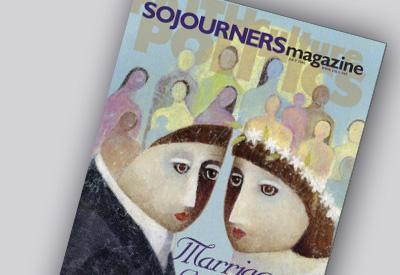 Last fall I drove up I-93 into rural New Hampshire to visit some old college friends who live in a village near New London. They're in the business of making a home, as T.S. Eliot says, "to construct something upon which to rejoice," having married, shortly after graduating, at the tender - and nowadays unlikely - age of 22.
Both had been swept up in the post-9/11 anti-war movement. Their relationship developed against the backdrop of an ambitious vision for Christian discipleship in a turbulent global setting, with all its new uncertainties and responsibilities.
Around the hearth of a crackling fire three years later, Dave, Caren, and I talked late into the night about aspirations, the challenges confronting their marriage, and the ways in which they'd grown and changed in their few years together.
Dave desires to pastor a church someday, a context from which he hopes to work against poverty in America and abroad. But when he and Caren were married, they decided to approach this period in their lives as a sabbatical of sorts - a time to look inward and tend to their union.
Caren's passion for working with children - especially with those who come from disadvantaged economic backgrounds - was cemented by a stint in Romania, where she worked on a local community development project. In recent months, that call has turned to the most personal of commitments, as she now nurtures a life in her own womb.
I stood on their old wooden porch that night and thought about the complicated row my two friends are trying to hoe. They have committed to a life of partnership, with its share of costs and windfalls, in a bipolar society that simultaneously elevates individual choice and goes to the mat to preserve the ties that bind.
Marriage has found a home in the headlines, but insight into the soul of matrimony is elusive. The Bush administration is championing a marriage amendment to ban same-sex unions, its answer to gay and lesbian couples fighting for the right to participate in what, until recently, never really seemed like such an exclusive domain. Yet the political battles do not reveal the essence of what is so worth fighting to obtain - or clutch, depending on which side you're on. Divorce rates in America are sky-high, prenuptial agreements and separate checkbooks are fodder for grumbling media pundits, cohabitation is more culturally acceptable than ever before, and men and women, as a rule, are marrying later. So why are many young people from faith backgrounds - often ambitious and motivated to pursue the common good in their careers - marrying in spite of these trends?
I'm young myself, with a vested interest in sizing up what all the fuss is about. How are these couples creating meaning through partnership and refashioning marriage to accommodate a changing social landscape? Those I spoke with are all trying to resist a unique brand of alienation abounding in the overdeveloped culture of the West. But their test will lie in how gracefully their individual and communal commitments can coexist in a culture that tends to pit one against the other.
SHEILA AND SCOTT LANGLEY met several years ago in Washington, D.C., at a demonstration against the bombings in Afghanistan. Soon they were both living in Boston at Haley House, an urban refuge in the Catholic Worker tradition, where Scott was the coordinator of volunteers and Sheila organized the food pantry. Married in 2004, they relocated to Raleigh, North Carolina, where they've since opened their doors as a ministry to families visiting loved ones on death row at the state prison.
I asked Sheila if marriage made it more difficult to cultivate their demanding vision of hands-on discipleship. "Our relationship allows me to grow in faith and to do things I otherwise wouldn't do, like resistance and hospitality," she responded. "I couldn't imagine doing this without Scott." They were initially hesitant to undergo a civil process under laws they thought were inherently discriminatory, but Sheila said that Liz McAlister, co-founder of the Jonah House peace community and widow of Catholic peace activist Phil Berrigan, encouraged them to get a marriage license, "because then it's easier to get visitation rights in prison." McAlister and Berrigan were each incarcerated several times for acts of nonviolent resistance.
Robert Putnam, author of Bowling Alone: The Collapse and Revival of American Community, told me that from what he's observed, "Virtually all forms of civic engagement are substantially higher among married people, and especially among parents than among singles and the childless…mostly because spouses and kids draw us into the community."
But what about unmarried people who've dedicated their adult lives to pursuing social justice and the common good? Would their impact have been so far-reaching had they divided their energies between family and public calling?
In my particular field of public interest advocacy, I am often reminded of the apostle Paul, who suggests that it is preferable to remain unmarried. Tireless activists, with the zeal of a bull in the ring, organize, lobby, and strategize the demise of special interests that jeopardize the public welfare. With few hours left in the day, I am not surprised that many choose not to marry.
But as is often the case with local activist networks, the seedling church Paul addressed in his epistles was a tight-knit community that met relational needs outside of marriage as well as within it. According to theologian Will Willimon, "Early Christian leaders like Paul advised against marriage and familial attachments. Christian baptism had as its goal nothing less than the disruption of one's family since one was 're-born' in baptism.... This identity was based upon the standards of adoption into a new family - the church."
Sarah Carlson-Lier, a librarian in the Boston area, married Andrew, a hospice worker, while both were in their mid-20s. She's well-acquainted with the tension involved in redefining marriage and family in a complex and shifting society, while still maintaining fidelity to her religious tradition and what she perceives as the will of God. "Though we feel that marriage is integral to society," she said, "we must admit that viewing marriage as a 'community venture' is countercultural."
Sarah and Andrew live in a household with two other married couples and five children. Sarah said that lots of people find it odd that, as a married couple, they don't live alone. But "marriage makes the most sense in close relationship with others," she said. I encountered this time and again in these conversations - that togetherness doesn't just mean between spouses. It means sharing lives, work, and children in the context of a supportive, committed community.
PUT THAT WAY, it all sounds kind of dreamy. But a close faith community, like any other group, carries a double-edged sword. Most of the couples I spoke with had inherited their initial ideas about marriage and family from American evangelical culture. Well-intentioned but fiercely gripped traditional ideas about sexuality play a significant factor in the choices young people from this background make, sometimes resulting in overwhelming pressure to tie the knot lest they burn. At the average state university, perhaps students enjoy the wonders of science with the pill, but at evangelical colleges and universities, the "ring by spring" cliché still elicits laughs of recognition.
Beth and Josh met in their teens at a religious boarding school. "In the 'True Love Waits' crowd, early marriage is not only acceptable, it's encouraged," Beth says. Couples like Beth and Josh, who pleased parents, teachers, and pastors by their decision to marry and kiss dating goodbye, faced an unanticipated, opposite reaction from the world outside the sanctuary of church and home. "While marriage is respected and desired by most of our friends," Beth said, "early marriage is not expected or encouraged. So when Josh and I married last summer, we were both very aware of how countercultural our young marriage would be."
According to a recent report published by the National Marriage Project, The Marrying Kind: Which Men Marry and Why, "in the consumer culture, men are encouraged to indulge themselves in their bachelorhood," a factor in the delay of marriage among men to the average age of 27. Increasingly, this consumer culture caters to women as well. So why are some young evangelicals forsaking the freedom of choice offered by Western popular culture? This may in part be attributed to a life of habitual submission to an elaborate moral code enforced by figures of authority at home, church, and then Christian colleges. Faced with post-graduation independence, marriage - where roles are often clearly defined and tradition upheld - may seem like a safe, comforting retreat.
Sure, I've seen this happen, and traces of this psychology were between the lines in some of the conversations I had. But the young couples I spoke with also talk about finding freedom within the space of marriage. Scott and Sheila, as well as Andrew and Sarah, marveled at the ways in which they felt more free to extend themselves emotionally and physically in the work of hospitality.
Nancy Linton teaches women's studies at the Oregon Extension, an alternative semester program for students from Christian colleges. A committed feminist, she echoes the theme of the potential for freedom in an institution that, for many, connotes limitations. She's mentored many young people wrestling for the first time with radical theology, social thought, and praxis, and described former students who have since married and begun families of their own, attempting to enact a gospel of liberation in even the most mundane spheres of life. "Marriage can be the one place where you're free to try new things," said Linton, "because you're grounded in love, and your whole person is really connected to another person." One example, she says: "For women that means body issues can be healed if they trust their husbands' love for their bodies."
Marriage in America is doubled over with growing pains. This ancient and elemental way of structuring society has had to respond to dramatic changes in the roles of women and men. Yet its relevance seems to be supported merely by the controversy it generates in the media. To stay married at all can require a massive amount of industriousness and ingenuity by those undertaking the contract. And what was once the most practical thing one could do - settle down, tie the knot - has undergone a metamorphosis in the eyes of many of the young and restless, becoming a foolish choice, perceived as irrational and unnecessary.
But this, of course, is also part of the allure. The couples I interviewed are part of a trend of thoughtful, engaged citizens who are taking what they've inherited - a tradition, a sacrament, or a ball and chain - and turning it into a demonstration of values that challenge prevailing assumptions about how we are to live in a confusing world. They are acting rashly, or in good faith, on a principle that one need not be married to appreciate: that when we commit to sharing the long haul with another, we are compelled to strive for a more humane, compassionate world, capable of supporting a hopeful future for the next generation.
The countercultural statement that Beth, Sarah, and Andrew refer to carries in it the ring of Paul's "foolishness for Christ." It is a way of being in the world, but not of it, by attempting to breathe new life into an institution that, for some, calls to mind images of boredom and irrelevance. These young couples are attempting to choose permanence, not boredom; investment in the human race, not irrelevance.
It is early spring at the time of this writing. Dave and Caren turned the soil in their garden last Saturday, making way for new living things to come. They, too, operate under the auspices of a hope that their marriage contains the ingredients of vivid possibility. They've begun to get to know their local community and to learn about rural poverty in their region. They are tapped into a network of intentional, service-oriented communities such as the Simple Way community in Philadelphia and the Open Door Community in Atlanta. Until their life together takes up stronger roots, their vision of marriage and vocation is like seeds in fertile soil. They are modest and realistic about their hopes for where marriage will take them, but like many others, they are reckoning with the responsibility, in the words of Wendell Berry, that joins all living things to the human past and the human future.
Jesse Holcomb, a former Sojourners intern, was a writing associate at the State PIRGs (Public Interest Research Groups) in Boston when this article appeared. Sometime between the first draft and final revisions he and Hillary Scholten became engaged.