I had no idea people like you existed. I saw Jim Wallis on the PBS show The Jesus Factor. I thought all American Christians had been kidnapped by Bush and company. Thank you all! Don't get me wrong, I am an agnostic and will remain one. But I know the love and spirit of the man called Jesus. I was so scared and afraid all Christians had gone nuts. I hope you all speak up loudly. I and many other non-religious types must know you are here.
Alan Scott Baker
Seattle, Washington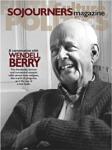 This appears in the July 2004 issue of Sojourners
Got something to say about what you're reading? We value your feedback!