("Can't Buy Me Love," by E.J. Dionne Jr., June 2004) would be an excellent article to share with every member of Congress. Our country will never achieve its true potential for greatness until it recognizes that love and morality, not money and power, must be the criteria for our decisions and actions. God bless you as you continue to challenge all of us, especially we who proclaim to be Christ's followers.
Ada Good
Holtwood, Pennsylvania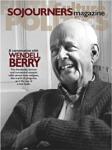 This appears in the July 2004 issue of Sojourners
Got something to say about what you're reading? We value your feedback!