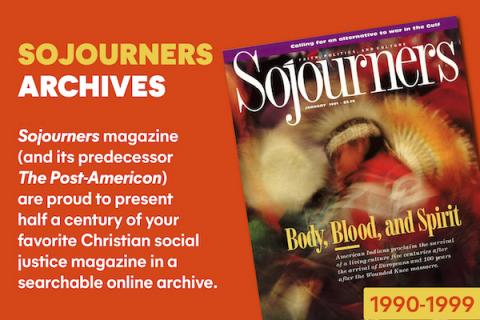 It is peculiar how often the first words spoken to you when you land in a new place turn out to be prophetic. Straight off the airplane, luggage in hand, I weaved my way toward the public bus stop through a pack of taxistas who wanted the equivalent of my daily food budget for a ride to Panama City. One taxista, refusing to believe any gringo could be so cheap (he's obviously not met many free-lance reporters), jumped in his car and chased after me.
He pulled up alongside and asked, "Panama City?" I declined. Putting on a sardonic smirk, he gave me words to live by: "Watch out. The sun gets very hot here. It will exhaust you." He then accelerated off, leaving me to fight the elements alone.
Panamanians, it seems, know all about exhaustion—and survival. After passing through 25 years of military governments, their reward was a large-scale foreign assault on their country. Twenty-five thousand U.S. Marines poured into Panama City in 1989 to depose Gen. Manuel Noriega and his puppet government. Thousands of civilians were killed in the fighting.
But, hey, justice was served. Or was it? Noriega is now an evangelistic preacher in a Florida prison. The man the Bush administration chose to "clean up" Panama's drug problem, Guillermo Endara, is the chief officer of a number of off-shore corporations that are alleged fronts for laundering drug money. More cocaine passes through Panama today than during Noriega's regime, according to a recent Drug Enforcement Agency report.
Of course, the U.S. invasion of Panama had about as much to do with Noriega's drug dealings as the Gulf war had to do with liberating Kuwait. In 1524, Hernan Cortes told King Carlos V that the acquisition of Panama would be "even more valuable to the throne than Mexico," given its strategic link between two major oceans. Cortes then wasted no time in deposing the indigenous population whom, no doubt, were up to their eyeballs in drug trafficking.
Fast forward 450 years in Panama's history to the presidential elections of 1994. International passage of its waterway remains at the top of the country's political agenda. The United States is scheduled to pass sovereignty of the canal over to Panama at the end of this century. As a result most political leaders fret about the kind of income the canal might generate for the national economy and what to do with U.S. bases that are set to close under the terms of the treaty.
Conspicuously lost in the dust raised by this campaign trail is the issue of poverty (a daily concern for three-fourths of the population). Although Panama registered spectacular economic growth in the past four years, little has trickled down to the poor. During the same period, thousands of government workers were fired as the economy was globalized.
THE BARRIO OF EL CHORILLO in Panama City serves as a microcosm of these recent developments. The area suffered extensive damage during the U.S. invasion when city blocks were burned down to cut off potential escape routes for fleeing Panamanian soldiers. Unlike the national economy, however, this neighborhood never recovered.
Not even a bread truck makes deliveries into the barrio without an armed guard to ensure its safe passage. My first visit to the community was cut short when two teen-age boys warned us to leave because word had been sent out that a camera, watches, and wallets were walking around the barrio. We then began timing our visits to coincide with bread deliveries.
How much crime is there in El Chorrillo? Well, for starters, I have never seen so many stolen childhoods. The sun is hot in Panama; you take shade wherever you find it. Most times the options are limited. For many girls (and some boys) survival demands selling their body for sex at age 11.
It's these streets, so full of pain and passion, that inspire Rubén Blades. Here are the roots that nurture his immensely popular salsa sound, and they are what brought him back to Panama in his quest to become president of the country.
In 1969, Blades left Panama temporarily to play music in New York City. Convinced that salsa's driving beat could sustain more meaningful lyrics than, "Mira, mira, baby, let's dance," Blades immersed his songs in Latin America's social reality. His first big hit, "Pedro Navaja," is a moving story of poverty, desperation, and murder in a Latino barrio that has all the sights and smells of El Chorrillo.
In 1985, at the zenith of his music career, Blades took himself out of the limelight to study international law at Harvard University in preparation for a political career. While many criticized him, Blades defends his choice, saying, "I was totally convinced that I was going to have a lot to do with the future of my country. But I didn't want people to say, 'What does this guy know? He's been singing.'"
A master's degree, seven albums, and a successful acting career later (he is probably best known as the sheriff in The Milagro Beanfield War), Blades finally has come home. "I was becoming what I hated most about entertainment figures," he says with raw emotion. "We sing about social issues and become millionaires, but we don't do anything about the actual problems. It is time to put myself on the line."
But Blades will not get his chance to alter Panama's future. In the May 8 elections he finished a distant third to Ernesto Perez Balladares, whose party's platform does not put communities like El Chorrillo high on its agenda.
A U.S.-trained banker and economist, Balladares heads the Revolutionary Democratic Party (PRD), the instrument used by Gen. Manuel Noriega to consolidate his political power in the 1980s. Not that he or his party lay any claim to Noriega's legacy today. The PRD campaign relied on the mystique of a much more popular military strongman, Gen. Omar Torrijos, the founder of the PRD who ran Panama with a tight fist throughout the 1970s. But he also was a populist who brought dark-skinned Panamanians into the government for the first time and increased spending on health and education.
Balladares says he will consider renegotiation of the Panama Canal treaties, which require 10,000 U.S. troops stationed here to withdraw by the year 2000. Many Panamanians fear that closing the U.S. bases will deal a devastating blow to the national economy. But Balladares believes that Panama would be better off to lease the base facilities to foreign manufacturers who will bring jobs and more lucrative income.
Panama is the model case of Third World captivity within a new world economic order that champions free trade. With a foreign debt of $7 billion (highest per capita in the hemisphere), the country is quite literally at the mercy of the World Bank and the International Monetary Fund, a nearly hopeless prospect that limits the real options that political leaders can offer. Maybe that is why the campaign often had the feel of a sports competition, with "fans" choosing parties or candidates for no apparent ideological reason.
AFTER WORKING FOR YEARS in El Salvador, Guatemala, and Nicaragua, I was quite surprised by the virtual absence of a popular movement in Panama. It is largely a product of 25 years of military rule, of course. Though the populism of Torrijos did bring about needed reforms, he took strong measures to discourage the formation of grassroots movements that might initiate changes "from below."
For example, base communities within the Catholic church struggle just for survival. Their recent demise is somewhat of a surprise since in the 1960s Panama's popular church thrived and was at the forefront of a Latin American movement. It developed fresh biblical and theological foundations for liberation that regularly were exported to start new groups throughout the continent.
Several exciting economic projects arose out of these communities as well, particularly the "Esperanza" agricultural cooperative. Initiated in one of the poorest regions of Panama by a young Colombian priest, Hector Gallegos, Esperanza united large numbers of campesinos who previously were dependent on day-labor from local sugar plantations. Torrijos recognized the dangers of a peasant-led political force and, it is widely alleged, had Gallegos killed before it could spread.
Today there are pockets of activists working for creative change in their local communities. But their numbers are few, their efforts isolated, and they have no links to any of the existing political parties. That is what has made Blades' entry into the political fray so promising. When he began considering running for office last year, he recognized that there was a dearth of voices willing to speak up on behalf of the poor. So he worked with others to start a new party, Papa Egoró, which means "Mother Earth" in the native Embera Indian language.
Traditionally, elected leaders in this country have relied on what Panamanians call "clientism," a rough equivalent to selling one's favor to special-interest groups. But Blades has begged off support that has strings attached to it, and that makes many powerful people nervous. "Sure they are worried," he says with a smile. "All of a sudden, the party without an ideological bent, without economic resources, without organization, is on the verge of doing what no other group in this country has ever done: generate an authentic, grassroots response from the people."
Papa Egoró wants to build a movement. That is the reason why their presidential candidate's picture was nowhere to be found on Papa Egoró propaganda. "We are committed to political change, not my personality," Blades explains. "Several years ago I wrote a song ["Pablo Pueblo"] about politicians who put leaflets up on walls but have nothing to sell but an image. How could I live with myself if I now did the same thing just for the sake of expediency? My own songs haunt me!"
It is said that the sun never sets over the empire. Indeed, its noonday heat blazes above its colonies. Several days before heading off to Panama, I was down at my local coffee shop. When I mentioned my Panama trip to the woman behind the counter, she said, "Oh, I'm so jealous. I've heard Panama is so accessible for Americans."
I bristled, but I knew there was some truth in what she said. That is what we have come to expect in the new world order, that the rest of the globe become "accessible" for us, for our products, for our entertainment. Sure, the woman was making reference to comfortable tourist hotels (with CNN, HBO, and MTV on the cable!), the U.S. dollars that serve as Panama's currency, and its abundance of English speakers. But that is the point. We can go anywhere in the world and feel at home, yet with an exotic twist, perhaps even with a salsa beat. Maybe, just maybe, we should pause and listen to the music.
You have been kidnapped, America,

you have been gagged, and it is up to us to free you.

I'm calling for you, America. Our future awaits;

before it dies, help me to search.

I'm searching for America."
—Rubén Blades
"Buscando América"
DAVID BATSTONE, a sometime free-lance reporter, is a professor of religion and culture at Santa Clara University, and the author, most recently, of New Visions for the Americas (Fortress Press, 1993). He traveled to Panama in late April to cover the presidential campaign there.
For more information on the work for justice in Panama and how you might become involved, contact: FOR Task Force on Latin America and the Caribbean, 515 Broadway, Santa Cruz, CA 95060.