OIL PIPELINES LEAK. This fall, the Keystone Pipeline spilled almost 400,000 gallons of tar sands oil—an especially dirty fossil fuel—in its second large-scale leak in two years. The pipeline's owner, TC Energy (née TransCanada), wants to build the Keystone XL extension despite the environmental threats.
But leaks aren't the reason that oil pipelines are problematic. To expand the use of fossil fuels in the context of the climate crisis that has begun to destroy our planet is an immoral and even criminal act. That's why actions such as those of the so-called "valve turners" are not only justified but a necessary alarm clock for a still-somnolent public.
Finally, thank you to all who have commented on the redesign we launched last summer. Since then, we've continued to make small changes, and we hope they've improved readability. As always, we're thankful for the high level of reader engagement and welcome your ongoing feedback.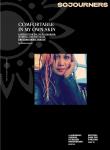 This appears in the January 2020 issue of Sojourners
Got something to say about what you're reading? We value your feedback!